HP Slate 21 All-in-One bizarrely blends Android tablet and desktop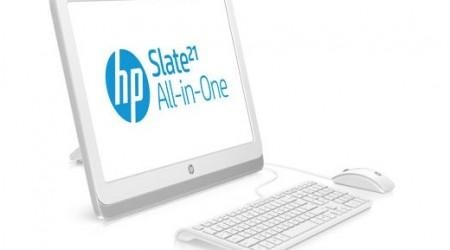 HP's Slate series of tablets is getting ideas above its station, with the new HP Slate 21 trying to edge in on the company's all-in-one range. The odd hybrid runs Android on an NVIDIA Tegra 4 chip, rather than Windows as you might expect from an HP all-in-one PC, and is fronted by a 21.5-inch Full HD touchscreen with ten-finger multitouch support. HP is positioning the Slate 21 as ideal for multimedia consumption and web browsing, along with video calls.
Above the 1080p display there's an HP TrueVision HD webcam, and there's also stereo speakers – with DTS Digital Theater sound – running in a bar under the screen. HP is blurring the lines between what we'd usually associate with a tablet form-factor, throwing in a wired keyboard and mouse for easier navigation and text entry.
On the back, meanwhile, there's a fold-out kickstand which can be used to prop the HP Slate 21 up. That can be clicked out to either fully upright for video consumption, or at a more shallow angle for more comfortable touchscreen interaction.
OS is Android 4.2.2 Jelly Bean, though there's no telling what customizations to the interface HP might have made. Although usually we'd find such skins a turn-off, when you're expanding Android – more commonly found on smartphones or tablets – to 21.5-inches, it probably needs a little fettling to make the most sense.
According to CNET Asia, the digitizer on the Slate 21 is provided by Wacom. There's no telling, though, whether it comes with a digital stylus for graphics work; if so, it could make the new HP an alternative of sorts to the Cintiq 22HD Touch.
That will all hinge on price, however, something HP isn't confirming at this stage. Nor do we know when the Slate 21 will hit store shelves.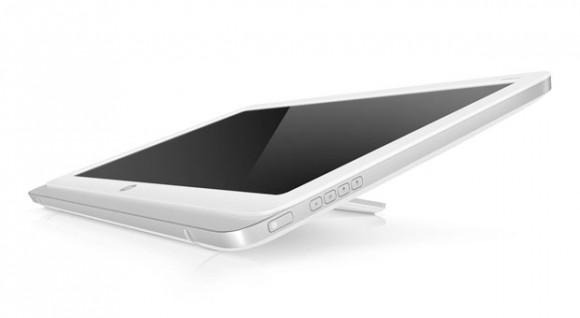 VIA Engadget