HP Outs New 64GB TouchPad Tablet With White Case Option, Not For America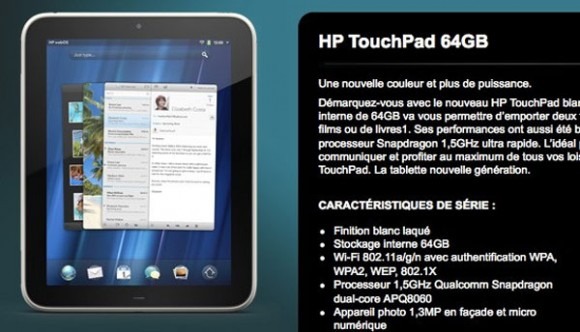 If you are a fan of the HP TouchPad, you are among the minority. This tablet has been flamed by many users due to issues and the fact that the tablet just isn't as good as other offerings on the market for the money. We took issue with the tablet when we reviewed it too. Consumers responded to the lackluster reviews of the tablet and didn't buy leading to price cuts to try to woo buyers. Recently Best Buy even tried to get HP to buy the tablets back that it had in stock after selling only 25,000 of 270,000 it purchased according to sources.
With all that in mind, HP has offered a new version of the TouchPad on its French website that packs in 64GB of storage. The tablet also has an optional white casing. I don't think more storage and a white shell is gong to fix the poor sales. The tablet is listed at €599 or about $860, which is a LOT of money for a tablet. The device is set to ship in two weeks or so and at this point, there is no indication of availability in the US.
One other key difference to the 64GB version of the TouchPad is that it gets the faster 1.5GHz Qualcomm dual-core APQ8060 processor the 4G version of the TouchPad was spied packing under the hood before. What do you think; is this $860 white, slightly faster, 64GB tablet going to turn things around for TouchPad sales? Or are we looking at another pile of meh from HP that consumers won't purchase?
[via Engadget]