HP Omni 27 Review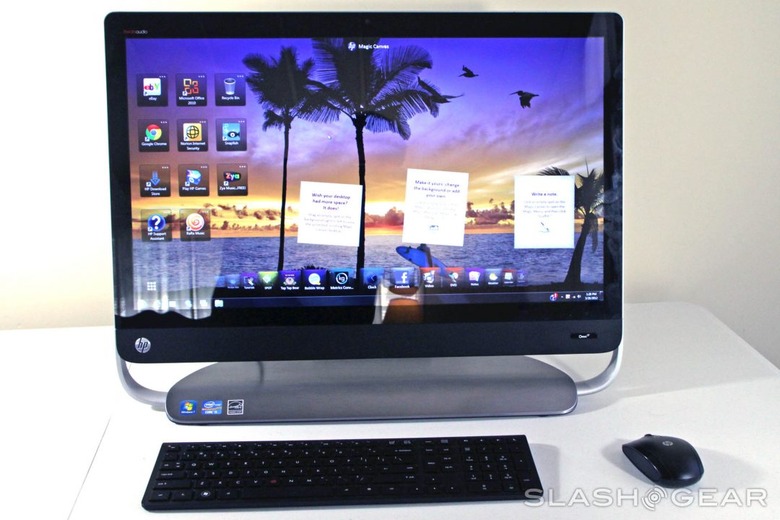 HP's made a name for its TouchSmart series of all-in-one desktops over the last few years, culminating in some quite desirable models as of late. But what about those consumers who want a large, stylish machine and have no particular need for expensive touchscreens? Enter the Omni 27, a self-contained PC with a gigantic 27-inch screen and a major in personal media, with a minor in usability tweaks for those of a less technical disposition. Read on to see how the Omni 27 stacks up against its more established competition.
Hardware
There's no getting around it: the Omni 27 is big. With all the size of a 27-inch LCD monitor plus considerable heft for desktop-grade components and a steel stand, the combined unit weighs in at around 35 pounds. While a little cumbersome to maneuver, once it's placed on your (big) desk or table, the weight is reassuring. The wide base connects to the display via a stylish pare of support brackets, doubling as adjustment arms that bend back to an angle of  25 degrees. Unlike some all-in-ones or monitor stands, the display stays put with almost no effort. Those with the inclination can remove the back panel and swap out the stand for a standard VESA mount.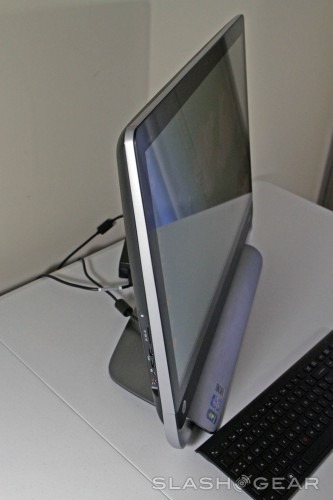 The hardware makes no bones about its focus on media. Along the right side of the unit you get a combined card reader, two USB 3.0 ports, Ethernet, a Beats-certified headphone port with pre-amp, and a separate microphone-in port. The back shows an extra four USB 2.0 ports, a subwoofer line and a digital audio out function. On the left you get the standard display and volume controls, plus a optical slot drive – DVD is standard, but our review unit came with a Blu-ray drive.  There's also a surprise HDMI port that deserves note: it's HDMI-in, allowing users to either make use of Windows' built-in DVR functions in Media Center, or just use the sizable display as a standard HDTV. This handy and useful extra is not standard, but for the moment, the upgrade is free. Another option for an over-the-air TV tuner was left out of our review unit.
The screen itself is an impressive if not overwhelming 1920x1080 panel. We've seen denser resolutions at this size (even from HP) but considering most consumers' expectations and requirements, it should be more than enough. Aside from a model badge and both HP and Beats Audio logos, the front has only the 27-inch screen and a pair of sizable speakers hidden behind a soft grille. As a computer it's more than adequate, and in a small room (such as a dorm or office) it can pull double duty as a television. You'll need a desk with a depth of at least 30 inches to use it comfortably, but the large display does allow for more usable space on the desk itself.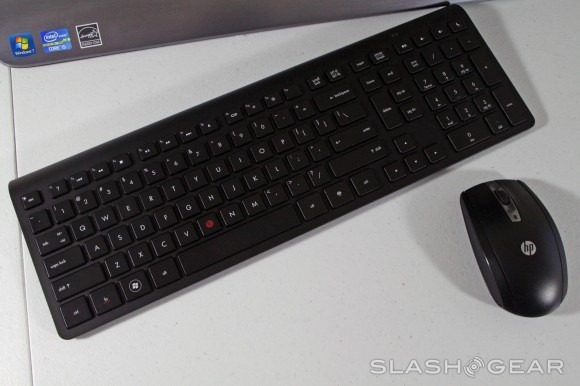 A note on HP's included input accessories: they're surprisingly good. Both the mouse and keyboard use RF wireless, always an appreciated touch for the form factor. The keyboard in particular is a step a above the usual pack-in fare, with a protective coating applied to the keys that should see them last far more than normal. Note the "Beats B", which doubles as an on/off switch for Beats Audio. There are certainly better mice and keyboards out there, but as a free perk, these are appreciated.
Software
HP's include much more than just Windows 7 Home Premium on the Omni 27. First and foremost is the Magic Canvas, an adapted version of HP's TouchSmart interface designed for use with a mouse and keyboard. The flashy and glossy UI serves as a replacement for Windows' default desktop. While clearly intended for those without familiarity with Windows 7, it's not any more or less complicated than the standard interface. While I can appreciate HP's attempts to make the Omni 27 more friendly for inexperienced computer users, I can't help but think that a set of interactive how-to's for basic computer operation would have been just as effective and saved confusion in the long run. Without a touch panel, the extra tweaks seem unfortunately superfluous. You can switch between the basic interface and Magic Canvas at any time.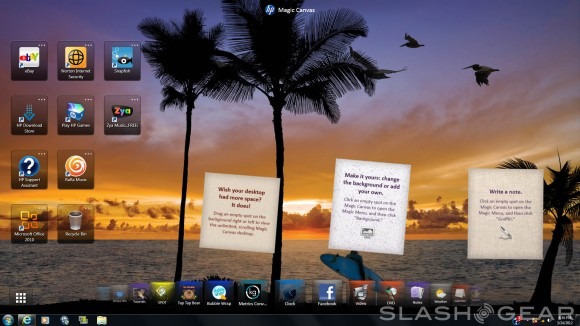 More utilitarian is the HP LinkUp Viewer. This application replaces Microsoft's built-in RDP functionality, which isn't available on Home Premium builds. If you've got another HP machine on your network, it seamlessly and quickly functions as a VNC-style remove viewer. While a higher tier of Windows may have been able to achieve this more easily, the added functionality is appreciated. LinkUp Viewer can be used on any HP Windows computer. The rest of the software is your standard consumer-grade pack in. Advanced users won't appreciate any of it, but the consumer market that's most likely to be interested will find it useful, or at least easy to ignore (with the exception of Norton's rather insistent security and backup software).
Performance
Our Recommended configuration came with a 2nd-generation Intel Core i5 processor, an impressive 8GB of RAM, a 1TB traditional hard drive and Intel integrated graphics. For those who need a little more oomph, Core i7 processors, larger traditional hard drives or 128/256GB SSDs, and discrete graphics up to NVIDIA GeForce GT 540M are available. That said, you probably won't need it – the base configuration puts up some great performance. The combination of a Core processor and plenty of RAM is more than enough for most consumers, even with the media-focused slant of the Omni 27. Those who intend to do some PC gaming will want to spring for a graphics card upgrade, but everyone else should be just fine with the basic configuration.
[sgbenchmark id=156 show=system]
[sgbenchmark id=156 show=score]
Media
The Omni 27 was made for audio and video, and it shows. The big, bright screen makes watching even standard DVDs a treat, but it really shines with HD streaming content. Movie buffs looking for a personal computer to match their craving for video would do well to spring for the Blu-ray upgrade, though at a cost of $100 for a reader and $160 for a writer, it may be cheaper just to plug your current Blu-ray player into the HDMI-in port. Audiophiles won't go wanting, either: a pair of impressive front speakers are loud and clear, with the option for a subwoofer as a bonus. The Beats brand adds a pre-amp to the headphone port for more private listening. Throw in an optional TV tuner and you've got a media powerhouse that almost matches the flexibility of a home-built system, as long as you're OK with stereo sound.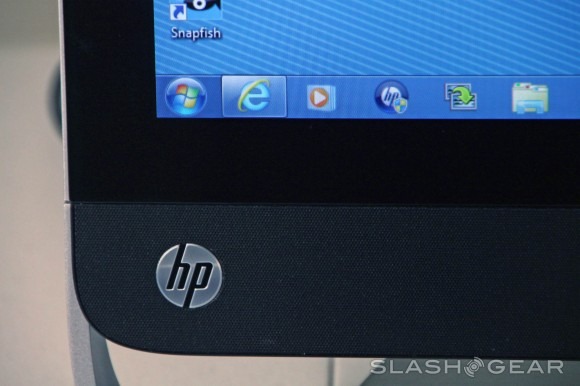 Value
The base price for the Omni 27 is $1199, with our review configuration coming in at $1377.98. Upgrades can raise the price quickly, but the basic configuration is powerful enough for most. Movie buffs and gamers may want to spring for a discrete graphics card ($70-120) or Blu-ray drive ($100-160), but beyond that, it's a competitively-priced system considering the screen size. Compare to the cheapest 27-inch iMac, with a better screen, but less memory and much fewer connection options, and you save $500. The wireless mouse and keyboard are icing on the cake.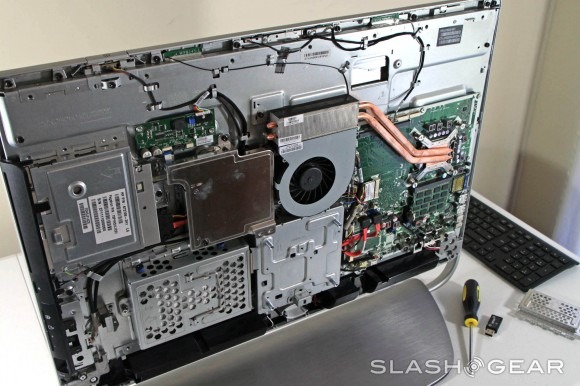 Surprisingly, the Omni 27 is quite upgradeable for those with the skill and inclination. The plastic rear panel can be removed to access the full-sized hard drive, memory modules, and processor, and while the DVD drive, wireless card and discrete graphics card will require mobile components, they're swappable as well. The operation isn't easy, at least compared with a standard desktop, but DIY computer operators will be able to extend the life of the machine for years with a few frugal upgrades. It's a surprising feature on a consumer-oriented machine, and one that's much appreciated.
Wrap Up
If you want a large all-in-one for a relative budget price, the HP Omni 27 is a great choice. While I would have liked to have seen a full 2560x1440 panel, the screen will be more than enough for most, and HP's partnership with Beat Audio means a sound expereince that's second to none. Plenty of upgrade options, both before and after purchase, make it a very configurable machine. A surprisingly good mouse and keyboard, the ability to double as an HDMI screen, and a modular user-upgradeable design make compelling additions. The included software I could take or leave, but for those searching for a media powerhouse in a large and affordable all-in-one, the Omni 27 presents a competitive package.