HP Folio 13 Review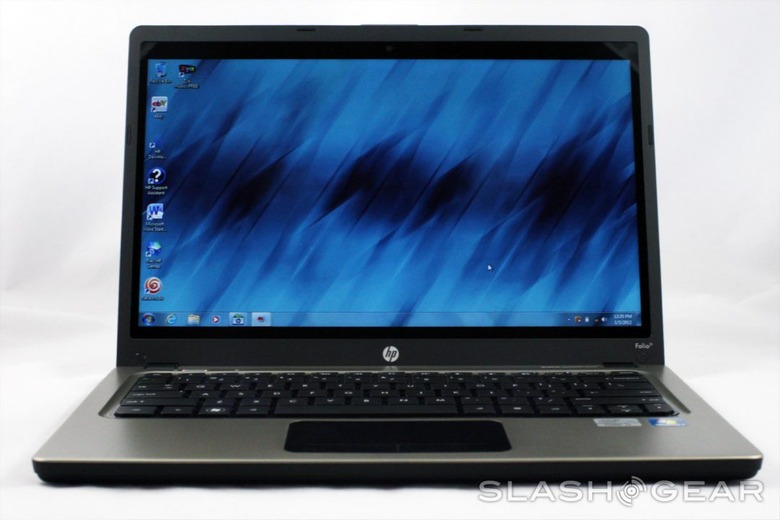 Everyone has an laptop based on Intel's Ultrabook spec these days, and if they don't already, they showed it off at CES last week. Just being thin and light isn't enough to stand out in the crowd now, and HP knows that. To that end, they've produced the Folio 13, an Ultrabook that they're aiming at the business market. The 13-inch laptop still manages to come in at under a grand, so it's worth considering even if you don't spend most of your working hours between one terminal and another. How does the Folio 13 stack up to the rest of the Ultrabook competition? I spent the last week finding out.
Hardware
Not so long ago, HP was synonymous with cheap, bulky and entirely plastic machines that would crack and warp at the drop of the hat. But with the ENVY, EliteBook and now the Folio lines, they're bucking the trend and bringing a little pride back to the old Hewlett Packard name. The Folio is neither the thinnest nor the lightest Ultrabook around, but when the difference is measured in millimeters and ounces, that doesn't necessarily bother me. The screen lid and palmrest use a stylish brushed aluminum that looks good while keeping fingerprints mostly invisible, but the bezel and underside are soft-touch plastic, probably chosen to keep the weight down.
The Folio has a few touches that are nice to see on a notebook starting at just $900, particularly the backlit keyboard – a rare sight even in supposedly upmarket Ultrabooks. Since HP fancies this a business-class machine, that means comparing the keyboard to the best: Lenovo's ThinkPads. While the short travel and slight flex of the keys don't quite measure up to those lofty goals, it's plenty comfortable even for extended typing, and the chicklet style makes it easy to care for. For those who place high importance on such a small detail (like yours truly) the Function key is to the right of the Control key, so you won't have any trouble with the key combos stored in your muscle memory. The right shift key is also full-sized, unlike some Asus models.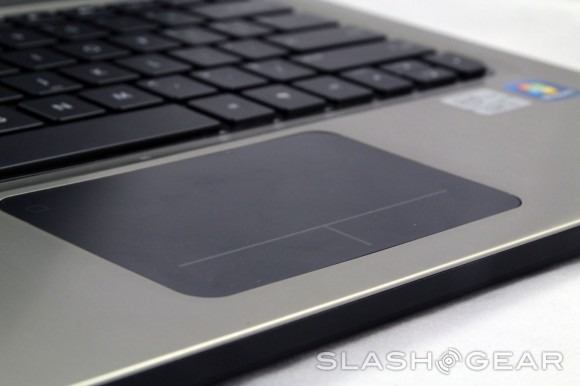 The touchpad on the Folio deserves particular attention, because it's the first all-in-one design I've seen that can hold a candle to the MacBook. While it's not quite as easy to glide the cursor around due to a plastic construction, it's still accurate and responsive. And, miracle of miracles, it's the first PC touchpad with an integrated click that I've been able to reliably perform a triple-tap on, which defaults to the extremely useful middle-click command.
Ports on the Folio are a little lacking, but no more so than they are on competing models. On the left you get Ethernet, HDMI, USB 3.0 and an SD card slot, while on the right you get a spare USB 2.0 and a combined headphone/microphone port. Aside from that, the 13-inch 1366x768 screen and commendable Dolby speakers are the extent of the input/output options. Inside the base model features a Core i5 ULV processor, 4GB of DDR3 memory, Intel HD3000 integrated graphics and a 128GB solid state drive.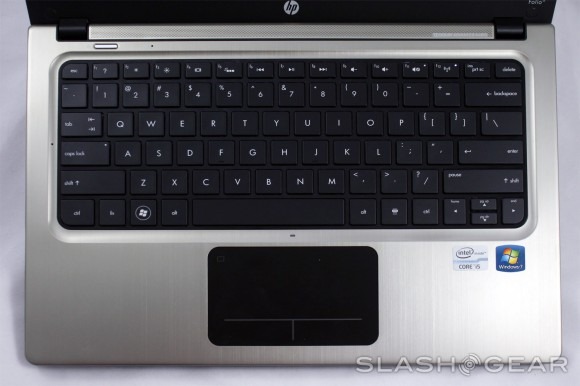 All of these are perfectly functional, and even pretty good values given the price – except for the screen. Ignoring for a moment that the only resolution option is the rather pedestrian 1366x768, the screen's contrast is awful. Reading anything but black-on-white text it a chore, and I had to change the default Windows color scheme to something darker just to avoid straining my eyes. Considering the excellent LED screen on the ENVY 15, this is a major dissapointment. If the rest of the Folio's charms lead you to consider a purchase, make sure and find one in a retail environment before laying down you cash, just to make sure you're alright with the sub-par screen.
Software
The Folio 13 comes with Windows 7 Professional 64-bit, in line with the "business Ultrabook" moniker. The laptop is surprisingly free of bloatware, choosing instead to display a few easily-deleted links on the desktop. You still get HP's suite of built-in detritus, including a movie and game store, plus Microsoft's ubiquitous Bing bar and Office trial. Norton anti-virus and Evernote are some you might actually want to hold on to, but for those who prefer a stock experience, it shouldn't take more than twenty minutes or so to remove all the unwanted software. This is a much better state of affairs than you'll find on many equivalent laptops, even in the "premium" space.
Performance
After loading up some of my proffered programs like Chrome, getting around the familiar Windows interface was easy and without issue. Though the screen was a problem, it's more than mitigated by the Folio's excellent battery life – more on that later. The little Folio's specifications are more than enough to handle basic browsing, office and media tasks, and should do just fine with more advanced fare like Photoshop editing in a pinch – just don't expect it to get 30 frames per second in Skyrim. But then, you'd never play on company time, would you?
[sgbenchmark id=148 show=score]
Media & Battery
While the Folio lacks the Beats audio found on the ENVY line, the Dolby speakers that run between the hinges are more than loud enough to enjoy a movie comfortably between three or four people. Hi-fi they're not (even if the rather fetching grille implies as such) but for a laptop, and especially one so small, they're more than serviceable. With relatively little storage space and no DVD drive, you'll have to rely on web video for most of your visual entertainment, and I'm sorry to say that the combination of low-bitrate video and a low-contrast screen is not a pleasant one. The reflective plastic finish doesn't help, but it's far from the worst that I've seen.

And now we come to the area where the Folio 13 absolutely shines: the battery. HP has made a point of extolling its 9-hour life in advertising, so I made sure to put the little laptop through its paces. I'm pleased to report that it broke the 8-hour mark in two tests and made it all the way to 9:15 on a third before dying. That's almost exactly as much as my ThinkPad T420 with an extended 9-cell battery – that's it dwarfing the Folio in the photo above. While there's no replaceable battery option, this should be more than enough for anything short of a cross-continental flight. I performed my tests with 60% brightness and medium-to-heavy web browsing, with some Flash video thrown in – if you spend all your time on Netflix or YouTube, expect that figure to dip a bit.
Wrap-up
The Folio 13 is a good showing for HP, combining solid value, admirable build quality and excellent longevity into a package that's only slightly bigger than other Ultrabooks. If you're looking for an ultrabook that won't have you scrambling for a power outlet, this is pretty much your only option at the moment – for an afternoon outing you can even leave the AC power adapter behind. The screen is an unfortunate fly in the ointment, but it's counter-balanced by the best all-in-one touchpad I've ever used on the PC side of things. If you've got a budget that won't stretch beyond a thousand dollars and a desire for all-day computing in a light package, the Folio might be the best in a field of one. That said, with all the Ultrabooks shown at CES 2012 (including HP's own stunning ENVY 14 Spectre) you might wait a couple of months before making your final decision.
For a look at all the nooks and crannies, have a gander at our hands-on video below: