HP ENVY 4 Ultrabook Review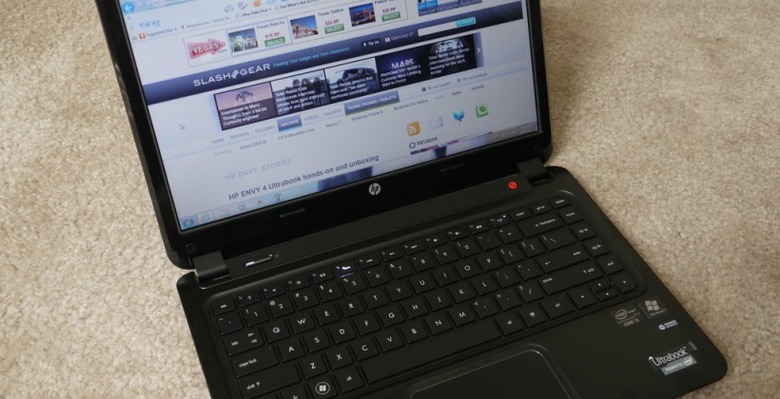 What we have here today is the shiny new HP ENVY 4 Ultrabook sporting a 3rd gen Intel Core-i5 dual-core processor and of course those Beats Audio speakers. It packs a lot of power under the hood and all folded up will only be about 0.78″ thick, but is this enough to earn your dollars? Head down past the break and we'll find out.
This may not be HP's ultra high end, but the ENVY series has always been one of their better offerings. Back in May we got our first glace at this Ultrabook, and then late last month we were able to unbox it and dig in a bit deeper. To get you started off with full specs, details, and the unboxing you'll want to start here.
Chassis
This aluminum wrapped machine hit the shelves last month for about $800 and today we're going to give you a better look, as well as our review and impressions on the laptop. It certainly isn't HP's nicest wrapped device but the aluminum has a great feel. For some reason the tip on top has been replaced with plastic, and the aluminum doesn't extend to the entire edge of the casing. This gives opening and closing it a rather cheap feel, because the plastic is indeed very cheap. Otherwise the entire body is well built, and feels like it too.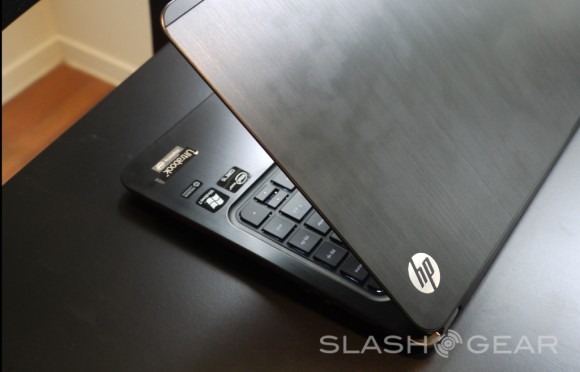 The top has that midnight black brushed aluminum look and the only change is the neat and small HP logo on the bottom corner. As you curve around the sides to the ports however, you'll quickly notice the aluminum design ends for a soft-touch red matte texture instead. This makes it easy to hold, but causes an area that may separate in the future if it takes too much abuse. The entire sides and bottom are bright "Beats Audio red" and is soft to the touch. This makes it easy to hold, and comfortable to carry.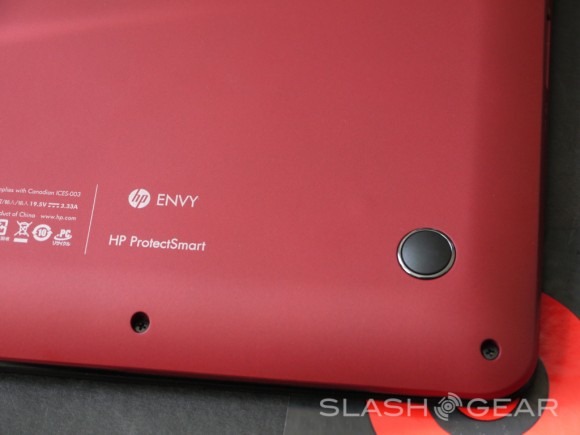 All in all the ENVY 4-1030us (that we have here) comes in under 4 lbs (3.86 to be exact) and only 0.78″ thick. We've seen thicker, but for $800 the package is quite sleek and decent. We'll talk about ports more below so for now the star of the show is the TrueVision HD front camera for Skype and video chat, and of course Beats Audio.
HP's integrated dual-stereo surround sound Beats Audio speakers, and they are actually quite decent. Obviously you won't be getting the bass you'd like, but for music, videos, and even gaming I found them sufficient. Even near full volume the distortion levels are minimal, and I'd give them a solid thumbs up for the price, even if they still have that tin-can sound. Ultrabooks and laptops the speakers can always improve, but these didn't leave me wanting too much more.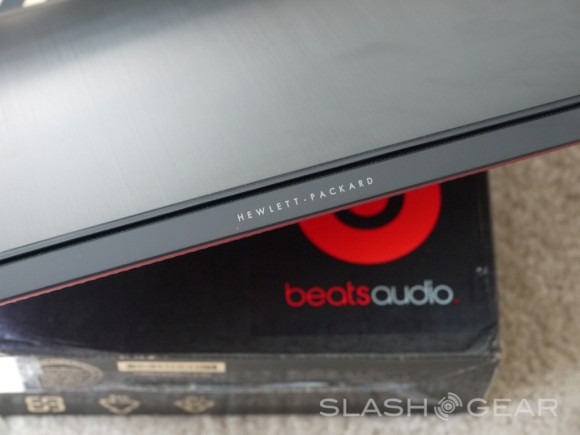 Specs
As far as the hardware specs of the device, if you didn't catch the full breakdown in my video above here they are again. You'll get a clear and vivid 14-inch Brightview LED 1366 x 768 display, 1.7 GHz dual-core Intel Core i5 processor (3317U), 4GB of DDR3 RAM, a 500GB HD (no SSD here) 3 USB ports, Ethernet, HDMI, SD slot for storage, then integrated Intel HD Graphics 4000. There's no dedicated GPU here, but Intel's HD graphics were enough for the casual game here. You won't be playing Battlefield 3, but then you shouldn't expect to.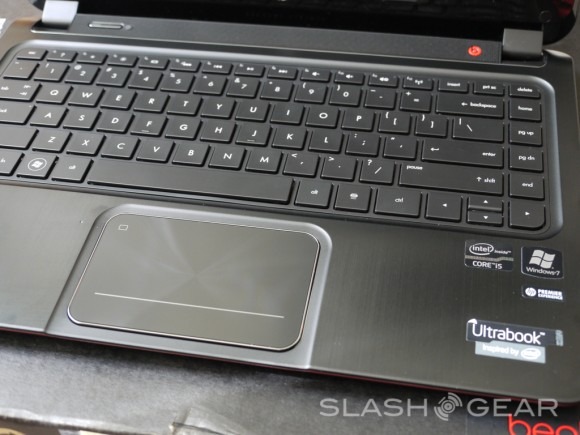 The 14-inch 1366 x 768 resolution display is rather decent, but obviously we'd always like a higher resolution. Like the Retina Display Macbook Pro for example — but then again this is only $800. The screen is still HD and playing YouTube videos was a breeze. I even used the HDMI-out on the side to stream some Olympics to my HDTV since NBC failed us on their coverage, and it worked wonderfully.
Keyboard and Trackpad
Now here's one area that I wasn't to pleased with the ENVY 4. The keys, while backlit, and chicklet style had a rather cheap feel to them. Being a 14 inch device I wasn't expecting it to feel very compact and low on space, but I found myself struggling to get comfortable — but that will come in due time. The keys while still feeling cheap have a good firm click during use, but certain areas on the keyboard felt weaker than others. The back-light option has a simple on/off setting, but that was all. Being able to manually control this would be nice but for $800 we'll gladly just accept the fact we have it.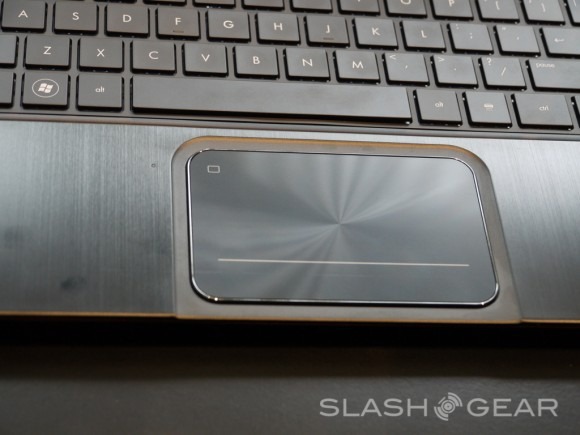 My biggest concern however was the trackpad. I know HP's been doing this circular diamond-cut like design for ages, but I find it extremely frustrating. You can see the lines all aim for the center from the image above, but I find this type of feedback to be rather difficult. It makes operation feel rather choppy and the "smooth" feel I wanted was certainly missing. The sensitivity was another minor issue. Nothing you can't get used to, but even after changing it in settings I still found myself having to repeat my taps. Overall I'd take a few points off here, but nothing major as this is all subjective and depends on user preference.
Ports
As mentioned above, the ENVY 4 Ultrabook has 3 USB ports (two left, one right), Ethernet, HDMI, and full size SD slot for storage. Then off to the right side is your power port, 3rd USB, headphone and microphone ports. They all felt great and weren't too tight, as I've had that issue with newer laptops in the past. Here's a look at the ports:
Performance
This device runs an Windows 7 Home Premium 64-bit, which we should all know plenty about by now so I'll stick to the results. Performance was rather decent, although I quickly replaced IE but that's just me. Working with a 3rd Gen Ivy Bridge Core i5 dual-core processor and 4GB of DDR3 RAM performance was great, but I'd love to see 6GB for the price point. We have no SSD so hard drive results weren't impressive, but that was expected.
All this equals a rather powerful mid-range Ultrabook all for a great price. It has a few compromises here and there, but this could still be the device for you. As usual here at SlashGear we've ran some Geekbench benchmark tests. You can see those results below and compare with previous Laptop Reviews.
[sgbenchmark id=172 show=score]
[sgbenchmark id=172 show=system]
Wrap-Up
All in all this is a rather great machine. It's lightweight, portable, thin, powerful, sounds great, and has a bright and vivid screen. Oh and did we mention affordable. For everything you get this is certainly an affordable Ultrabook, I just wish it had USB 3.0 and possible slightly better build quality. If you've ever used a Macbook for an extended period of time you'll surely notice the build quality differences. Compared to most others in the price range however, this ENVY 4 Ultrabook is impressive, and will leave many in the dust. Using the ENVY 4 for browsing and a few videos on NFL.com I barely managed 5 hours of battery life, so that is one other thing worth mentioning.
This isn't quite as impressive as the Acer Aspire S5 we recently reviewed, but then it's also much cheaper too. For the mid-range price and great "Ultrabook" specs this will surely make anyone happy for under $800. Overall the The Envy 4 is fairly named, and some others in this range will "envy" it. Featuring a premium design and attractive use of the color red certainly makes it an Ultrabook worth checking out. Enjoy the pictures and some of our other HP reviews below.