HP Envy 17 and 15 officially revealed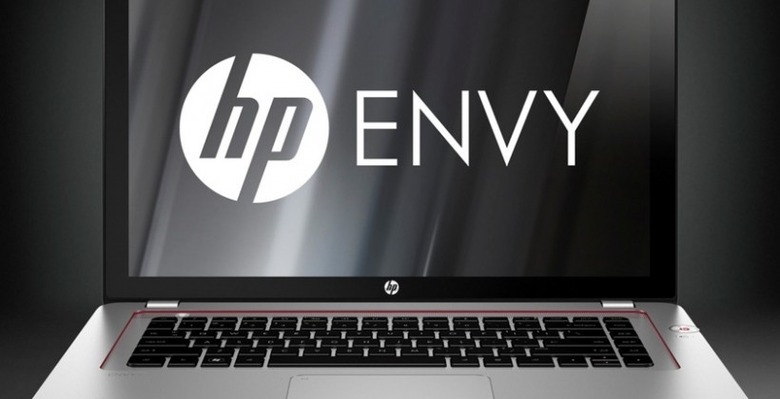 If you ladies and gents have been waiting for HP to hurry up and update their Envy laptop line, then you're in luck. Say hello to the new HP Envy 15 and 17, entirely redesigned inside and out. With an almost, dare I say, Macbook-esque flair, the new models retain their sexy brushed aluminum exterior. However, that's, uh, pretty much it. The chassis gets a brand-new facelift with matte black lids, silver palmrests, and, surprise, more Beats by Dr. Dre branding via a logo on the newly added analog volume dial and neat red border around the backlit chiclet keyboard.
Like its predecessors, the new line comes in 15.6-in and 17.3-in flavors, but take note, these aren't just your everyday LCD screens. They're the Radiance Infinity displays that HP has brought back once again, that are much brighter than typical screens. However, while the 17.3-inch Envy 17 will come standard with a 1080p Radiance screen, it's only a TN panel, whereas the Envy 15, which comes stock at a lower-res at 1366x768 (fortunately upgradeable for you high-def junkies out there), gets the IPS-panel treatment.
The Envy line is the highest-end laptops HP offers to consumers and thus that reflects in the quality of its hardware. On board the stock Envy 15 is a Core i5-2430M processor, 6 gigs of DDR3 memory, 500GB 7,200RPM hard drive, and AMD Radeon graphics with a gig of video memory (specifics haven't been revealed yet). There's also a onboard DVD drive and the Beats integration with six-channel speakers and a subwoofer (gasp!). The stock 17-inch has the same specs. Finally, there's the Envy 17 3D, which gets you the same specs as the stock 17, but includes a full HD Radiance 3D 120Hz display, a pair of active shutter 3D glasses, and a Blu-ray HD player for the ultimate media immersion.
Last but not least for laptops, let's talk about battery life. HP is guaranteeing nine hours with the 15 and nine and a half with the 17. Not bad. The new Envy line will be dropping from HP on December 7th, right before Christmas, priced at $1,100 for the 15, $1,250 for the 17, and $1,599 for the 17 3D. For those of you that dont have experience with the Envy line, feel free to check out SlashGear's Envy 14 review, Envy 17 review, and both 14 and 17 hands-ons articles, and prepare to check out these new models soon!
[via HP]