HP ENVY 14 Review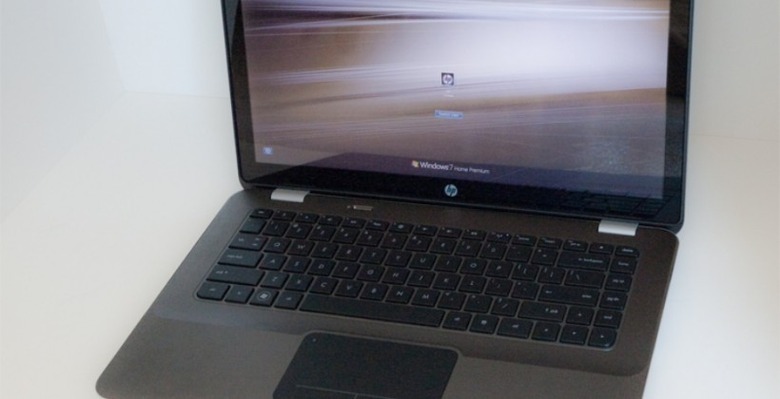 The baby of HP's second-generation ENVY premium notebook range has arrived on the SlashGear test bench, and we have to admit it's a pretty appealing machine. Packing a 14.5-inch display, Intel Core i5 CPU and ATI Mobility Radeon HD 5650 graphics, it may look a little like a MacBook Pro but happily HP has also carried over the solid build quality. Still, are good looks enough to ween users off their Apple addiction? Check out the full SlashGear review after the cut.
While the ENVY 14 range kicks off with Core i3 CPUs, our particular review unit gets Intel's Core i5-450M dual-core paired with 4GB of DDR3 memory and a 500GB hard-drive. Graphics include both the integrated Intel HD chipset and a dedicated ATI Radeon Mobility HD 5650 with 1GB of its own GDDR3 memory, driving the 14.5-inch 1600 x 900 display.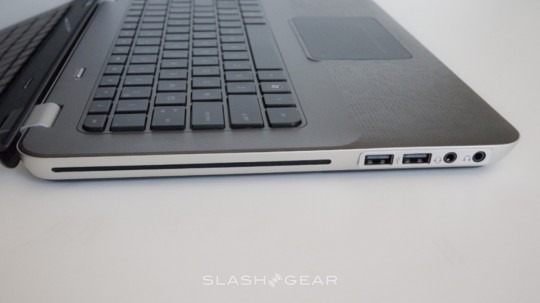 Connectivity, meanwhile, includes WiFi b/g/n, Bluetooth, HDMI and a trio of USB 2.0 ports (one of which doubles as an eSATA). There's also Mini DisplayPort, gigabit ethernet, a multi-format memory card reader and slot-loading DVD burner (no Blu-ray option, sadly). OS is Windows 7, but HP also splash a considerable amount of third-party apps and bloatware on the ENVY 14: as well as various Adobe Elements apps (including Photoshop Elements), Cyberlink DVD Suite, Roxio backup and several Corel apps, there are trials of Office 2010, Norton security and others. To be blunt, we'd far prefer to see these trials offered as mere links or on bundled DVDs rather than preloaded; we seem to spend the first hour with a new system wiping off unwanted apps.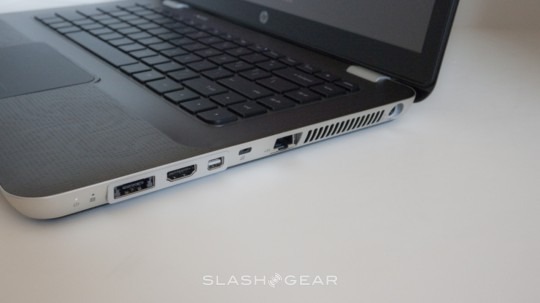 HP's final surprise is Beats Audio, a collaboration with the company better known for their headphones technology, and which is billed as studio-quality. It's part of an attempt to lift the ENVY 14 out from the morass of mid-range notebooks, along with the backlit chiclet keyboard and broad multitouch-capable trackpad. It's certainly not hard to see where the frequent MacBook Pro comparisons come from, but it's also worth noting that a similarly priced machine from Apple would run to $1,899 versus the $1,289.99 of this HP.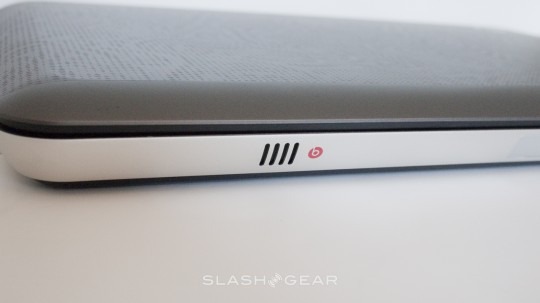 We benchmarked the HP ENVY 14 with Geekbench, a synthetic test of processor and memory performance. The notebook scored 4830, slightly lower than Lenovo's IdeaPad Y460 which uses the Core i5-520M CPU and the same amount of RAM. We then turned to PCMark for a broader perspective on the HP's overall abilities; it scored 6427 PCMarks, with particular strength in the music (6433), productivity (5517) and gaming (5482) categories.
Practically speaking, the ENVY 14 runs surprisingly well, with the Core i5 certainly sufficient for everyday multitasking. We comfortably multitasked between several browser windows, media playback and IM in the background, while the discrete ATI graphics make the HP usable for gaming. Video editing, too, proves well within the ENVY 14's capabilities, though when under load fan noise is considerable. On the plus side, we didn't notice undue levels of heat passing through the alloy chassis, so all that fan activity is obviously doing something useful.
[sgbenchmark id=107]
The chiclet keyboard offers some of the best response this side of a MacBook, while the oversized trackpad is precise and accurate. Meanwhile the audio quality is a revelation for a notebook; there are only two speakers, but the performance is stronger than many multi-speaker laptop setups than we've tested. Happily – for media playback – the ENVY 14's display can keep up; our review unit has the higher-resolution 1600 x 900 "Radiance Infinity" panel rather than the standard 1366 x 768, and is bright and crisp. It's a shame HP don't offer a slot-loading Blu-ray drive, at least as an option; while neither panel would support Full HD playback, the HDMI output makes hooking up an HDTV simple.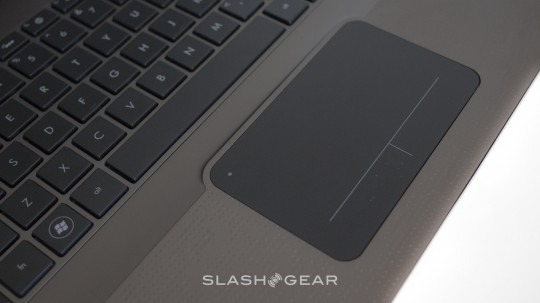 Battery life from the standard 8-cell Li-Ion pack is estimated at up to six hours using the dedicated graphics and up to eight on the integrated Intel HD chipset. Unplug the mains adapter and the ENVY 14 automatically flips to the low-power option. We've managed just under 4.5hrs of browsing, audio playback and IM using the Intel HD graphics; with the ATI graphics active, that fell to more like 3.5hrs, while actively gaming in this mode pushed it well under the 3hr mark.
As a package, we're impressed by the ENVY 14. Apple's machine undoubtedly offers more battery longevity, but the HP throws in a broader selection of ports and for a lower price. The etched alloy case might not to be everybody's taste, but it's extremely well built and, in the metal, looks far more impressive than in stock photos. While it's a little thicker than the MacBook Pro – 1.1-inches versus 0.9-inches – it's also lighter, at 5.25lbs versus 5.6lbs from Cupertino.
Where Apple can afford a relatively leisurely upgrade cycle, HP is forced to compete in a far faster moving ecosystem; buyers of PC laptops are spoilt for choice, complete with some bargain-basement pricing on offer too. The ENVY 14 could be seen as HP's attempt to push through into a premium segment that would allow them a little more breathing room, though they've not short-changed the buyer in the process. Apple's extra budget goes on the nicer elements of garnish – the HP's power adapter lacks the finesse and magnetic connector of the MacBook Pro's, and the ENVY 14's ports protrude from the angled edges of the chassis rather than feeling punched through a unibody – but we imagine many buyers would prefer to have the cash in the bank. It's a balancing act, and HP has done well with it; Blu-ray is the glaring omission, but generally the HP ENVY 14 offers a strong mixture of performance, style and quality.
Quick Look Video
[vms b1cb4b8b37d09ae48d09]
Gallery