HP EliteBook 2730p Tablet PC reviewed: it's a winner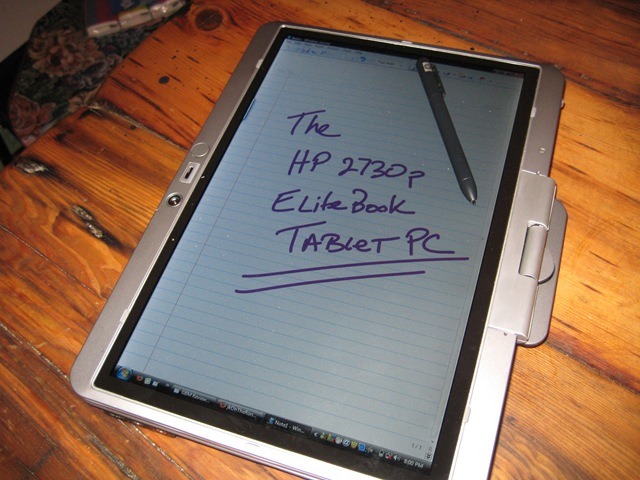 Our brief pre-announcement hands-on with HP's EliteBook 2730p Tablet PC left us wondering if we'd just been playing with the next big thing in pen-enabled consumer convertibles, and GottaBeMobile's longer-term experience seem to have borne those first impressions out.  With Intel's Centrino 2 chipset, a range of connectivity including WiFi up to N-speeds, Bluetooth and a choice of 3G WWAN, an upcoming SSD option and HP's long experience making tablets funnelled into a bright 1280 x 800 display, the 2730p is a combination of tried & tested segment knowledge and most of what you'd like to see in a current notebook.
Even without the SSD, the 2730p performs well.  In the GBM test unit – running a Core 2 Duo LV SL9400 processor (1.86GHz) with 6MB of L2 cache and a 1066 MHz FSB – reviewer Warner Crocker finds enough o particularly impress him: "I can't say enough on how effortless anything I'm doing on this Tablet PC feels."  Good enough, even, to suggest that the SSD will be something of an unnecessary luxury.
There's always room for improvement, of course, and Warner flags up the relatively average screen resolution, the lack of a multitouch capacitive display and a keyboard that has made a few compromises in button size to fit the chassis.  Still, priced from $1,670, this is an exciting Tablet PC.