HP 2310e Full HD LCD display due for $289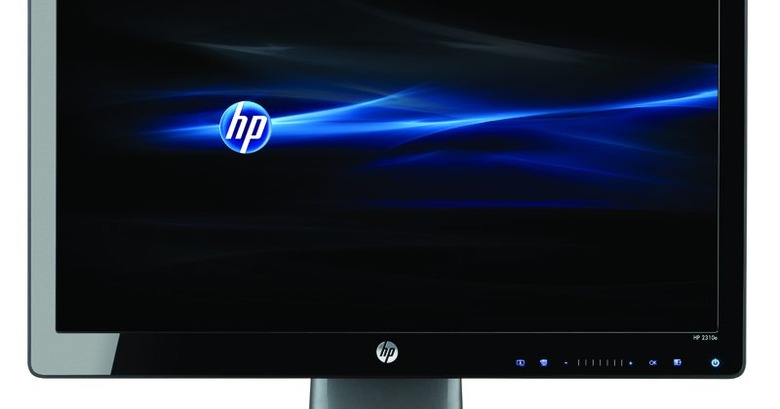 HP has outed its latest LCD display, the 2310e, a 23-inch ultra-thin widescreen display.  The HP 2310e runs at Full HD 1920 x 1080 resolution with an 8,000,000 dynamic contrast ratio and 250 nits brightness; it gets DVI-D and HDMI inputs together with DisplayPort.
HP reckons the new panel is good for 70-percent of the color gamut, meaning it falls short of the company's DreamColor monitors but is still impressive for a home/office display.  It tilts on the detachable stand, but it's worth noting that there's no VESA mount on the back.
Still, using a third-party mount would mean you couldn't see the illuminated HP logo on the back, and we wouldn't want that.  The HP 2310e will go on sale on September 29th, priced at $289.
Official Specs:
· Ultra-thin design – 1-inch deep

- Smaller than CCFL (Cold Cathode Fluorescent Lamps), WLED backlighting enables a reduction in the number and overall size of components

· High screen performance – WLED backlighting helps create deeper blacks for ultra-high dynamic contrast, brilliant color and sharp clarity:

- 8,000,000:1 Dynamic Contrast Ratio

- Full HD 1920 X 1080 resolution and 16:9 aspect ratio for a crisper, more detailed view

- BrightView technology reduces glare for more vibrant imagery

- Quicker "switching" time for faster performance

- 250 nits of Brightness

- 5 ms on/off response time reduces blur and ghosting

- 70 percent Color Gamut

· Enhanced features:

- DisplayPort – new advanced connectivity that supports multiple video streams

- Capacitive touch controls for a sleek exterior and easy method to access the on-screen display (OSD) menu

- DVI-D and HDMI connectivity

- ATI Eyefinity Capable

· Designed with the environment in mind, the HP 2310e features:

- Mercury-free WLED backlighting to help lower power consumption

- BFR/PVC-free plastics and finishes for responsible recycling efforts

- Arsenic-free display glass

- Recyclable plastics and packaging to reduce environmental impact

- Recycled plastics on rear cover and base

- ENERGY STAR® 5.0 qualified, EPEAT® Gold registered