How to cancel Apple Music auto-renewal
Apple Music's free trial period begins today, at the launch of the service at large. Today also begins the reminder for users of free subscription plans on all services that, as this subscription period ends, so too does the free service. The services continue, but the "free" part does not. Artists will be payed. Once the trial ends, you'll be the one paying them. As it is with all services like this, once the free period of play on Apple Music is over, you'll begin to pay the standard fee automatically. This includes a $9.99 a month fee for individuals or a $14.99 a month fee for a family up to 6-members large.
Inside Apple Music's "Account" area you'll find a note about choosing a plan. Inside this section you'll get the option to choose and Individual or Family plan. There is no option to cancel your subscription here.
There is a note about the following, about how your membership will effectively be switched ON at the end of the free trial.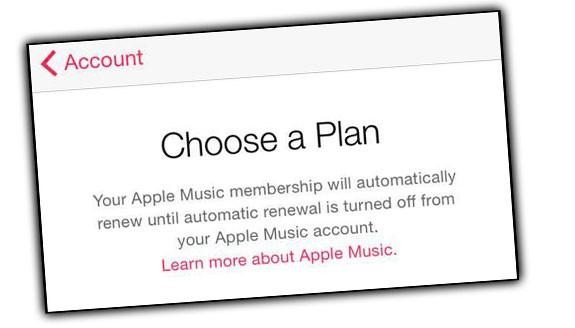 To unsubscribe from Apple Music, do the following:
1. Tap "Account" in the upper-left of your Apple Music app
2. Tap "View Apple ID"
3. Tap "Manage"
4. Tap the Auto-Renewal switch to "Off"
Easy as pie.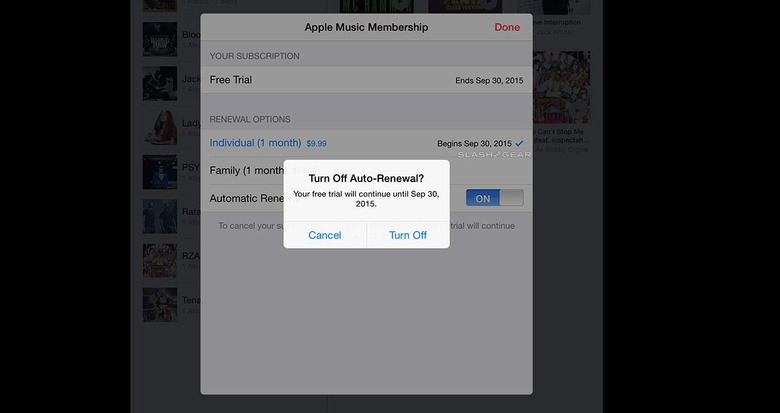 Also note the following if you're already a subscriber to Beats Music: signing up for Apple Music will cancel your subscription to Beats Music.
They're effectively the same services at this point – they even look the same – but for those of you working with Sonos Wi-Fi speakers, you'll want to wait. Beats Music works with Sonos, Apple Music doesn't. Yet. It will before the end of this year.