How Low Can Nokia Go?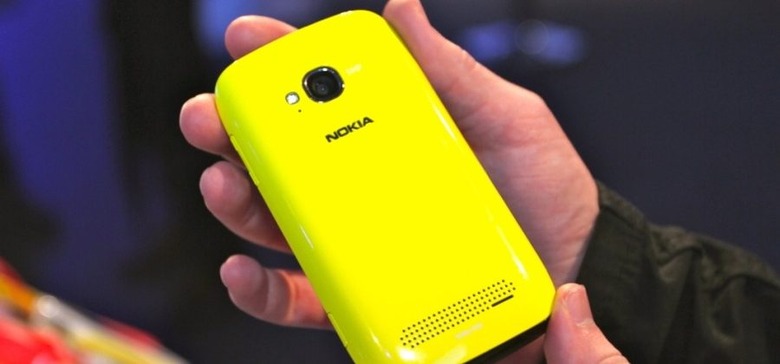 Nokia is ramping up for a far more interesting Mobile World Congress than in recent years: having opted out of a presence in 2011, rumors have it that the Finns have at least two new Windows Phones to bolster their range. After the original Lumia 800 and 710, and the imminent Lumia 900 headed to AT&T, we're also told to expect a new, higher-end device in the shape of a European 900 variant, along with an entry-level model that should cater to a more affordable price point. Question is, with Symbian's appeal souring ahead of schedule, has Nokia done enough to shave away smartphone pricing.
Economy of scale and a track-record of pumping out cheap phones that still maintained solid build quality was cited in Nokia's initial Windows Phone announcement. Microsoft's first generation of handsets, though reasonably broad in number, clustered around a mid- to high-tier price point, predominantly because of the software company's own stringent specification requirements.
Microsoft knew it would need cheap Windows Phones to capture the entry-level market, users upgrading perhaps from feature-phones, and Nokia offered a gateway to that. The Lumia 710, though comparatively cheap for a Windows Phone 7 device versus what had gone before, was still targeting that middle tier, however.
There's no doubting Nokia had an ambitious roadmap of devices to address that. Problem is, the playing field has evolved in the meantime, since that roadmap was drawn up. Symbian has been feasted upon by Android, cheap devices running Google's platform being far more popular in markets traditionally welcoming to Symbian than Nokia had ever expected. That evolution in demand is likely to have an impact on revenues as early as this year, the company has warned.
[aquote]Erosion to Symbian holds the potential to undo all of Nokia's good work[/aquote]
Although the geeks and enthusiasts among us would love to see a true Nokia flagship Windows Phone – something with the bells & whistles to adequately compete with top-tier devices from Samsung, Apple and HTC – it's the mass market that the company needs to tend to if it wants to turn about its dwindling fortunes. Despite a reasonable start to Lumia sales, erosion to Symbian holds the potential to undo all of Nokia's good work.
According to Reuters, Nokia is indeed readying the Lumia 610 to do just that, though exact details of the new entry-level handset are still unclear. The 610 might struggle to hold the headlines at Mobile World Congress – the tech audience preferring to concentrate on more ambitious specifications – but if Nokia can price its new Lumia competitively, it stands a chance in the longer game. Previous leaks have tipped somewhere in the region of £100-150 (around $150-235), with a focus on the pre-pay market currently dominated by inexpensive Android handsets.
Not only would that be the cheapest Nokia Windows Phone so far, it would also present a significant challenge – and potentially open a new market – for other OEMs using Microsoft's platform. Companies like HTC and Samsung have been somewhat coy about Nokia and Microsoft's partnership, preferring to highlight the increased attention the Finns' involvement brings to the OS, and the inevitable ad campaign for the Lumia 610 could well open them up a new price bracket to target too.
Nokia's window of opportunity is small, though. The company needs to impress at Mobile World Congress, not just in its hardware, but in how it strategizes for the future. Slick polycarbonate casings and neat value-add apps are great, but it'll take a bomb to the budget end of the market to secure Nokia's bottom line.