Horizontal Symmetry - The Way of the Future Phone?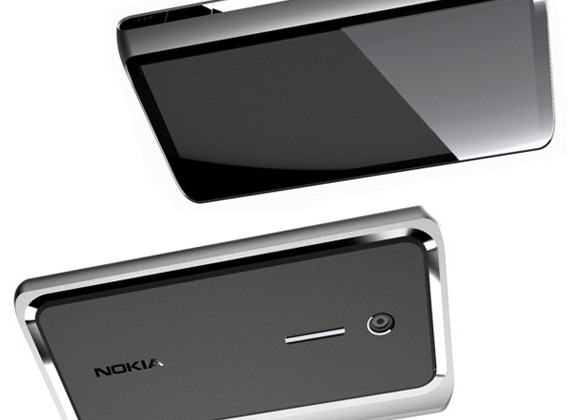 The current trend in smartphone design is that of a vertical symmetry. It's important to make sure the left and the right of the screen, (that being the right and left when the phone is held in a portrait mode,) are equal, or at least appear to be equal. The future of the phone is presented in a project by Jason Wang, a designer who believes that the next logical step in the evolution of the handheld communicator is symmetry in landscape mode. As a proof, he offers a conceptual design by the name of Nokia E2.
Wang believes that as the past several years have yielded a set of smartphones that are overwhelmingly similar to one another, it becomes difficult for the consumer to differentiate between them. He believes that the first step toward a new type of phone is the 21:9 aspect ratio. He notes though, that upon first viewing a traditionally designed 21:9 phone, it lacks visual appeal, especially due to the fact that they're designed, still, to be held upright.
His solution is the E2, a 21:9 device with a horizontal symmetry, and what he says is "a large screen, a relatively small size, no vertical orientation bias, and no compromises." Specs for his concept phone are as follows:
4.6" 21:9 ClearBlack display
Proximity sensor
12 megapixel camera with Xenon flash and 720p recording at 30fps
Concealed SIM and MicroSD slots (under the left side of the back cover, tilted 2 degrees)
3.5 mm headphone jack
Micro USB port
Multi-Purpose button (center, top) 3 zone button/rocker with capacitive layer
HDMI output
Stereo Speaker
Call speaker
Call microphone (with noise-cancellation, activation upon upward facing orientation)
2nd call speaker
2nd call microphone (with noise-cancellation, activation upon upward facing orientation)
*What these two call mics do is assure the user that any way they hold the phone, its the right way.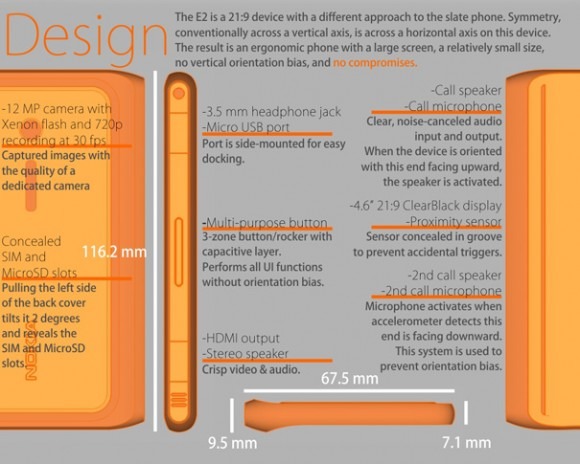 What do you think? We're already sort of leaning this way with flip-out keyboards and gamepads like the upcoming XPERIA Play – is this the way of the future?
[Via Yanko Design]