HoloLens 2 Development Edition Arrives As Unreal Engine 4 Support Dated
Microsoft has revealed a new HoloLens 2 Development Edition, offering coders a swifter way to get into mixed reality app and experience creation. The package is based around HoloLens 2, the second-generation of augmented reality headset which Microsoft announced back at Mobile World Congress earlier in the year.
Smaller, lighter, and more comfortable than the original HoloLens, the updated version also improves on its functionality. Microsoft has expanded the mixed reality field of view, for example, so that digital objects can occupy more of the real-world scene. Higher resolution displays, meanwhile, along with new sensors were also added.
Some of those sensors add eye-tracking to HoloLens 2. It's a significant improvement to the headset: not only can it now track individual fingers, but HoloLens apps can see where your attention is in the scene. The same cameras support Windows Hello authentication and iris recognition.
The HoloLens 2 Development Edition will be offered through Microsoft's Mixed Reality Developer Program. Priced at $3,500, or $99 per month, it'll obviously include the headset itself. Microsoft will also throw in $500 in Azure credits, so that developers can get started immediately on Azure mixed reality services.
In addition, there'll be three month trials of Unity Pro and the Unity PiXYZ Plugin for CAD data.
"Pairing HoloLens 2 with Unity's real-time 3D development platform enables businesses to accelerate innovation, create immersive experiences, and engage with industrial customers in more interactive ways," Tim McDonough, GM of Industrial at Unity, said of the bundle . "The addition of Unity Pro and PiXYZ Plugin to HoloLens 2 Development Edition gives businesses the immediate ability to create real- time 2D, 3D, VR, and AR interactive experiences while allowing for the importing and preparation of design data to create real-time experiences."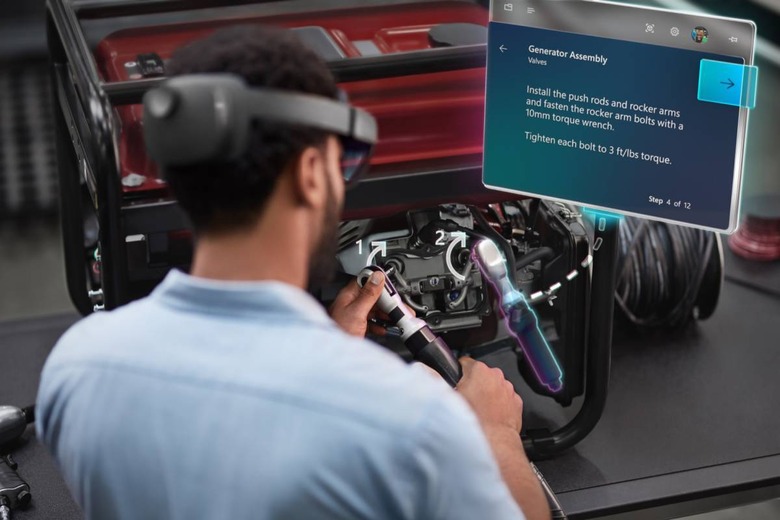 Meanwhile, Unreal Engine 4 support has also had a release date attached. It'll be deployed by the end of May, Microsoft says, with streaming and native platform integration. Epic Games had announced the support back at Mobile World Congress 2019.
We're still, clearly, some way from a consumer version of HoloLens. While the second-generation headset can be had in more affordable ways than the original, it's still well out of reach of most everyday users. In enterprise, however, where buyers are less price-conscious, Microsoft says it has been making huge strides in picking up users.