Welcome to the Autumn show with Hitachi for their full 3D Smart TV and next-generation HDTV lineup. This time they're coming in hard with a selection of televisions that are strongly considering blowing your socks off, all with a pointed suggestion that you buy a ROKU to go along with them (ROKU-ready streaming options they say.) This collection has both an ULTRAVISION UltraThin LED Series and a Value Series to speak of – going all out!
With the ULTRAVISION UltraThin LED series, you'll be grabbing Full HD 1080p picture quality with undeniable performance and "exceptional" clarity at 120Hz/60Hz refresh rates. There are several models in this lineup including the W806 Smart 3D TV series in 48- and 55-inch screen sizes as well as the platinum finish 42-, 46- and 55-inch screen sizes with Hitachi's E-LED UltraThin Bezel. The Smart 3D units work with 120Hz refresh rates for 3D content as well as built-in WiFi and IPTV.
The 3D units in the ULTRAVISION series have lovely high gloss "piano black" – a term you may have heard before that means they really look super awesome and blacker than black, so to speak. They've also got Full HD 1080p and two pairs of 3D glasses. And they're massive, of course.
Each of the 42-, 46- and 55-inch screen sizes in the ULTRAVISION series (the S606 line, that is) features a 120Hz Full HD 1080p display and are ENERGY STAR 5.3 standard for power consumption. They also note that these units are amongst the first "Roku ready" televisions on the market – this means that you can plug a Roku Streaming Stick in and have it worth without additional drivers – hot stuff!
Hitachi also offers a Value Series with the S406, H306 and H316. These units have an "ultra thin bezel", Dolby Digital, and surround sound abilities. The S406 has a platinum finish and a 32-inch display with 60HZ 720p. The H306 has a 29-inch display and 720p HD resolution as well as 60 HZ refresh. Finally the H316 has 29-, 32- and 39-inch display sizes with 60HZ and Full HD 1080p.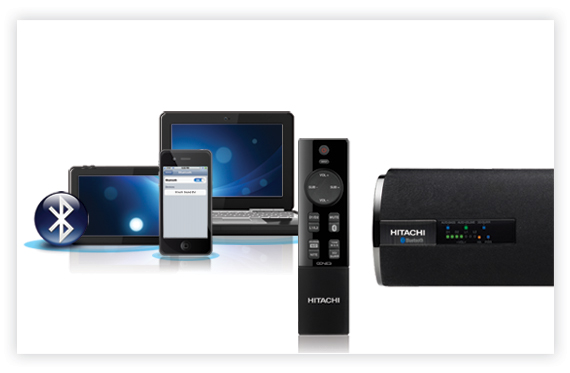 The folks at Hitachi also note that they've got a few accessories to go along with this fabulous football-season set of releases, rocking forth with Sound Bars. The 32- and 40-inch class Sound Bars work with CONEQ 3D Sound technology each with four speakers for heavy blasting. These and two high frequency tweeters bring on the heat with Class D digital amplifiers and the whole show connect with your Bluetooth devices with ease.
Stay tuned for the Hitachi wave to continue flowing in! The Smart TV wave is moving in at a high rate – expect the best!