Here's why the DROID RAZR is the ideal Android for today's mobile landscape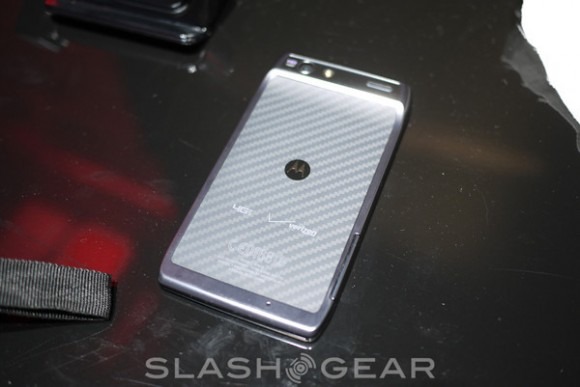 Let me tell you here why Motorola presented the ideal phone for a person like me this week in New York City. And also let me tell you why I'm sad it didn't come out several months ago. First, the positives – they all begin with the heavy metal that makes up the majority of this device. Then let's speak about how thin and lovely this device very much appears to be. Then we'll speak about how even though I will be switching to the Galaxy Nexus sooner than later, you certainly don't have to. This is the DROID RAZR, the greatest Motorola smartphone ever created and soon to be at once the thinnest and the toughest to break smart handset on the market.
The RAZR is two things at once: the thinnest 4G LTE smartphone on the market at 7.1mm at its thinnest point, and it's got several factors at play that make it tough enough to withstand AT LEAST your everyday rough and tumble usage. The RAZR has Corning Gorilla Glass on the front, KEVLAR along the back the device, diamond-cut aluminum accents for the rest, and a splash-guard coating across the entirety of the device, even the electrical boards inside, so that if you get dashed by an angry critic or you pull the RAZR out during some sprinkling rain, you'll be just fine. Of course you shouldn't dunk the device in your bathtub, as this device isn't completely protected against foolishness, but for ordinary occurrences like the device jumping out of your hands onto some concrete pavement, you'll be perfectly fine. Even the inside is what Motorola calls a "precision machined stainless steel core." Good LUCK busting this one.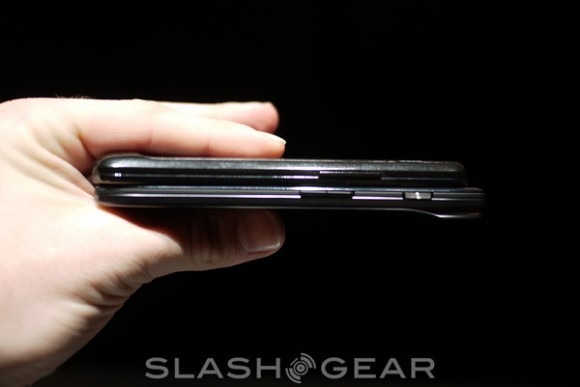 This invulnerability comes into sharp focus when you consider how thin this device is. Where the Galaxy S II and the Galaxy Nexus are thinner across their widest points, this device does have the thinnest thin profile on a smartphone today – it's just the part at the top where the camera is that makes this device fat. And here's the thing about that: the swoop on up to the top of this device makes for a really excellent contrasting look compared to the rest of the Motorola line of smartphones. If you look at the device from the front, it looks rather similar to the ELECTRIFY and the upcoming XOOM that we're not supposed to have seen yet, but from the side and back you'll find a smartphone that's entirely unique and absolutely refreshing.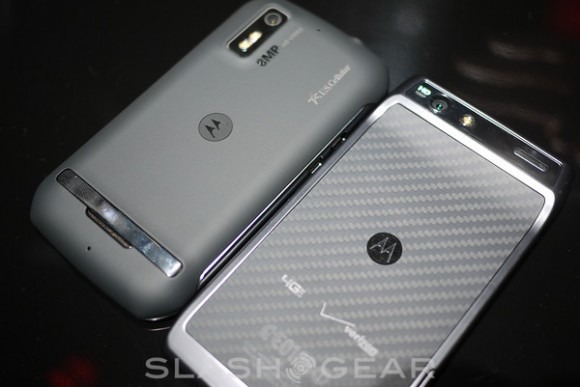 The battery isn't removable, but since its a gigantic 1780mAh, who the heck cares, and there is a slot for both SIM card and microSD card along the side, 8 megapixel camera on the back, 1.3 megapixel camera on the front, and both 1GB of RAM and 16 GB of RAM on the inside, with a 16 GB microSD card pre-installed. The cameras work really well from what I've seen thus far, definitely not repeating what we've seen with the BIONIC — have a look at a tiny video I filmed with the RAZR here:
Looks good, don't it? Any frame of that video would be good enough to chop out and use as a dandy photo. So what's there to say that's bad about this device? The user interface isn't my favorite. If I had to choose a UI that wasn't vanilla Android, Motorola's vision wouldn't be on top of the list. Two: this device is locked per Verizon's request, it seems, with the software actually having the ability to be unlocked and indeed the Motorola RAZR version of this device (international name) being unlockable, it is only here in the states that we won't be able to do any real hacking. And yes, there is an e-fuse installed on this device.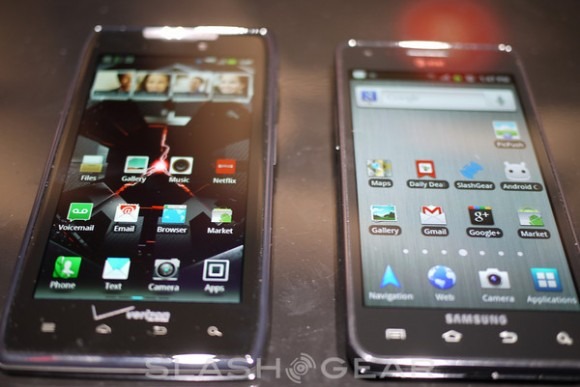 So why would I choose this device over any other comparable device out there today? Because its strong enough to survive anything I throw at it, because I can replace the user interface with ADW Launcher EX if I really want to, and because both the camera and the connection (4G LTE) are top-notch. Also there's a perfectly legit dual-core processor sitting inside at 1.2GHz that's nothing to scoff at. When you put all these piece together and wrap them up in one of the most appealing chassis designs on the market today, you have a winner in my book. I use smartphones to take photos for projects on SlashGear such as my ongoing exploration of Target, for my pet project Insane Overload which incidentally has a lot of photos from my trip to NYC where I first saw the RAZR, and for email and games, both of which can be handled VERY readily by this device.
[vms f061977fb2f7ba36d74d]
Motorola Hands-on with DROID RAZR
[vms 5e962e90cb14648c9462]
Chris Burns close-up Hands-on with DROID RAZR
Oh, and it's the first device to play Netflix at full HD right out of the box – and it's got HDMI output to 1080p – and it has Motorola's Webtop interface optimized with Firefox, which I WILL use. AND it has one of the greatest code-named in the world: Spyder. So until the Galaxy Nexus comes out, you can bet that this device will be in my pocket — that is, if it comes out before the Galaxy Nexus, of course.
BONUS here's some accessories as well – what more could you want?
[vms 21445772454cbddf0cac]