Here's What Automakers Think Of Obama's Autonomous Car Plans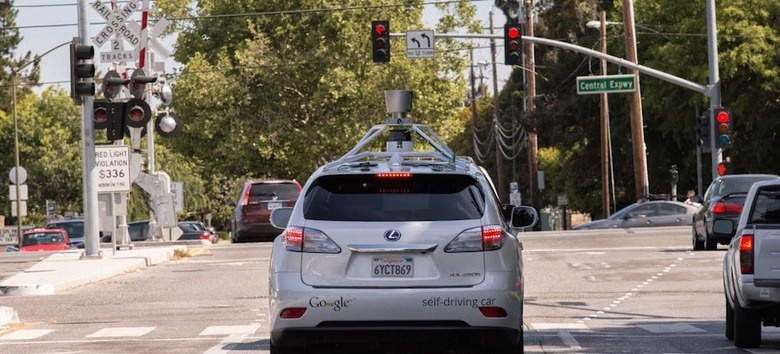 The auto and electronics industries alike have reacted positively to the DoT's news of a near-$4bn push for autonomous vehicles. The decade-long proposal to turn America's roads into a welcoming arena for self-driving cars – and hopefully cut casualties, emissions, and expense along the way – still needs to be approved as part of President Obama's FY17 budget, but already big names in driverless research have praised the scheme.
"Fully autonomous vehicles have the potential to save lives," a Google spokesperson told SlashGear, "so we welcome the Secretary's commitment to removing barriers that may prevent them from sharing the roads when they're ready."
The electronics industry has been similar enthusiastic, though Consumer Technology Association president and CEO Gary Shapiro points out that there's far more than just smarter vehicles themselves that need to be worked on.
"We need to establish standards for highway signs and lights," Shapiro said today, "devise new approaches to regulating spectrum, liability, insurance and safety; and consider revised highway rules, parking structures and car-ownership paradigms."
All the same, the CTA chief is still upbeat about just how collaborative the government appears to be in developing autonomous vehicle standards, which the NHTSA intends to include cross-state licensing.
"We appreciate the government's efforts to accelerate the introduction of driverless cars to our roads and Secretary Foxx's recognition of the major technological advancements by the tech and auto industries to improve driver safety. In particular, we applaud the National Highway Traffic Safety Administration's (NHTSA) commitment to work with industry to develop a consistent national policy and smooth the road ahead for autonomous vehicles.

Driverless cars will soon evolve from science fiction to reality, just as driver assistance systems did a few years ago. Self-driving technologies will transform the future of our mobility by removing human error to improve road safety, decrease the number of accidents and provide greater flexibility to consumers" Gary Shapiro, president and CEO, Consumer Technology Association
Part of the proposal will see a greater number of public roads made available for autonomous car trials, in the process helping automakers get their prototypes off of tracks at private facilities.
Meanwhile, connected car functionality will also be explored, something GM is keen to highlight given the number of its models which have OnStar installed.
"General Motors supports the government/industry collaboration to advance principles for autonomous vehicles given our shared goals for consumer safety and satisfaction. We see automation and autonomous technology leading to large advances in convenience, mobility and safety, since most crashes are caused by driver error. We are committed to working with the government and the rest of the industry on standards. GM has millions of miles of real-world experience with embedded connectivity through OnStar and advanced safety features that are the building blocks to more advanced autonomy features and eventually to autonomous vehicles" General Motors
More broadly, the hope is that the proposals will erode the individual silos of research and regulation, and do what experts agree will be vital if driverless cars are to succeed: encourage everyone to talk to each other.
"Strides in mobility will not be achieved by any one person, company or government body," Curt Magleby, Vice President of Government Relations at the Ford Motor Company said today.
"Without the public and private sector working together to establish the framework that will govern the future of mobility, there will be a patchwork of regulations that create confusion and stand in the way of innovation and the benefits it will deliver."
Update: A Nissan spokesperson gave SlashGear the following statement [Updated with Nissan's amended statement]
"Nissan Group is committed to significantly improving safety, mobility and sustainability and is actively developing innovative, autonomous driving capability and connectivity for mass-market vehicles. Starting this year, Nissan will roll out technologies that allow a vehicle to drive autonomously and safely in heavy, stop-and-go traffic on highways. In 2018, select Nissan vehicles will be able to autonomously negotiate hazards and change lanes during highway driving, and in 2020 Nissan will introduce cars that can navigate city intersections without driver intervention.

Nissan shares NHTSA's vision for making highways safer, and we look forward to working closely with the agency to facilitate development of an autonomous vehicle infrastructure in the United States."
Update: Toyota provided us with the following comment:
"Toyota supports the U.S. Department of Transportation and the National Highway Traffic Safety Administration (NHTSA) in their efforts to advance the development of autonomous vehicles and automated safety technologies. Toyota shares these goals and is working to speed both research into future technology and the near-term adoption of advanced vehicle safety systems. Toyota has made an initial five-year, $1 billion investment to establish the Toyota Research Institute, with the long-term goal of enhancing the safety of automobiles, including autonomous vehicles. Today, 80% of current Toyota models are available with our Pre-Collision System, and the integrated Toyota Safety Sense (TSS) system of safety technologies will be an available option on almost all Toyota vehicles by the end of 2017 at a price that makes them available to a wider range of new car buyers. The announcement by the DOT and NTHSA is the next step in an important process, and Toyota looks forward to working with both agencies to help advance automotive safety."