Here's how Intel's Web TV viewer-tracking works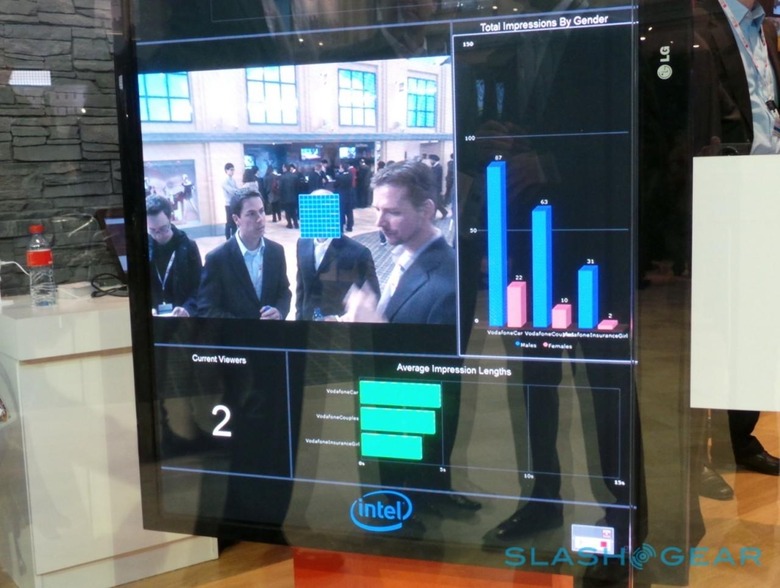 Intel's decision to
track viewers of its upcoming Web TV service
 using a camera-equipped set-top-box, tracking living room demographics and better tailoring commercials, left privacy advocates worried, and we've stumbled across a live demo at Mobile World Congress. The proof-of-concept, part of Vodafone's Connected City installation, shows just how the Intel-powered system uses a webcam – mounted above the TV – to identify not only faces but direction of gaze, with real-time statistics that feed into a playlist. Check out a video demo after the cut.
In Vodafone's demo, two screens showed the two perspectives involved: the upper screen would be the TV in the viewer's home, while the lower display showed what the camera – a simple Logitech webcam – saw and calculated. While facial recognition and tracking is already commonplace, particularly in cameras, Intel's refinement is to gage attention too: if you're not actually looking at the screen, instead engrossed in your phone, book, or tablet for instance, it won't include you in the count of overall viewers.
Initial identification is almost instantaneous, though the system takes a few seconds of prolonged attention in order to identify gender and other details. Once that happens, the box overlaid on the user's face – which tracks around as the viewer moves in the frame – turns either blue for males or red for females. Meanwhile, other graphics show more specific demographics, such as age bracket, and track historical viewing trends.
Vodafone had a playlist of three commercials for the system to cycle between, and depending on the split of male and female attention, as well as other factors, would choose which to queue up next. For the viewer it's all seamless: there's no sudden jump to new content, simply a selection of adverts that they might well be more interested in than the regular network choice.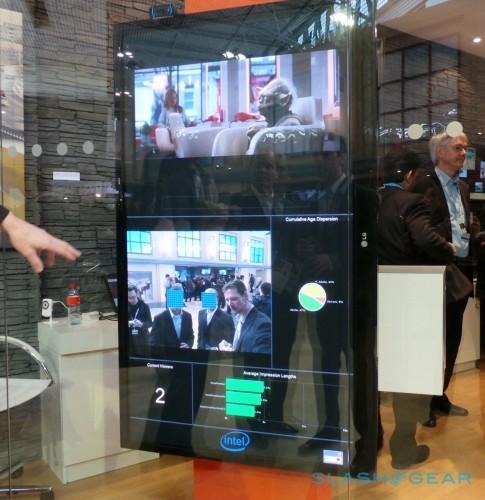 The system isn't perfect. We had trouble being recognized while wearing glasses – the camera simply didn't flag us up as a viewer – and Vodafone told us that people with bald heads could also confuse things, with Intel's computation unable to figure out gender. As for the inevitable privacy concerns, Intel has already said that it will be fitting a shutter mechanism to its STB, allowing coy subscribers to block off the view of the camera altogether.
Vodafone couldn't tell us specific details about the Intel system, nor indeed confirm or deny whether this particular implementation would find its way into the eventual Web TV device. Still, this certainly fits in with what the chip company has described. Intel Web TV will
.