Here's big gaming's problem: iOS and Android are eating its lunch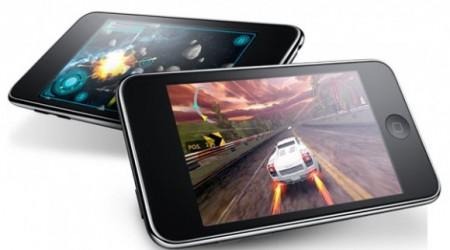 Sales of iOS games have already eclipsed those of traditional portables like PS Vita and Nintendo 3DS, new research suggests, with Google Play sales looking likely to do the same within the next few months. Spending on titles for Sony and Nintendo's hardware fell markedly from Q4 2012 to the first quarter of 2013, App Annie's portable gaming stats indicate, a marked contrast to the surge in sales on both iOS and Android, and one which is likely giving industry stalwarts sleepless nights.
According to the numbers, iOS is now the leading platform for consumer spending on mobile games, overtaking "gaming-optimized handhelds" like the 3DS. Google Play is accelerating fast, however, and while still lags behind iOS, is predicted to exceed traditional gaming spend by the end of the current quarter.

App Annie blames seasonality for most of the slump that Sony and Nintendo are seeing, but warns that ad-revenue isn't included in its numbers. That could mean even more of a gulf is opening, considering many Android titles follow the so-called freemium model where a free download is offset by in-game marketing.
For traditional platforms, the DS and DSi saw the biggest proportional slump, with App Annie suggesting that gamers are shifting over to 3DS instead. However, that's not to say the 3DS gaming spend is much more reassuring, almost halving between Q4 2012 and Q1 2013.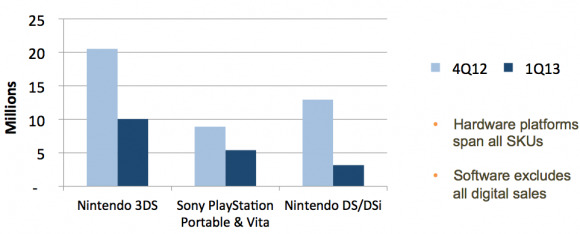 Games represent around 40-percent of downloads in both the iOS App Store and Google Play store, the research company says, and are the number one motivator to store growth. In total, spending on games across iOS and Android amounted to nearly 3x that of gaming-optimized handhelds in the three month period.
The disparity is only likely to become more pronounced now that Google has waded fully into mobile gaming. At I/O this week, the company unveiled Google Play Games Services, a cross-platform rival to Apple's Game Center which leverages Google+ for social leaderboard sharing, among other things.
Google is yet to fully address arguably one of the biggest issues facing Android game studios, however, that of software piracy. Some developers have complained of a 95-percent piracy rate for their Android titles, with users reluctant to pay even $0.99 for a game.
VIA: TUAW