Here come the first 2017 Acura NSX supercars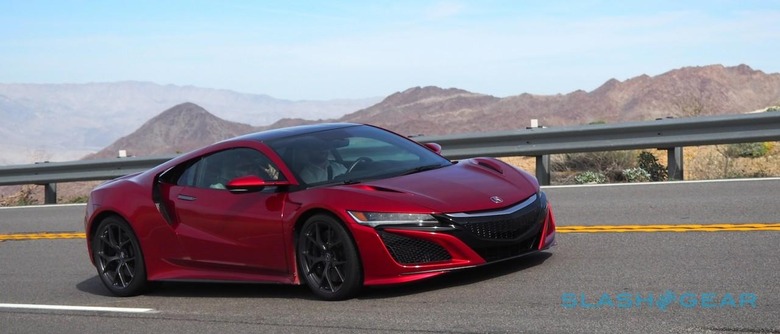 Watch out, Ferrari drivers; check your mirrors, Porsche owners. The first of the 2017 Acura NSX production cars have rolled off the line at the automaker's Performance Manufacturing Facility in Marysville, Ohio, and the exotic hybrid is chomping at the bit to go supercar-baiting on the road.
The first car is particularly special – and cost a whole lot more than a regular NSX would. Bought in auction back in January, the $1.2m winning bid has been donated to the Pediatric Brain Tumor Foundation and Camp Southern Ground.
Subsequent cars won't be quite so expensive, with pricing starting at $156,000 before you raid the options list for things like carbon fiber trim and custom wheels. Even so, Acura envisages NSX ownership being an exclusive thing in the US: first year sales for the country are only seen as hitting 800 cars.
Part of that is down to the complex production process that saw Acura completely refurbish its Ohio facility. Around 100 staff and an orchestra of robots build each car to order, with a newly-stocked toolbox of high-tech equipment that includes wirelessly-connected torque wrenches that can remotely log exactly how tight each bolt was fastened.
It takes around 100 hours to make a single NSX, Acura says, including dropping in the hybrid powerplant – that features a 3.5-liter V6 engine with twin-turbochargers, paired with three electric motors that help the car with its clever torque vectoring system – manufactured nearby at a second facility in Anna, Ohio.
Piecing together the powertrain system alone takes six hours, Acura claims.
NOW READ: We take the all-new Acura NSX to the track
The result is a car that can drive like an Acura premium sedan when you want to cruise, but awake into a canyon-carving monster when you twist the driving-mode dial.
Altogether, you get 573 horsepower and 476 lb-ft. of torque, for a top speed of 191 mph.
Meanwhile, rumors linger of an altogether more straightforward version of the new NSX, dubbed by some the NSX Type-R, doing away with the hybridization in favor of a single, gasoline engine. The company refuses to comment on the possibility, mind, though it has made just such a car in the shape of the NSX GT3, which it will take racing in 2017.