Here are the phone carrier locking rules agreed to by DISH, T-Mobile, and Sprint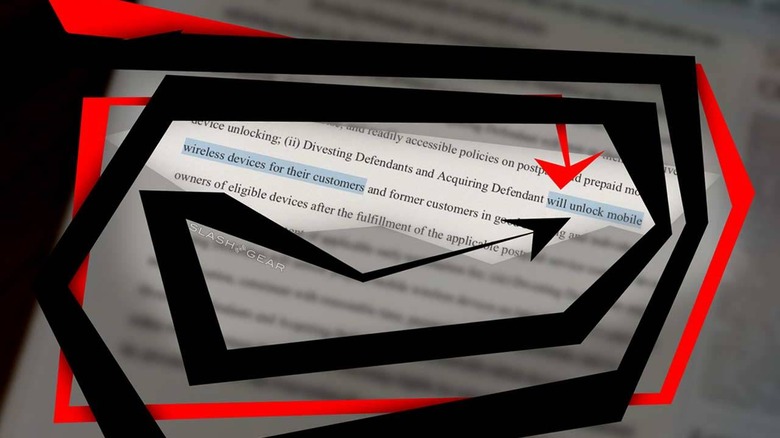 Documentation agreed to by the Department of Justice, T-Mobile, Sprint, and DISH, dictate that new carrier locking policies are now on the books. Before you go any further, note that these agreements were not made by AT&T, Verizon, or any other carrier other than the three carriers mentioned in the first sentence of this article. In the court documents viewed by SlashGear today, locking principals agreed to by these parties apply to "all methods of locking, (including any limitation on the use of an eSIM to switch between profiles*) for any postpaid or prepaid mobile wireless device that they lock to their network."
Court documents filed by the United States District Court for the District of Columbia include several rules by which the defendants agreed to abide, with regard to wireless device carrier locking. We've yet to see whether these rules will be followed – we know similar rules are sorta bent every once in a while.
One requirement is that T-Mobile, Sprint, and DISH will post to their respective carrier webpages their policies on postpaid and prepaid mobile device unlocking. Note – the document did not say "locking" – it said "unlocking" only. It could imply both, but it only says unlocking.
The document requires that T-Mobile, Sprint, and DISH unlock mobile wireless devices for their:
• "customers"
• "former customers in good standing"
• "individual owners of eligible devices after the fulfillment of the applicable postpaid service contract, device financing plan, or payment of applicable early termination fee."
Another requirement outlined in the document says that T-Mobile, Sprint, and DISH will unlock prepaid mobile wireless devices no later than one year after initial activation. This will be "consistent with reasonable time, payment, or usage requirements."
Notice that this leaves a lot of room open for interpretation. Who says what's reasonable? Unless there's a specific number of days listed, the amount of days will be... stretched. On that, you can bet.
The next rule sharpens the timeline up just a bit. It requires that T-Mobile, Sprint, and DISH "will automatically unlock devices remotely within two (2) business days of devices becoming eligible for unlocking." Unlocking will be required to take place "without additional fee." BUT – and this is a pretty big BUT...
This is all "provided, however, that if not technically possible to automatically unlock devices remotely, [T-Mobile, Sprint, and DISH] shall instead provide immediate notice to consumers that the devices are eligible to be unlocked."
It sounds super simple, but there's a lot of wiggle room. Sometimes small amounts of text mean rules are more solid. Sometimes small amounts of text mean the rules are extremely bendy. Keep an eye on The New T-Mobile USA, as they've been called, and DISH, to see if they roll right. Right into the 5G future, right?
Also take a look at the big T-Mobile Sprint merger approval announcement as well as our first guide on following along with the mobile carrier future of DISH. And don't forget the future of the eSIM, courtesy of this merger and the rules set in the process.