No eSIM future: What's in the T-Mobile, Sprint, DISH DOJ agreement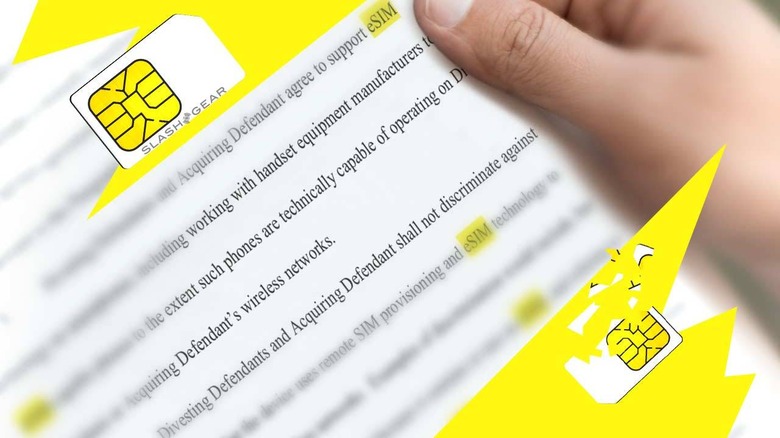 The future is officially, legally bindingly, inclusive of eSIM. Official court filings released today stipulate that both The New T-Mobile (with Sprint) and DISH "agree to support eSIM technology on smartphones, including working with handset equipment manufacturers to support eSIM-capable phones to the extent such phones are technically capable of operating on [aforementioned carriers'] wireless networks."
It is in this court document, filed by the United States District Court for the District of Columbia, that the next generation of smartphone hardware is essentially decided. Unless you count Verizon and/or AT&T, of course – they being two other major carriers that aren't a part of this agreement in any capacity.
If a company wanted to continue to make smartphones with the ability to work with physical SIM cards, they could certainly decide to do so. Both The New T-Mobile and DISH agreed with the court that they would not discriminate against devices based on their use of remote SIM provisioning and/or eSIM technology to connect with their wireless networks.
This means the carriers will not be allowed to refuse to sell a device "because it contains or uses an eSIM." The same is true of them refusing to certify a device for network access due to its use of an eSIM.
Locking devices has a slightly different ruling, per the court's proposition. "Discrimination would not include the application of [The New T-Mobile or DISH's] generally applicable device-locking policies to devices sold or leased by [the carriers]." That's provided they follow the locking and unlocking rules set up in the proposed agreement as spoken of earlier today by the United States Department of Justice.
NOTE: Updating as we get information. More data on phone locking policy agreements coming up next!
Meanwhile, have a peek at the earlier breaking news that the T-Mobile Sprint merger was approved, and continue to follow along with the story as it develops here on SlashGear. UPDATE: See what it'll mean for DISH now that they are essentially the new, better replacement for Sprint. They've agreed to bring the USA a healthy dose of 5G, after all!
NOTE: The couple of times where quoted documents include bracketed terms, they've replaced such names as "Acquiring Defendant" and "Divesting Defendants", which represent DISH Network Corporation and T-Mobile/Sprint, respectively.
Along those same lines, where "The New T-Mobile" is included, it refers to the new collective single carrier that includes T-Mobile and Sprint. The New T-Mobile is a name to which the company itself refers in a number of documents and promotional pieces of media over the last several months.