Hear the 2016 Ford Shelby roar in Nurburgring test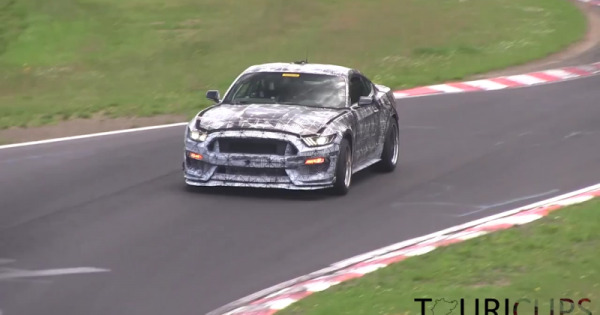 Some people liken the sound of their engine to a purring cat. If that's the case, then Ford's next Shelby can definitely be compared with a roaring lion. That is especially true if you watch this latest video that spies on the Ford's 2016 SVT as it goes around the Nürburgring track for a thorough test.
While there is still some confusion as to what name it will take, whether GT350 or GT500, Ford's next high-performance Mustang already literally sounds ready to surpass it predecessors. Of course, it will still be another year before that happens. In the meantime, there is still a bit of speculation as to how many ponies this model will have. This year's GT500 already boasts of an engine with 662 horsepower, plus 631 lb-ft of torque. One can always go faster, right?
Not much yet can be gleaned from this 3-minute sighting of Ford 2016 model in terms of design, considering it is still covered in "anti-leak" markings. The basic form, however, can already be discerned from this video, such as those splitters that work to give the Shelby GT350/GT500/SVT an aerodynamic edge. It doesn't yet look too distinct from the 2014 model, but we'll have to wait for the final design to really judge that.
As to when that will happen, look to 2015 for this upcoming model. That said, do not be surprised if it fetches a steep $50,000 or higher price tag. But Ford will have to be careful in pricing and timing its launch right, as the next Shelby is believed to be going up against some formidable rivals, especially those coming from Chevrolet and Dodge, next year.
VIA: Jalopnik