Has Apple shown us the iPad 3 Retina Display already?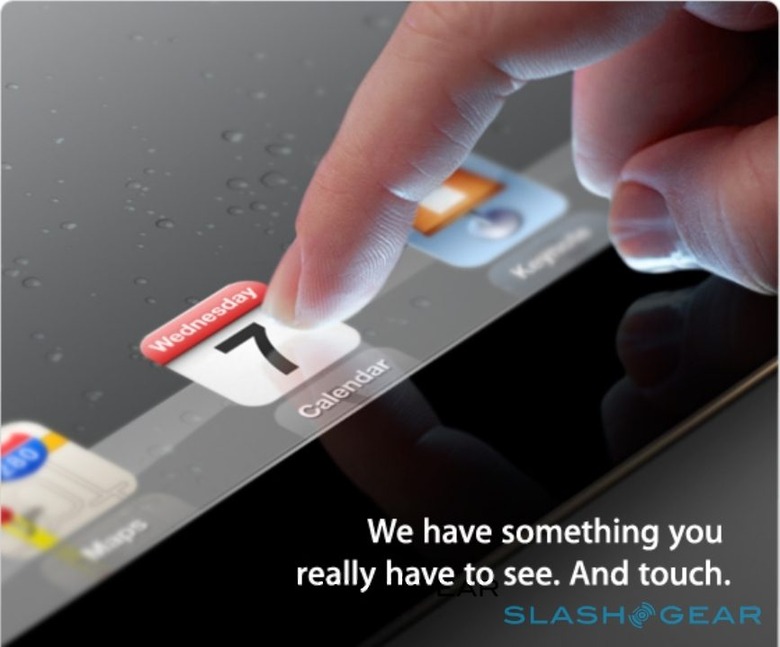 Apple's iPad 3 event invite doesn't just confirm the March 7 launch of the third-gen tablet: it's also the most official suggestion so far that a Retina Display is indeed on the slate's spec sheet. Take a look at the invite graphic Apple included – complete with the tagline "We have something you really have to see. And touch" – and the on-screen graphics certainly look smoother and more precise than what the current 1024 x 768 iPad 2 offers.
The so-called Retina Display hasn't exactly been a mystery component. While rumors about the higher-resolution screen have circulated for several months, in recent weeks the LCD IPS display itself has been caught in the wild, at least according to the rumors. Close-up images of the panel have indicated far denser pixels.
As with the iPhone 4 and its Retina Display, Apple looks set to give the tablet industry a sharp kick with the new iPad. Higher resolution means smoother icons, HD video support and – for app makers – a whole new ballgame when it comes to software, so expect a flurry of updated App Store content that takes advantage of the extra detail possible.
Still lingering is whether Apple has done something different with touch technology – haptics, perhaps – or if the latter part of the invite tagline is merely a reference to the existing touchscreen functionality. We'll know for sure at Apple's third-gen iPad event next Wednesday, March 7, so join SlashGear for the full liveblog at 10AM PST over at http://live.slashgear.com/!