Happy Hydrogen: Up Close With Toyota's 2015 FCV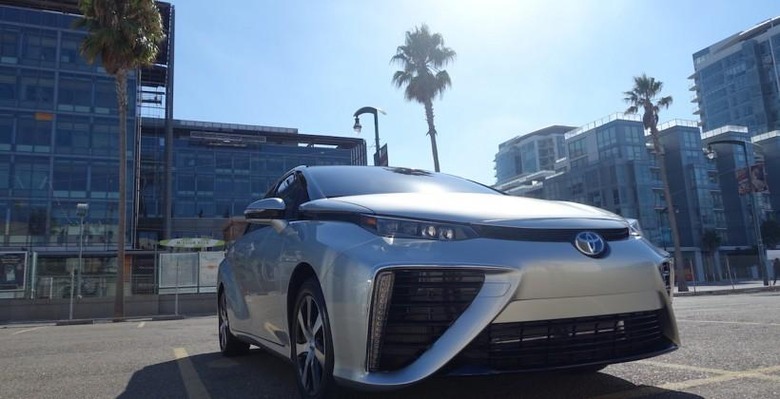 Toyota isn't quite full of hot air with its latest car, but it's not far off. The Toyota FCV relies on hydrogen – a gas, but not gasoline – for its get-up-and-go, and though the commercial release isn't expected until next year, that hasn't stopped the new sedan from starting a quiet tour in eco-conscious California. It brought along some old friends, too, including one of the SUVs Toyota first used to prove the fuel-cell technology would work.
Up close, and just how near the FCV's production design is to Toyota's original concept still surprises. Toyota jokes that all the designers did was slap a few large rear-view mirrors on the outside, and while it wasn't quite so straightforward as that, it's definitely distinctive.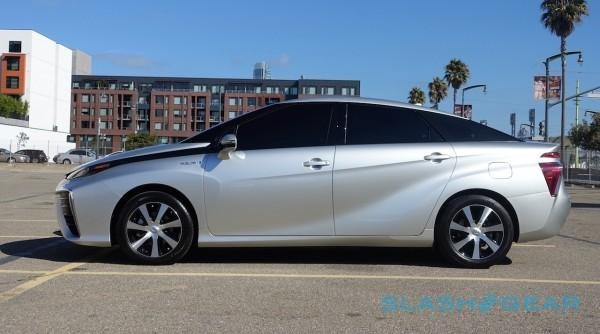 Unlike the plastic molding on many sedans, Toyota's grilles all work: they're required to help keep the fuel-cell system cool. Many of the components under the sheet metal are shared with the company's existing Prius range – the fuel-cell simply powers electric motors, and there's no backup gas engine or range-extender – and there are design cues from the best-selling hybrids in the shape of the nose.
Moving back, the arching curves down the side of the car are meant to represent waves of air, a nod to the fact that oxygen and water are the only byproducts of the fuel-cell drive. Oversized light clusters and plenty of LEDs keep things looking modern, and there's plenty of eye-catching detailing which helps the FCV from being mistaken for a bland, traditional sedan.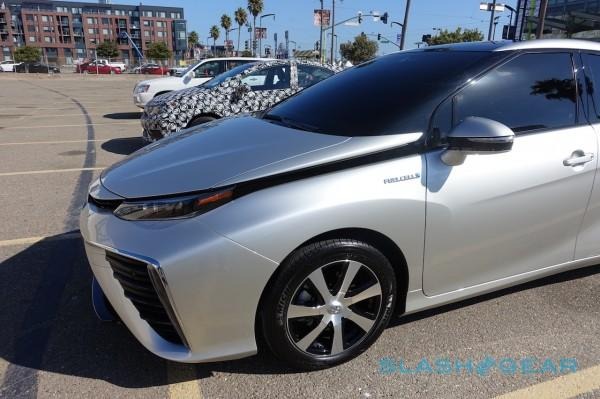 Unfortunately the interior is still a mystery, Toyota using a rather fetching limo-tint on the windows to keep prying eyes from seeing the car's dashboard. I'm told it's "unlike anything you've seen in a Toyota before," and that it offers "a new degree of luxury," but for now all I have is the company's word for that.
Instead, I was faced with the Frankendash monster that is Toyota's latest test mule, cobbled together from the hacked-up shell of a Lexus HS and various other cars so that the engineering team can test out the drivetrain. They're well-travelled cars – FCV engineer Jared Farnsworth told me he'd taken mules to Northern Canada to see how they held up in cold weather, and then to Death Valley to see how they handled the heat – though I only managed a relatively brief spin in comparison.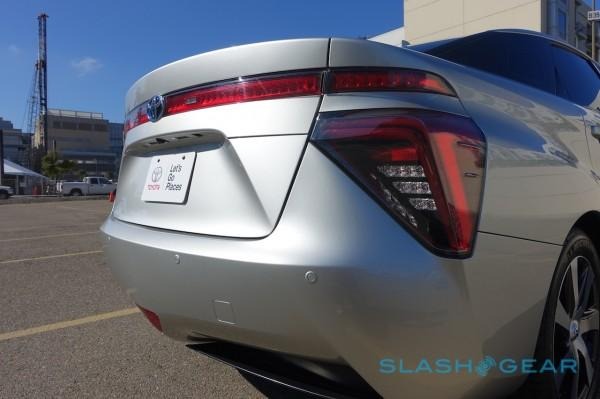 What's interesting is just how unremarkable it feels. Sure, when you're faced with a mixture of US and Japanese gages (not to mention the charming array of pings and electronic bleating Japanese cars seem to love making) it's a little disconcerting at first, but after a block or two you forget what's propelling you.
Instead, it rides just like a normal EV. You get a surge of torque from the get-go, that great benefit from using an electric drivetrain, but otherwise it's business as usual. That's what Toyota is hoping for, too; the FCV isn't meant to be a hair-shirt car for environmental extremists, but a legitimate option for drivers firmly grounded in the real-world.
Farnsworth had warned me that the clunks and hisses of the prototype wouldn't be carried over to the production car – which is expected to be effectively silent – but they were almost unnoticeable in practice. Perhaps if I'd been able to take the FCV mule onto a highway I'd have heard more from it, but Toyota is a little cautious letting outsiders drive its priceless, hand-made prototypes.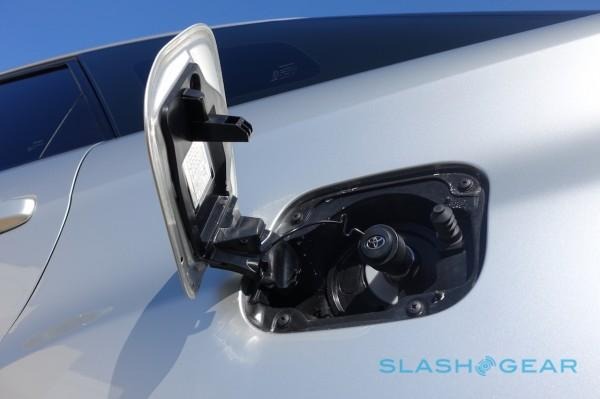 Had I been required to fill up, the process would've been a little different from topping up a gas tank. The FCV's twin hydrogen tanks fill up from empty in 3-4 minutes, comparable to pumping in a full tank of gas, and Toyota envisages it costing about $50-60 initially for an estimated 300 miles of range.
Indeed, the tougher part might be finding a fueling station, though Toyota says strides are being made there, too. The goal is 48 points across key markets in California by 2016, environmental comms manager Jana Hartline told me, not far off the 68 sites an independent study by the University of California Irvine calculated would be sufficient to support 10,000 fuel-cell vehicles spread around San Francisco and Silicon Valey, LA, Orange, and San Diego county.
Meanwhile the California Energy Commission is spending $200m to get things moving on the infrastructure side. Toyota's Farnsworth predicts that 100 stations will be the tipping point where private businesses start to weigh in with their own hydrogen fuel stations.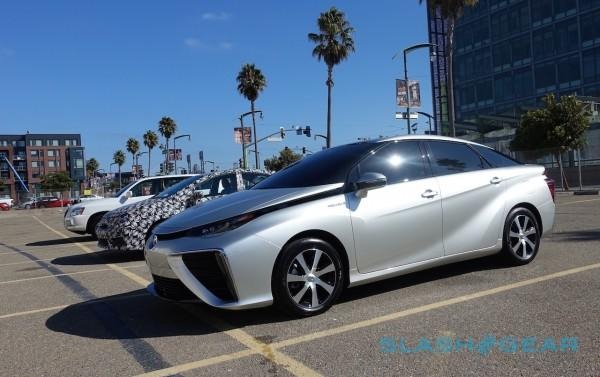 Nonetheless, questions linger about the practicality of hydrogen as a vehicle fuel, with some questioning why we need a different option to electric cars. Toyota's argument is that fuel-cells scale far more successfully than battery-power does: yes, the FCV is a sedan, but the previous test car was an SUV, and the company has plans for everything up to trucks.
A lot will hinge on price, then, and Toyota USA is tight-lipped on that today. In Japan, where the FCV will hit forecourts next year, the hydrogen-powered car will be 7m yen, or the equivalent of around $65,000. US pricing is likely to be "very different," Hartline cautioned, however, since the various subsidies and promotions offered in each country vary so considerably.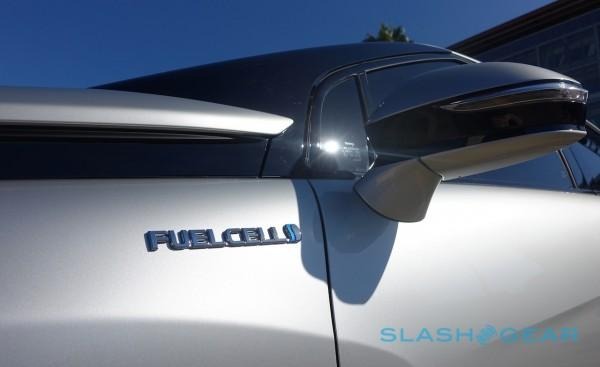 Is the fuel-cell the answer Toyota clearly believes it to be? Even after two decades of work on the project, the company isn't talking about it as a replacement to its existing hybrid electric and EV technologies, but instead another option as we ween ourselves off fossil fuels.
If the infrastructure can be built out quickly enough to assuage range anxiety – much in the way that Tesla's Supercharger network has done for Model S drivers – the combination of a familiar driving experience with distinctive looks should certainly help set the FCV apart. The jury's still out, then, but as the Prius showed, it would be premature to count Toyota out so early in the game.