Greener Toyota: 21 hybrids by 2015 and $46k eQ EV in December

Toyota will launch 21 new hybrids before the end of 2015 and an all-electric compact car, the Toyota eQ, in Japan and the US later this year, as part of a significant investment in eco-friendly transportation. The roll-out will start with a new 2.5-liter gas engine which, Toyota claims, achieves a world-record setting thermal efficiency of 38.5-percent, and be followed by a smaller capacity, turbocharged version, a Prius that can power your fridge in an emergency, and then a fuel-cell system in 2015.
"Thermal efficiency" is how much of the energy produced by fuel combustion actually gets converted to mechanical work, and is something traditional gasoline engines are particularly bad at. Toyota says its new 2.5-liter engine should appear in hybrids in 2013, followed by a 2.0-liter turbocharged version for even better efficiency in 2014.
Meanwhile, the existing Prius PHV plug-in hybrid which launched at the start of this year, will soon get an accessory that will allow the car to provide power to external devices in an emergency. The system will be positioned as a way to use the Prius PHV as a standby battery during power-cuts, though it's unclear what limits there might be on what can be plugged in.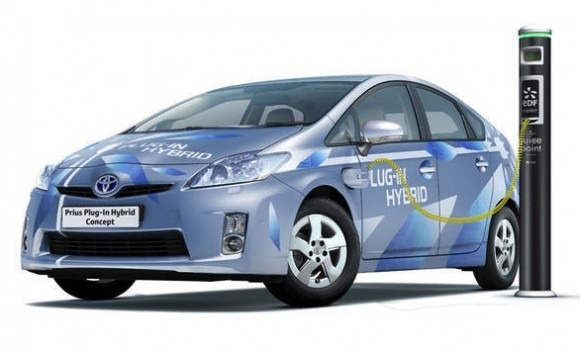 Toyota will also begin wireless battery charging trials in Toyota City come 2013, using wireless coils embedded in the road and in the chassis of the car, to see whether they're efficient enough.
As for the Toyota eQ, the all-electric vehicle is based on Toyota's gas-powered iQ city car, with seating for four and a range of up to 100km (62 miles) on a single charge of its new 12 kWh Li-Ion battery. The updated power pack delivers the best electric power consumption rate in the world, Toyota claims, keeping bulk low but still delivering usable range.
It also charges swiftly, the company says, with a complete rejuicing in around three hours from a 200V AC outlet. That extends to 8hrs if you're stuck with a 100V AC connection, however, though a quick DC charge up to 80-percent can be achieved in just 15 minutes.
Toyota doesn't talk speed or acceleration for the eQ, which doesn't exactly bode well for urban racers, but the car isn't really intended for consumer use. When it hits Japan in December it will be priced at 3,600,000 yen (the equivalent of $46,000 in the US, where it will launch as the "iQ EV") and be targeted at fleet customers rather than individuals.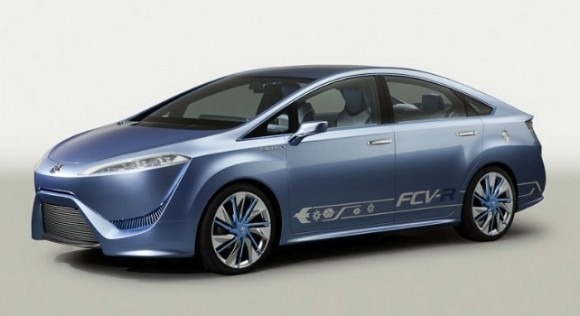 Finally, Toyota says it is on-track to launch its own fuel-cell vehicle around 2015, powering the FCV ("Fuel Cell Vehicle") initially, and then showing up in a bus on track for a 2016 debut. The new fuel-cell has the world's highest power output density, Toyota claims, and can deliver 3 kW/L which is double what the company's current prototype can deliver.
That's despite being half the size and half the weight of the existing prototype. It's in part down to a new boost converter, which increases voltage and thus allows for fewer fuel-cells and a smaller motor: cost and bulk goes down, while performance goes up.