Hanvon B10 Win7 tablet goes on sale, gets video unboxing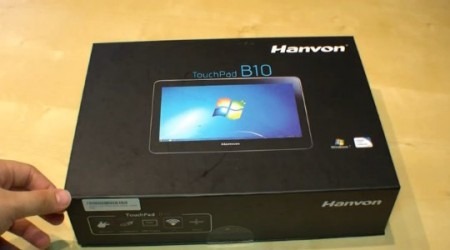 Having attempted to show up Apple's iPad – hand in hand with Windows 7 – a few weeks back, the Hanvon Touchpad B10 tablet PC is now up for sale in Europe.  German retailer Papyrus are listing the 10.1-inch Celeron ULV slate at €771.24 ($974) including tax, with shipments expected to kick off in six days time; however, NewGadgets have scored one early, and are treating us to the traditional hands-on unboxing and first impressions.
Spec-wise, the B10 is generally in line with mainstream netbooks.  That means a 250GB hard-drive, WiFi b/g, Bluetooth, a 1.3-megapixel webcam and a pair of USB 2.0 ports.  We'll have to wait and see what the 1.3GHz Celeron ULV processor does with the B10's 4,800mAh Li-ion battery, though, since Papyrus are coy on runtime estimates.
Hanvon memorably launched the B10 by smashing a huge Apple logo ice-sculpture, though they're still yet to make entirely clear what makes the Windows 7 slate a better prospect than the iPad.  We're not saying the Apple slate is unassailable, we just think rivals need to take a leaf out of Steve Jobs' book and spend more time putting their gadgets into some sort of meaningful use-scenario context that would-be consumers can understand.