Hanvon smash Apple in TouchPad B10 tablet stunt

As PR stunts go, launching your new iPad-rivalling tablet by smashing a huge Apple logo is a pretty obvious one, but the execs at Hanvon seemingly wanted to make it entirely clear what their TouchPad B10 is targeting.  The company's execs took to the stage and proceeded to batter a large Apple-shaped ice sculpture with hammers, before whipping out the Windows 7 based B10 for a quick demo.
First shown off at CeBIT 2010 back in March, the TouchPad B10 eschews ARM in favor of an Intel ULV743 1.3GHz processor paired with 2GB of RAM and Intel GMA 4500 graphics.  It has a 10.1-inch 1024 x 600 capacitive touchscreen with multitouch support, between 250GB and 320GB of 7,200rpm HDD storage and both WiFi and Bluetooth.  There's also a 3-megapixel webcam, Mini HDMI port, a couple of USB ports and a sub-1kg weight.
For all of the press-teasing drama of the launch, Hanvon seemingly failed to explain exactly why Windows 7 made for a better mobile tablet experience than, say, iPhone OS.  That's the harder message they have ahead of them if they want the B10 to be a sales success: taking an Apple ice sculpture into every would-be customer's home, and then smashing it in front of them, probably isn't a realistic marketing technique.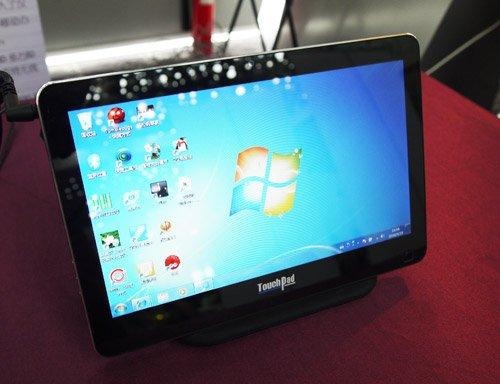 [via Shanzai]