Hands-on & Live photos of SanDisk's tiny huge memory card: 8GB MicroSDHC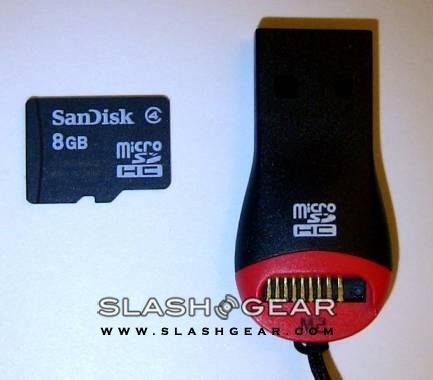 After a little sweet-talking at the SanDisk event, Vincent was allowed to spend a few minutes in the company of their marvellously capacious MicroSDHC. 8GB of storage in something the size of a thumbnail is plenty impressive, although if you insist on carrying around the accompanying card-reader (which I suppose you could pretend was some sort of Star Trek phaser) the whole package gets a little bulky.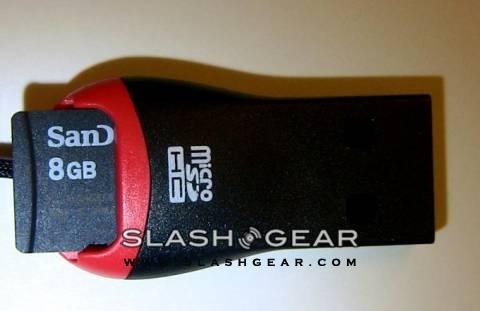 As Vincent's hands-on emphasised, you really need to make sure whichever device you're planning on using the MicroSDHC card with is compatible with the SDHC standard, not just normal SD. Trying it out in a number of different MicroSD slots indicated that not all handsets on the "cutting-edge" will play nicely with the high-capacity standard. So far it's a minority of cellphones that are – the Nokia N95 is compatible, as is Verizon's upcoming Voyager – so check the specs of your device before you part with your cash.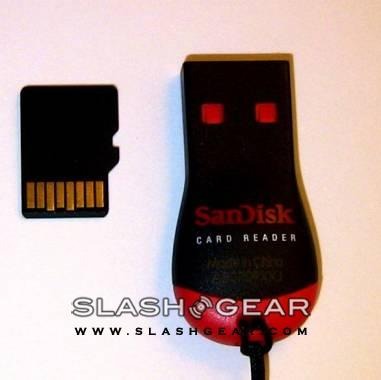 We didn't have a chance to run through speed testing with the SanDisk MicroSDHC, but will be doing so over the next couple of days with our review unit.
UPDATE: SanDisk 8GB MicroSDHC compatibility test (Nokia N95, HTC Touch from Sprint, Motorola RAZR2, Blackberry Curve 8310 and Samsung F700v Croix from Vodafone)