This $350,000 handless watch is a sly nod at Apple Watch excess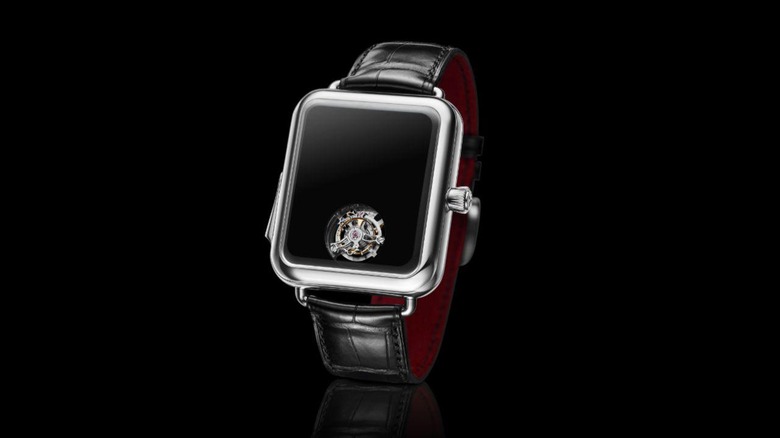 It may look like an Apple Watch, but H. Moser & Cie.'s Swiss Alp Watch Concept Black is something far more unusual – and far more expensive than even Apple's Edition-version of the smartwatch. Handiwork of the legendary Swiss horologist, the minimalistic timepiece not only does away physical hands like the Apple Watch, but it also does away with a screen altogether.
Indeed this is no smartwatch, with H. Moser & Cie. sticking resolutely to its mechanical roots. With no display, and no hands, the only visible mechanism is a on-minute flying tourbillon at the 6 o'clock position, peeking through the gloss black dial.
To actually tell the time, therefore, you need to listen. "As it was in the time before the use of electricity became widespread: people had to use minute repeaters to discover the time when it was too dark to see," the watchmakers point out. So, if you want to know what time it is, you'll have to count the gongs as they chime out the hours, quarter-hours, and minutes.
It's not the company's first Apple Watch-esque model. Several wristwatches using Apple's aesthetic have been released by the firm, including the Swiss Alp Watch S with its midnight blue fumé dial shown in the video below, from 2016. The following year, H.Moser released a Swiss Alp Watch Zzzz version, with a black face instead; that was priced at a hefty $27,000, with only twenty of them made.
This Swiss Alp Watch Concept Black goes even further, of course, a tongue-in-cheek reflection of the advancing features of each generation of Apple Watch. As the Apple Watch Series 4 gains the ability to take ECG measurements and an even faster processor, so H.Moser's counterpart tracks even further back through the annuls of clockmaking history.
That's not to say this is any simpler than what you'd find inside an Apple Watch, mind. H.Moser used a hand-wound HMC 901 calibre movement, paired with two rectangular gongs for the chimes. The case had to be completely hollowed out in the center, so that there'd be sufficient space to act as a resonance chamber.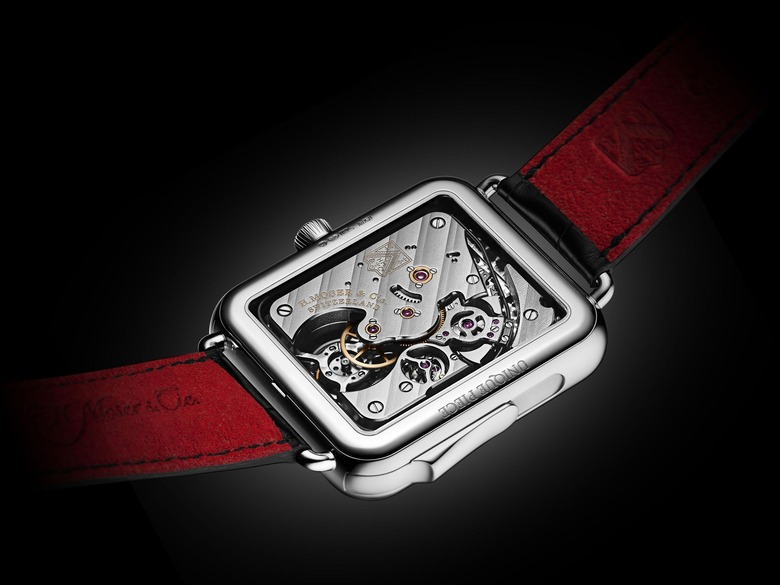 "The one-minute flying tourbillon at 6 o'clock is certainly eye-catching," the company explains. "Visible behind a skeletonized bridge, it is fitted to a ball bearing to improve the precision and chronometry. Resolutely contemporary and in line with modern times, the tourbillon appears to float weightlessly on the completely naked dial, looking like a smart watch on standby, in the kind of clever nod that H. Moser & Cie. delights in."
Even just setting the time is a work of art. A marking on the crown allows the time to be established using a graduation, which itself is only visible when the crown itself is pulled out. Twelve indices there each represent five minutes.
The whole thing is wrapped up in a platinum casing and finished with a hand-stitched black alligator leather strap with a striking red lining. As for how much it will cost to put it on your wrist, figure on $350,000. We're not sure if H.Moser accepts Apple Pay.