GTA III: 10 Year Anniversary Edition for Android and iOS priced and dated
Last we heard about Grand Theft Auto III for the mobile platform, it was back when the action figure special edition was announced, then when the NVIDIA Tegra 3 optimized news came out – now we've got a date and a price for the apps that'll be blowing up your mobile devices soon. What we're dealing with here is the 10th Anniversary Edition of GTA III, and the price for both Android and Apple's iOS devices will be a cool $4.99 with a release date of December 15th – that's next week! Get your guns out and start preparing to mow down some hookers, because it's thieving time again!
What you're going to be looking at here in the image above and the gallery below is a set of screens provided by RockStar Games showing off the Android version of the newest release of GTA III — that's the hooker scene and the one with our hero wielding a bat. Below this paragraph and in the gallery below are two iOS screens as well, one with a couple of automobiles flying through the night, and another with our hero running past some trash bins with a shotgun. You'll be suitably impressed in both cases, I'm sure.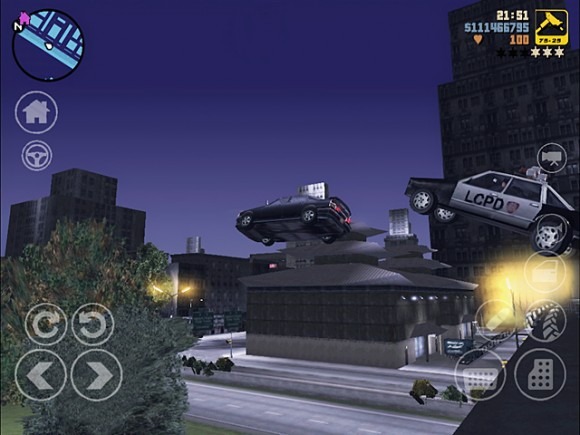 What we're hoping for here is not only a good experience on the iOS platform as is usually the case, but an above-average experience on out brand new quad-core Tegra 3 processor toting Transformer Prime tablet. NVIDIA has sent down the word that this game will be optimized for the Tegra 3 processor, so we're sure we'll be seeing some amazing gameplay, and with the device lineup shown for compatibility right out of the box, there's something else you should all see clear as a bell:
Apple iOS Devices: iPad 1 & 2, iPhone 4 & 4S, iPod touch 4th Generation
Android Phones: HTC Rezound, LG Optimus 2x, Motorola Atrix 4G, Motorola Droid X2, Motorola Photon 4G, Samsung Galaxy R, T-Mobile G2xAndroid Tablets: Acer Iconia, Asus Eee Pad Transformer, Dell Streak 7, LG Optimus Pad, Motorola Xoom, Samsung Galaxy Tab 8.9 and 10.1, Sony Tablet S, Toshiba Thrive
These devices, with the exception of the Apples and the HTC Rezound, all tote the NVIDIA Tegra 2 dual-core processor. This would normally mean that NVIDIA would be releasing the game on their Tegra Zone app store (connected to the Android Market, of course), and the game would be exclusive to Tegra processor holding devices, at least at first. Instead there is that strange addition of the HTC Rezound, which is a device running a Qualcomm processor.
So we'll see when the time comes how many devices are ACTUALLY compatible with this game, if it's just NVIDIA-laden machines or if any dual-core or higher can work with the game. Only your device will know for sure! High five until then!