Grand Theft Auto III for iOS and Android soon, physical action figure in tow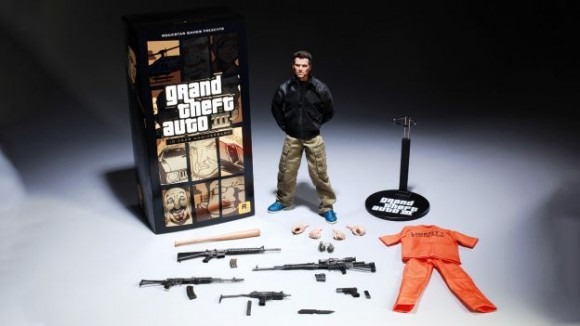 While the Grand Theft Auto game franchise had been around for years before the 2001 release of GTA:III, it was that drive a car and shoot your neighbor installment of the game that really, really made the Rockstar Games-made shooter take off. And now, ten years later, we get to play it on our mobile devices. Grand Theft Auto III has been announced to be coming both to Apple's iOS mobile operating system AND to a handful of Google's Android devices as well, though on both platforms there will be device limits. ALSO there's an action figure in the mix, just incase you want something you can set on your desk while you're crashing into cop cars and punching prostitutes in the face.
Grand Theft Auto III basically started a whole new genre of games in which there's an entire open world in front of you, just waiting for you to run it over with a stolen vehicle. Currently there is but one GTA game on the mobile platform, that being Chinatown Wars, but alas, it still has the top-down perspective that early GTA games had. We want more than that, of course! Thusly Rockstar games have said fine, then we'll need some POWER to back those mobile machines up.
Specifically dual-core power, that is, with only the iPad 2 and the iPhone 4S working for iOS and the Droid X2, HTC Evo 2, LG Optimus 2X, Motorola Atrix, Samsung Galaxy S2, Acer Iconia Tab (100, 500, 501), Asus Eee Pad Transformer, Motorola Xoom, and Samsung Galaxy Tab 10.1 working with the game. This is only the first wave, of course, with many more high-powered Android devices to be added later on.
Then there's this action figure too. You need that if you want to be cool. This action figure is a limited edition rendition of the main character of the Grand Theft Auto series, Claude, complete with two outfits, a load of weapons, and some interchangeable hands for multiple gestures. This action figure is fully poseable and will cost you $149.99, while the game for mobile has not yet been priced or dated.
Can't wait!