Grand Theft Auto: San Andreas for iOS has hit the App Store, bringing the latest open-world gaming experience to the iPad, iPhone, and iPod touch. The game, which brings three cities and a promised 70+ hours of gameplay to iOS devices, is a $6.99 download and features remastered graphics and new character models, while some of the more recent, more powerful Apple hardware get extra visual gloss.
The game runs on the iPhone 4S, iPhone 5, iPhone 5s, iPhone 5c, iPod touch 5th-gen, iPad 2, 3rd-gen, and 4th-gen, iPad Air, iPad mini, and iPad mini with Retina display. However, those with an iPhone 5/5s/5c, or an iPad 4th-gen or more recent, will get dynamic detailed shadows and real-time environmental reflections, taking advantage of the more capable graphics chips inside.
Controls have been reworked to suit a touchscreen interface, with dual virtual analog sticks to navigate movement and camera. However, there are three different control schemes to choose between, and they can be customized.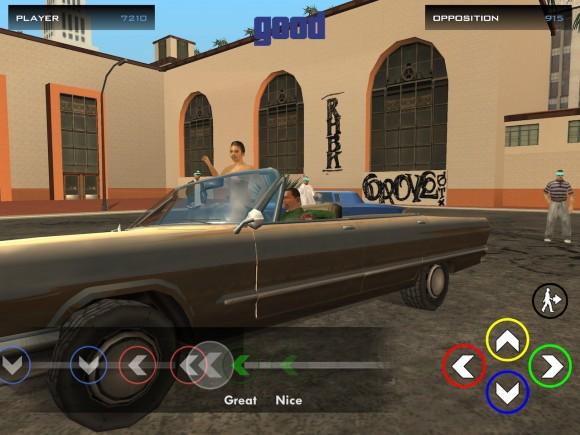 Alternatively, GTA: San Andreas for iOS also works with Made-for-iOS controllers, such as the PowerShell gamepad Logitech launched recently, for those who demand physical controls.
The game also features a new checkpoint system, and a cloud save system which allows Rockstar Social Club Members to sign into their account and pick up play no matter which iOS device they're using. So, you can play during your commute and then pick up where you left off on your iPad when you get home.
Meanwhile, Rockstar Games is still prepping versions for Android, Amazon's Kindle Fire tablets, and Windows Phone smartphones. They're "coming soon" the studio says; last month, it was estimated that all versions would be out sometime in December 2013.