Gordon Murray reveals MOTIV autonomous pod car with one gull-wing door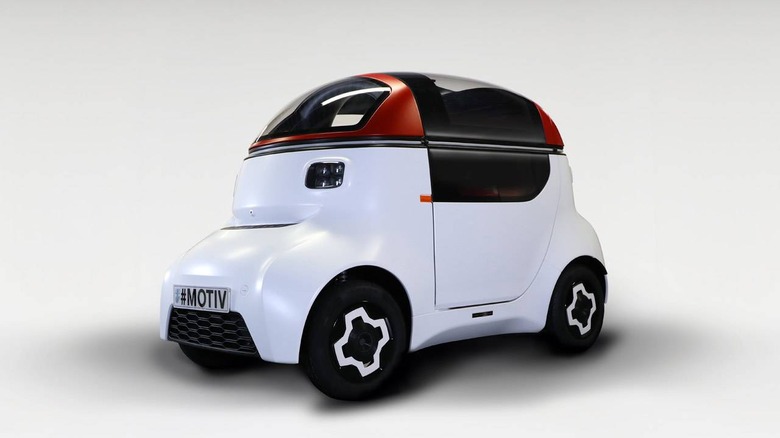 The MOTIV was revealed by Gordon Murray today with the autonomous quadricycle / pod vehicle future in mind. Gordon Murray Design, Delta Motorsport, and itMoves worked in collaboration to make this tiny, yet tough autonomous-ready vehicle a reality. This vehicle was part-funded through the UK-government's 'IDP14' program, and acts as a centerpiece for the MOTIV autonomous vehicle platform.
To make this vehicle a reality, it is as light as possible whilst still "retaining the highest levels of safety." Inside are iFrame ultra-lightweight high strength extruded aluminum chassis, iPanel composite panels and doors, and iLink aluminum suspension. And there's a gull-wing door, of course.
This vehicle is built on an iStream Superlight structure, made specifically to be a key to the autonomous vehicle future into which we step in the near future. This is something like a "pod" car, as it were, given its single seat configuration.
"The MOTIV design philosophy is based on three points: small footprint, first class interior, and a city-friendly image," said Jose Paris, Director of itMoves.There's "room to perch a laptop" in this vehicle – cute! Somehow very different from the T-50 supercar from Gordon Murray, very different indeed.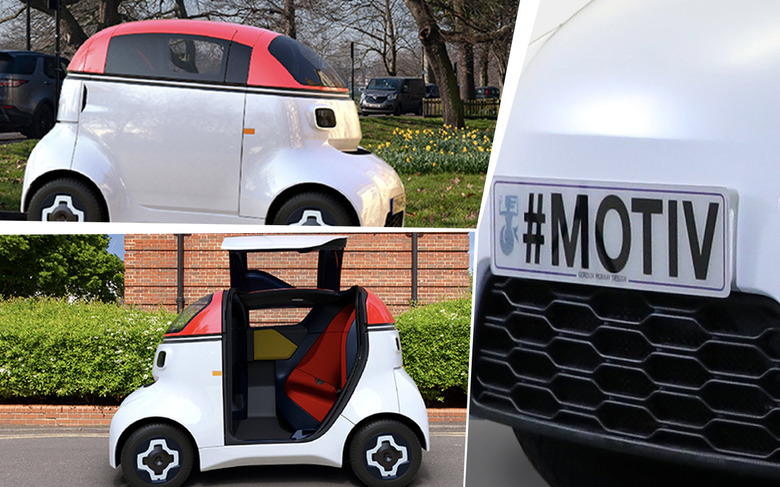 To get into this vehicle, users will work with a single gull-wing door. Per Gordon Murray, this vehicle's door is in place "for easy 'walk in' entry / exit." They've taken special care to note that this vehicle has a "contactless door opening system" – because it's fancy!
Inside this vehicle you've got a standard A/C, power windows, and a 24-inch display with "vertical lift." According to the creators of this platform, the MOTIV vehicle can move at a speed of 40mph (65kph) – and can accelerate from zero to 62kph in 7.5 seconds. Not half bad for a single-passenger pod on four 13-inch wheels.
The vehicle is 8.23-feet long (2,537mm) by 4.3-feet wide (1,310mm). The height of this vehicle is just 5.34-feet, (1,628mm), and the weight (without battery) rests at under 450kg (that's around 992-pounds).
This vehicle rolls with a 20kW motor, (361V n.voltage, 48.4Nm torque,) with a range of 100km (WLTP) and a run time of 2.5 hours (continuous). That's thanks to the battery which normally sits under the floor of the vehicle. This battery is 17.3kWh (total) in capacity (13.8KWh usable), with a "fast charge" (CCS charging) speed of 40-minutes. That's from approximately 20% charge to approximately 80% charge, mind you, not 0 to 100.
This vehicle has a MacPherson Strut front suspension system and an iLink system in the rear. There are a pair of disc brakes up front, and a regenerative braking system in the rear – with anti-lock braking for the whole family.
This vehicle will be shown to the world at the MOVE 2020 show in London on 11-12 February, 2020, for the first time. Stick around as we get more information on this auto-pod for the future.