T.50 supercar promises the most advanced aerodynamics ever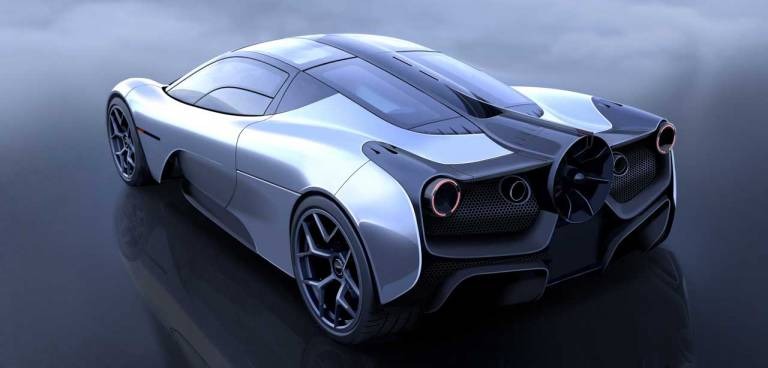 Gordon Murray Automotive has announced that it has teamed up with Racing Point Formula One team to work on the aerodynamics form the coming T.50 supercar. The tie-up also provides the first official T.50 image and gives a look at the design of the car. The car is a ground-effect "fan car" that will "rewrite" the rulebook for road-car aerodynamics.
The team has been designing the car using the race team's advanced rolling-road wind tunnel in Silverstone UK. The design of the T.50 car comes from Professor Gordon Murray and the design team at Gordon Murray Design.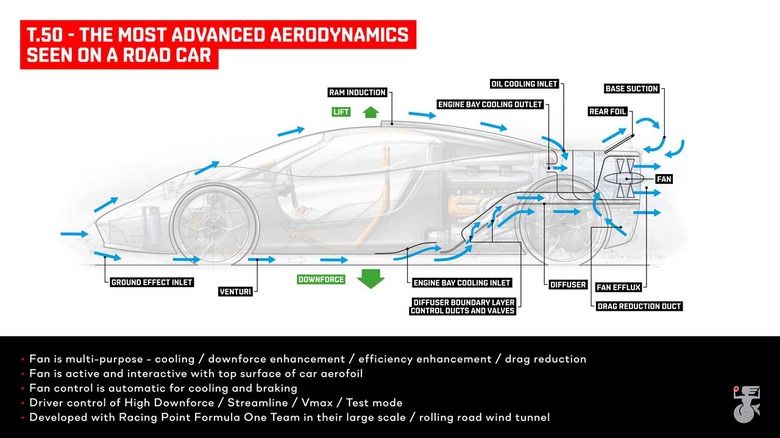 The high-tech aerodynamics of the car are the driving factor of the design. The most notable design aspect is the 400mm ground-effect fan on the rear of the car. That fan is coupled with underbody aerodynamics and dynamic rear aerofoils. The team says that the revolutionary design of the system allows more aerodynamic performance and control than a conventional ground-effect supercar.
The T.50 will have six different aero modes that optimize the car for different scenarios. The goal is to give the driver the ability to balance traction with outright performance. Vmax Mode is the most extreme of the modes and combines motorsport slipstream tech with extra power from a 48V integrated starter-generator and ram induction to boost horsepower to 700hp.
The official debut of the car will come in May 2020. Pricing for the car is going to be over £2 million before taxes. Only 100 units being made, and all 100 cars are sold. Each will use a bespoke Cosworth V12 engine that will rev to 12,100 rpm. T-50 buyers also get a three-seat layout, and all of the controls for the car are analog.