GoPro's Omni 360-degree camera ships next week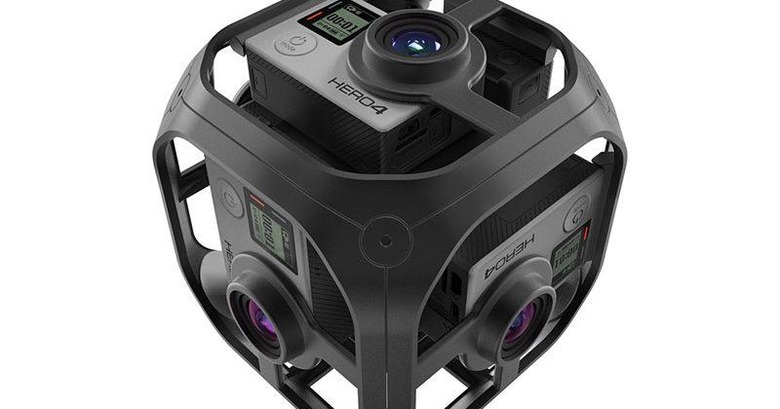 GoPro has confirmed the shipping date for its Omni 360-degree camera, a rig of the company's compact action cameras that's capable of filming fully spherical video. Announced back in April, Omni mounts six HERO4 Black cameras – pointing in six different directions – in an aluminum frame, and comes with software to stitch the resulting footage together into a single video that's viewable with a VR headset.
While we've seen clips and brackets that hold multiple GoPro cameras together before, Omni promises to be more than just a dumb mount. Each of the cameras are linked to a synchronization module at its core, which effectively combines them into a single unit.
So, turning on the power of the primary camera also powers-up the remaining five; changing shooting mode on one adjusts it across the whole rig. Omni checks that SD cards are loaded and working and that everything matches up before it'll shoot, so you shouldn't find a black gap in your footage later on from a single, recalcitrant camera.
GoPro is promising pixel-level synchronization for faster, better-looking stitching, with a system that automatically logs which card goes in which camera, and which direction it was pointing. When out of the bundled USB hub, they can be put back into any camera, since the system will automatically recognize them accordingly.
As for power, Omni can use the HERO4 Black's individual batteries with or without external power – which GoPro supplies – or, alternatively, run entirely on an external supply so as to keep heat output down.
On the software front, finally, there's the ability to render a 2D movie from any perspective of the spherical footage, as well as basic editing tools like color correction, trim, stabilization, and resolution adjustment in the Omni Importer app.
NOW READ: Samsung Gear 360 review
A GoPro VR player, meanwhile, supports desktop, web, and mobile viewing of the resulting footage.
GoPro Omni will ship next week, on September 17, though you're looking at spending a fair amount more than just the cost of six HERO4 Black cameras of course.
In fact, it's priced at $4,999.99, though before you get too critical of the action camera company, it's worth remembering that rival rigs like Facebook's cost $30k, while Nokia's OZO rig is double that amount.