GoPro Omni and GoPro VR highlighted at NAB 2016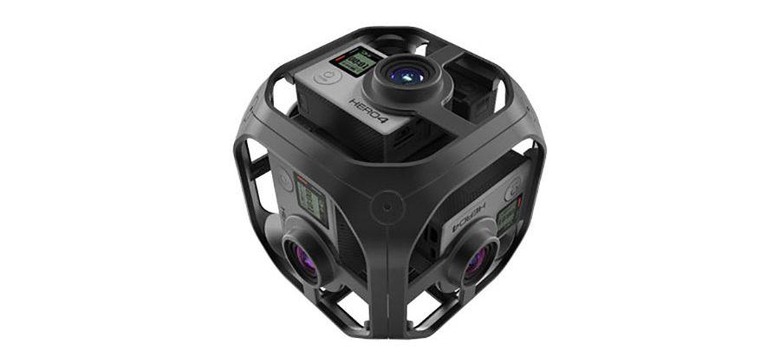 GoPro announced some new hardware that brings new ways for professionals to shoot 360-degree video earlier this month. One of the new products is called the GoPro Omni, which is a six camera spherical array that is able to capture high-resolution video in all directions at one time that we talked about previously. The Omni has six individual cameras interact with a single primary camera in the array to configure settings and to start and stop recording for all cameras at the same time.
Omni can over capture video in 8k and then the user can extract and HD image from that. Hardware used by the Omni allows pixel-level synchronization between all six of the Hero4 Black cameras. GoPro is offering the Omni package in all-inclusive format including everything that video makers need to operate. A couple key tidbits that we didn't know were pricing and when you could order the Omni. For $4,999.99, the buyer gets the GoPro Omni sync rig, GoPro Kolor software, six Hero4 Black cameras, smart remote, six mini USB cables, six 32GB microSD cards, and six Card Readers. The works is packed into a single rugged shipping case and pre-orders kick off April 18, 2016.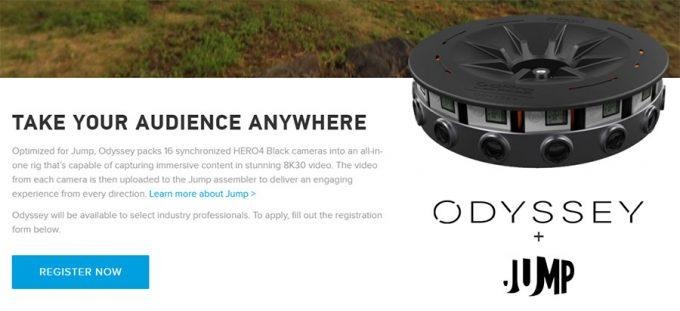 A less expensive Omni package will cost $1,499.99 and lacks the cameras and software, but includes the Omni sync rig. GoPro will unveil GoPro VR platform for users to view and share VR content at NAB 2016. The platform is designed to allow users to experience 360-degree video with original content from GoPro and a global community of artists. GoPro VR will be offered on the web, via a mobile app, or a VR head-mounted display.
The Odyssey is the other hardware on display and puts 16 different Hero4 Black cameras in a round enclosure that records 360-degree video. With it users are able to stitch the camera content into a panoramic stereoscopic 8K30 video that is viewable via YouTube. The Odyssey is optimized for the Google cloud-based Jump Assembler that stitches the video together. Odyssey is much more expensive than the Omni with Odyssey only available in a limited access program that is open to industry professionals at select brands and agencies selling for $15,000.