Google's Schmidt slates Europe vanity search ruling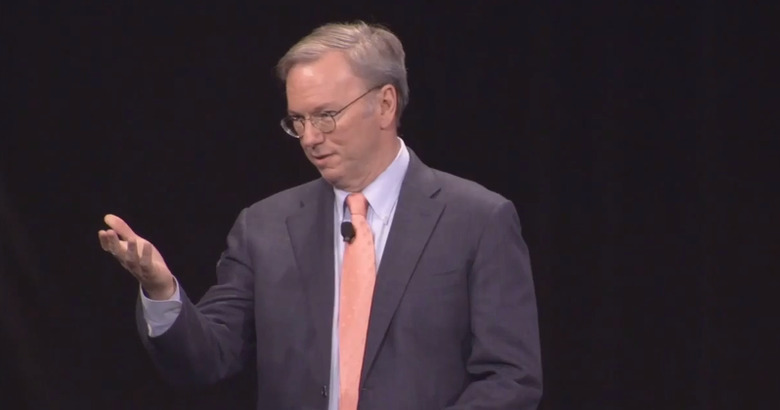 Google executive chairman Eric Schmidt has lashed out at the European Union ruling that individuals have the right to remove themselves from search results, arguing EU "was wrong" in its decision, which has already seen politicians and pedophiles request to be deleted from the search giant's index. "You have a collision between a right to be forgotten and a right to know," Schmidt said during Google's annual stockholder meeting, when asked whether he felt the decision would have an impact on the company's bottom line.
"Google believes that, having looked at the decision – which is binding – that it was wrong," Schmidt said, describing the situation as one in which "you have to find a balance."
Schmidt's criticisms come after the European court decided those living in the 28 member states have a right to be "forgotten" in search engines. It follows a Spanish case in which a newspaper article from 1998 that was reproduced online mentioned an individual by name, and could be easily found by searching for that name. He filed a complaint with Spain's data protection agency, which sparked legal tussles between Google and authorities.
Google escalated the case to the European Union's Central Court of Justice, which decided in mid-2013 that as long as the information was legally posted, search engines could not be compelled to delete it. This week, however, the EU changed its tune.
"If, following a search made on the basis of a person's name, the list of results displays a link to a web page which contains information on the person in question, that data subject may approach the operator directly and, where the operator does not grant his request, bring the matter before the competent authorities in order to obtain, under certain conditions, the removal of that link from the list of results" Court of Justice of the European Union
Google's chief legal officer, David Drummond, echoed Schmidt's concerns, accusing the EU of having been myopic in its considerations. "It didn't consider adequately the impact on free-expression," he argued, "which is absolutely a human right."
The Google chairman pointed out that the situation was nowhere near finally settled yet, and that there would be further rulings required before any search engine operating in Europe knew where it stood.
Already, several deletion requests have been made, the BBC reports, with three people hopping to have negative information about them taken down. One was a man who had been convicted of possessing illegal images portraying child abuse, while another was a former politician hoping to have links to unflattering news coverage scythed out of the indexes.
Arguably most worrying for web services is the case of a doctor who is trying to have links to negative reviews left by patients removed.
The balance between data protection and Google's desire to "index the world" has caused several ructions between the company and European regulators. Last November, a Dutch privacy watchdog alleged the company "spins an invisible web of our personal data", while Google's attempts to streamline its privacy policies into a single document have been met with strong push-back from regulators concerned it will allow for greater sharing of data.
You can see Schmidt's response at the 1hr 5m point: