Google's painting their otherwise-blank Data Center walls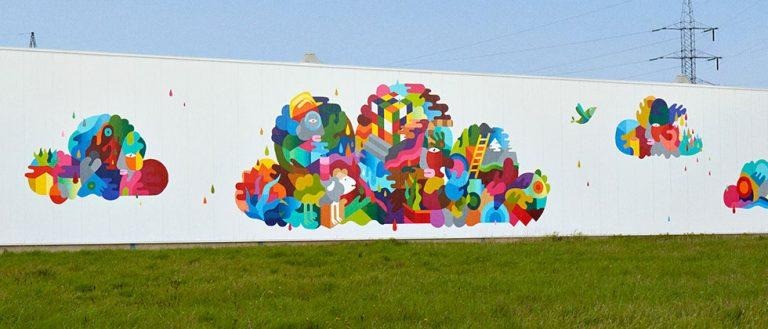 Today Google revealed a project they're in the middle of working on, allowing muralists to "reimagine the facades of Google Data Centers." Once massively blank flat walls, just asking for graffiti, now coming alive with the artwork of some of the most awesome large-scale artists in the world. This is Google's latest vision for keeping their physical footprint on this earth a beautiful one. If they're going to have a giant box sitting in the middle of nowhere running countless computers for the cloud, they may as well look beautiful in the real world.
According to Joe Kava, VP Google Data Centers, "Because these buildings typically aren't much to look at, people usually don't, and rarely learn about the incredible structures and people who make so much of modern life possible."
ALSO: Check out Google's Street Art Project
"To begin to change that," said Kava, "we created the Data Center Mural Project: a partnership with artists to bring a bit of the magic from the inside of our data centers to the outside. Eventually, we hope to bring the project to more locations around the world."
In Mayes County, Oklahoma you'll find a mural by Jenny Odell. In St. Ghislain, Belgium, there's a painting by Oli-B. Soon there'll be a painting by Fuchsia Macaree in Dublin, as well as a painting by Gary Kelly in Council Bluffs.
Oli-B's painting in St. Ghislain depicts clouds on the building that contains digital clouds.
Oli-B's painting contains elements "specific to the community, data center site and its employees."
Jenny Odell's artwork includes structures collected from Google Maps. That could mean anything, really – but in this case it's all organized in four sets of elements: Each focuses on a different type of infrastructure found in our world today.
More data centers will be painted soon! Google's Data Center Mural Project contains more in-depth information on each artist, as well.