Apple CarPlay may be getting some rather direct competition from the likes of Google in the very near future. It's been tipped that an in-car infotainment system has been worked up within Android, readied for its first presentation at this year's Google I/O.
Word comes from AutoNews where they suggest that "sources briefed on the project" have spoken with them anonymously. These sources suggest that Google's product will be the first to come from the group known as the Open Automotive Alliance.
Google leads this Open Automotive Alliance, a consortium that also has several large-name automotive brands on its board. General Motors, Audi AG, Hyundai, and Honda are part of the OAA, as is processor manufacturer NVIDIA. This group was originally formed in January of this year along with a promise of Android in cars later this year.
The OAA noted that "timing for each automaker will vary," but that "you can expect to see the first cars with Android integration by the end of this year." This year they mention is the year 2014, and at least two different types of integration will be explored.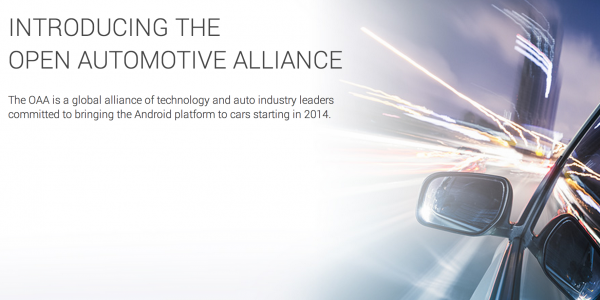 In addition to to creating "a safer, car optimized experience," for integration between cars and Android devices, a new Android platform feature will come to fruition. "The car itself," they say, will "become a connected Android device."
We'll likely see a whole lot more on June 25th as Google's one keynote takes place in the morning at Google I/O 2014. Stick around SlashGear's Google tag portal for more until then!