Here in the weekend days before Google I/O 2013, the company's big developer conference for the year, two new clues leading to a new era in Motorola-made Android smartphones have been added to story called X Phone. The device in question has appeared as an AT&T-supported smartphone in the FCC this weekend as well as in benchmark test results on a publicly viewable archive. This device will likely appear as a developer give-away at the Google convention on Wednesday.
The Motorola XT1058 XFON has appeared in benchmark results pointing toward a far less top-of-the-line device than past Google I/O-bound smartphones have been. With a 1280 x 720 pixel 4-inch display and a Qualcomm Snapdragon S4 Plus processor under the hood, this device is certainly one that would better have suited the crowds of 2012's convention.
A 4-inch display – this is smaller than the Samsung Galaxy Nexus, the device given away at last year's Google I/O, using here an amount of pixels that matches that Nexus device. With the Snapdragon S4 Plus dual-core processor onboard (the MSM8960), this Motorola device works with the same power as the Samsung Galaxy S III, the Motorola RAZR HD, and the first version of the HTC One X for AT&T.
The same processor also rests in the BlackBerry Z10, the Nokia Lumia 920, and the Nokia Lumia 928 (coming to Verizon soon as an upgraded version of the 920). Could it be that there's an emerging "We don't care which processor is in our phone as long as it gets the job done" segment in the mobile market?
The Motorola smartphone being revealed in miniature, tell-tale leaks here and there throughout the last few weeks has been attached to the device build code-name Ghost. The benchmark results for this device appears on GFXBench where they're firmly attached to Motorola precedents like a build host code il93lnxdroid80.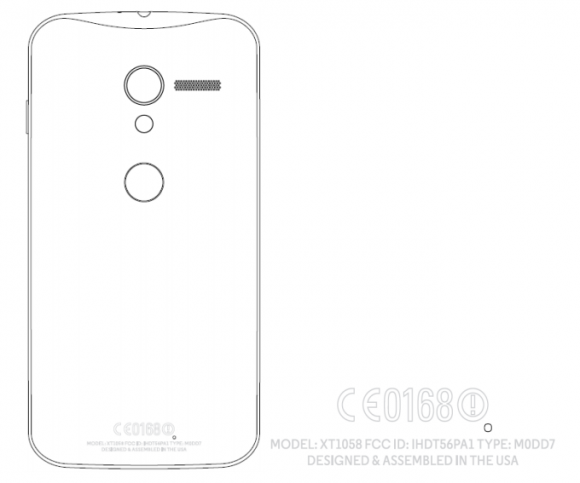 You'll also find this device up in the FCC with 4G LTE connectivity on AT&T. According to Blog of Mobile, this device is also open to a release on each of the other major carriers in the future – Verizon and T-Mobile included, 4G LTE included.
In the past, this device has also been tipped to be coming in a variety of colors and makes, the case available in more than just plastic or glass – more than just a normal one-off release. This device may very well be part of the Motorola tip for the future of the company with a perfect palm-sized form factor as well.
One way or another, this device will be nor ordinary, every-day release. And if it replaces the Nexus giveaway at Google I/O 2013, it may be a sign of Google switching gears with Motorola sooner than expected.
[via Android Community]