Google shows first 100% Glass-shot video demo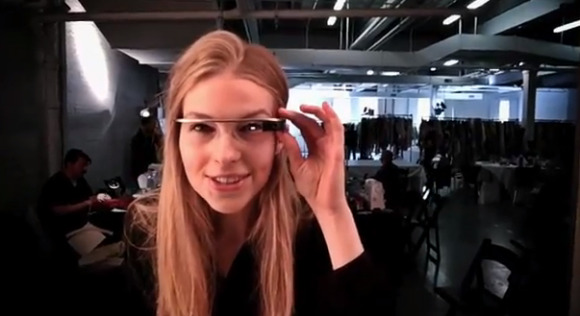 It's time again to see what Google's Project Glass creators are up to, this time with them showing off their abilities at Fashion Week with a 3.5 minute video shot entirely with the device. This device is indeed called "Glass" as it has been for some weeks, appearing recently also at Google I/O 2012 in an amazingly daring live skydive video feed – such a fabulous experience it was! This week they've teamed up with the folks at the DVF Spring 2013 show at New York Fashion Week – see what they saw now!
This footage you're about to see was, again, filmed entirely with the current iteration of Google Glass. That is to say that it's not exactly what you'll be getting when the Google Glass glasses come to the market, but judging by what we're seeing here, impressive things are certainly ahead!
Google included the following "official" text to go along with this project that you'll want to read as well. Note how Diane von Furstenberg (DVF) has gratefully brought Google aboard for the journey that not many average citizens are allowed to see!
"Celebrated fashion designer Diane von Furstenberg tried on Glass for the first time a few months ago at a conference that she attended with Sergey Brin. She immediately loved it and they agreed to bring Glass to New York Fashion Week. Diane is a champion for innovation and effortless design, so it's unsurprising that Glass fit seamlessly into her production. In the week leading up to her Spring 2013 show in New York, and during the show itself, everyone from stylists and models to Diane herself used Glass to capture never-before-seen footage of the creative process. This is the first time any video has been shot entirely through Glass and we're so excited to be able to share it with you."
This project, you should note, has been confirmed by both DVF and Google to have been an "organic decision" rather than a sponsorship – they've made double-clear, in fact, that it's not a sponsorship in any way. They've also noted that, somehow or another, the colors of the test Glass units matched the DVF collection perfectly even though they did not plan for it – and they didn't change the colors based on the line, either!
Let us know if you're into all this fashion stuff while we're at it – last time we got anywhere near this kind of couture was when HP had us speaking with Project Runway's Anya Ayong Chee – winner of Season 9, OMG!