Google Pixelbook Go Review: Treat your fingers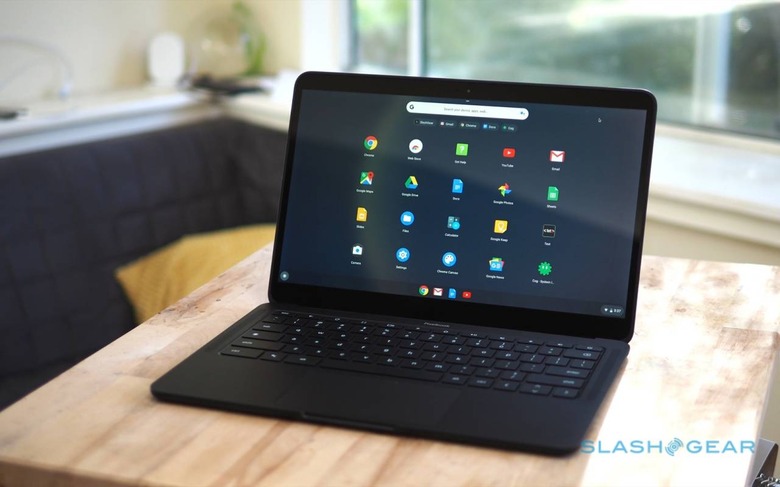 EDITORS' RATING: 8/10
Unlike a chest of gold in the movies, the Pixelbook Go may not cast a honeyed glow on your face when you open the lid, but the keyboard you find waiting inside is no less precious. More affordable and more mainstream than the Pixelbook, Google's newest Chromebook puts Chrome OS on a far more traditional form-factor. With a starting price of $649 the Pixelbook Go may still have its flaws, but its big advantage over rival laptops cuts through them all.
The lure here is the typing experience. Google's original Pixelbook – which stays on sale alongside the Pixelbook Go – had numerous talents, but arguably chief among them was its keyboard. Just the right degree of clickiness, of bounce, of soft-springy travel; not too loud but neither too quiet. No interminable strokes, but not too shallow either. It feels a little ridiculous, calling a laptop keyboard "sublime," but the Pixelbook probably deserved it.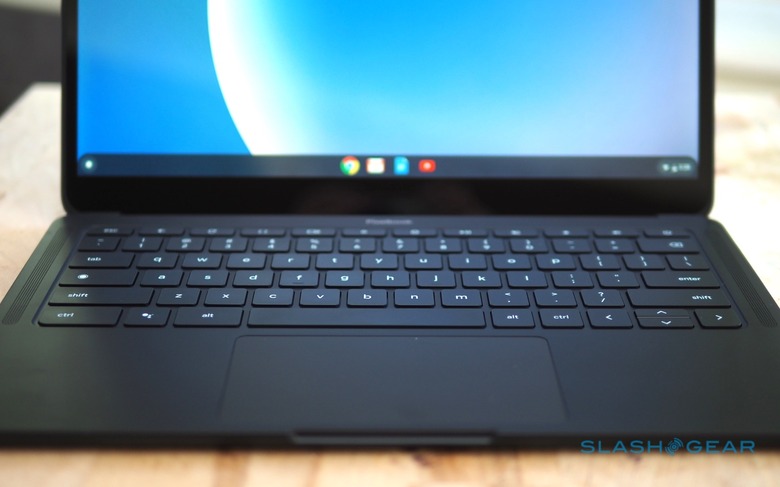 The keyboard has actually been tweaked somewhat, both to make it more affordable to produce and to refine the key-feel even more. It's honestly a dream to use, to the point where, even though I keep hitting the annoying Google Assistant shortcut button, I'm still reaching for the Pixelbook Go over any other laptop when I have a decent amount to type.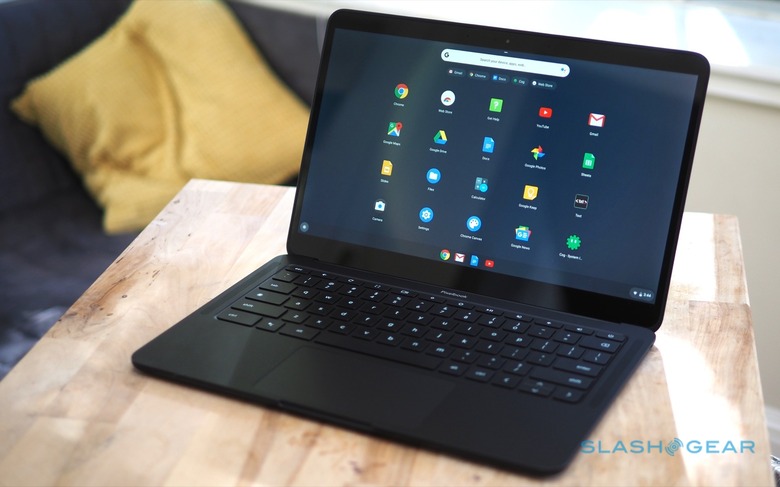 Google's concept for the Pixelbook Go, then, is fairly straightforward. Give people what they really want in the shape of the keyboard and Chrome OS, but oust what makes the Pixelbook expensive. Ditch 360-degree hinges for a traditional laptop form factor, get rid of the Pixelbook Pen support, and make the highest-resolution display available only on the most expensive configuration.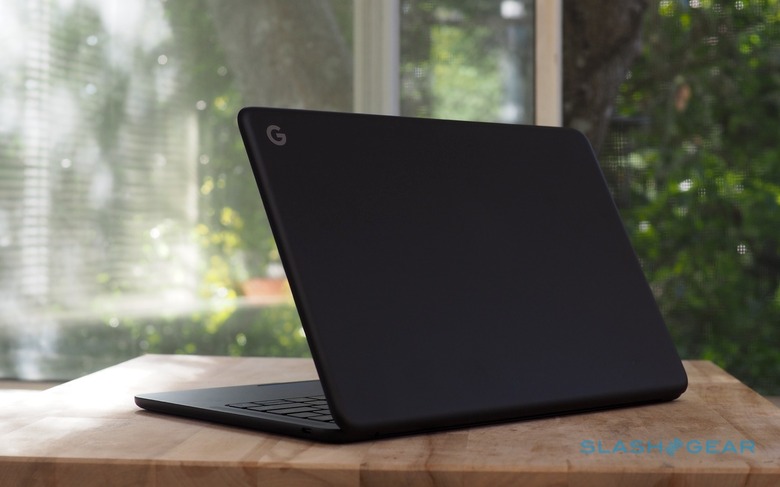 That's not to say that Google made a cheap-feeling Chromebook, or indeed an inexpensive one. The Pixelbook Go may be affordable in comparison to the Pixelbook, but it's still twice the price of some Chromebooks.
Slimline magnesium alloy construction goes some way to justifying that, finished in Just Black or Not Pink, along with the fact that you still get a touchscreen. Google has allowed itself some playful design detailing, too, like the rippled base. The company says it makes it more easily gripped; I found it was just as useful for always pulling it out the correct way up from my bag.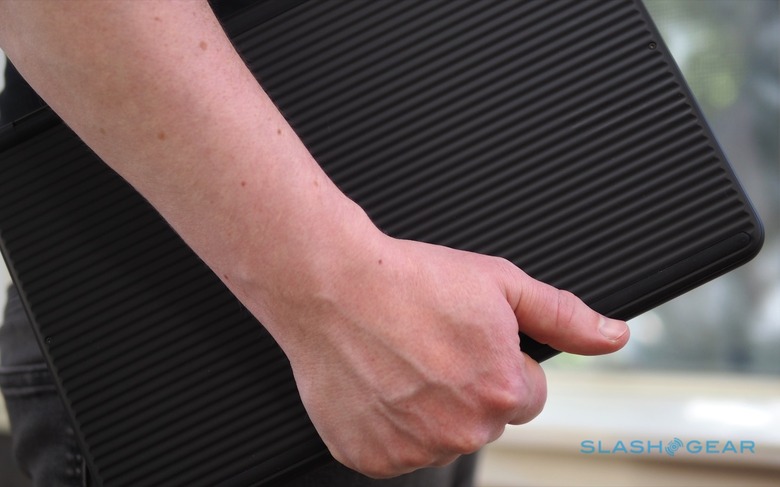 There are four configurations to choose between. The cheapest, at $649, uses an Intel 8th Gen Core m3 processor, paired with 8GB of memory and 64GB of storage. Then there's the $849 Core i5 version, with the same amount of memory but twice the storage; that's the version Google sent me to review. $999 keeps the processor and storage, but doubles the memory. Finally, there's a $1,399 Pixelbook Go, with a Core i7, 16GB of memory, and 256GB of storage.
The Core i7 model doesn't just differentiate itself with its chips, however. It's the only model in the line-up with a 4K, 3240 x 2160 display. The rest have a 13.3-inch Full HD, 1920 x 1080 touchscreen.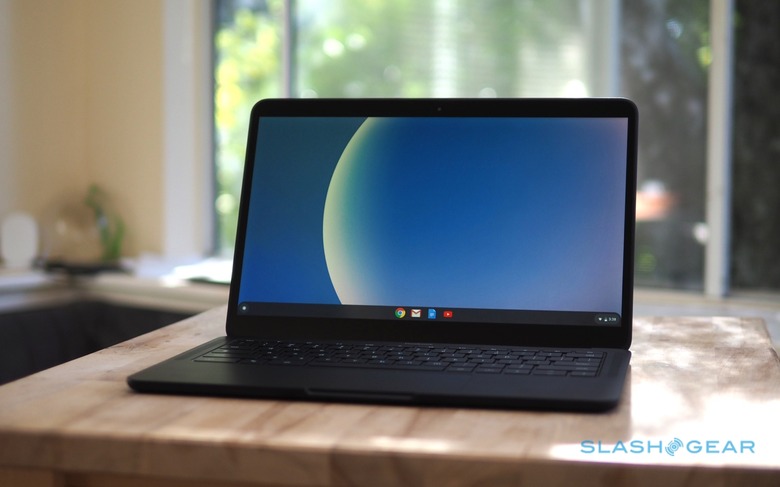 It's my biggest frustration with the Pixelbook Go, particularly because Google simply doesn't offer the 4K option in any other way. If you want that screen – and, having lived with the Pixelbook's 12.3-inch, 2400 x 1600 panel, I think I really kinda do want that screen – then you have to cough up $1.4k. The 1080p panel looks okay, but really just okay, and the knowledge that there's a 4K alternative out there is a constantly-needling thorn in my side.
If you feel the same way, you'll discover yourself in a quandary. The Core i5 Pixelbook, with 8GB of memory and 256GB of storage – plus that higher resolution display, the fancier hinges, and Pixelbook Pen support – may have a list price of $1,199, but you can find it under $1k at this point. That's less memory but more storage than the $999 Pixelbook Go.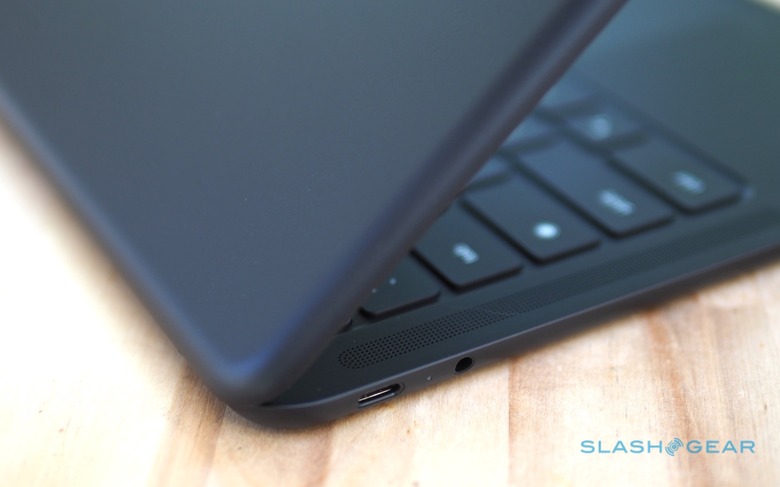 It'd be an easier decision had Google added a fingerprint sensor to its newest notebook, but it hasn't. Neither do you get Pixel 4-style Face Unlock. Your Android phone can share its biometric security if you don't want to type your password in every time, but I'd still rather the Pixelbook Go just have a sensor of its own.
What has been changed is the Bluetooth module. It's still BT 4.2, but Google tells me it should be more stable than the Pixelbook's oft-criticized Bluetooth. You get WiFi 802.11 a/b/g/n/ac 2x2 MIMO as well, but there's still no integrated cellular option. Google's argument there is that it would add too much to the price, and points at Android Instant Tethering as an alternative. Like with using your phone as a fingerprint sensor, that works, but I'd prefer the choice to have 4G LTE or even 5G integrated into the Pixelbook Go itself.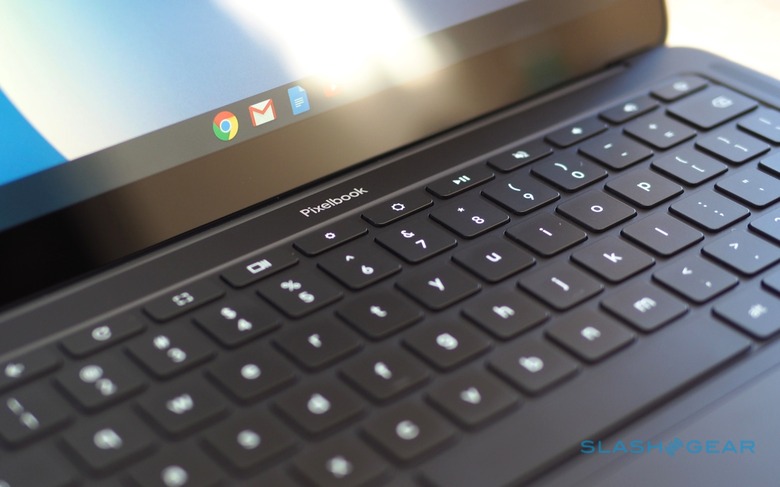 Finally, there's battery life. Google rates its new Chromebook at up to 12 hours on a charge, and 20 minutes plugged into a USB-C power supply is good enough for about two hours of use. In this case, "use" is a mixture of standby, web browsing, and other apps. With my own testing, the screen brightness at around 60-percent and a mixture of Google Docs, email, and a couple of hours of Netflix streaming – in the browser, though the Netflix app supports offline playback which is handy if you're facing a flight – I got around 8 hours. That's using the unexpectedly clear and loud speakers, incidentally, not the handy 3.5mm headphone port.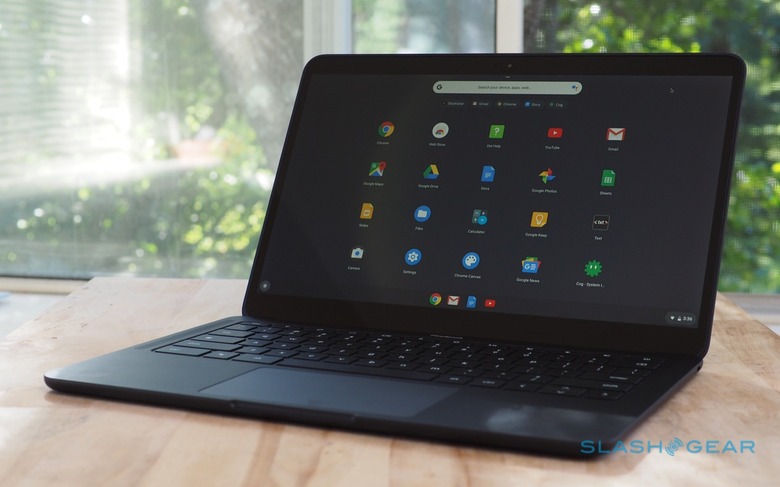 I can't really fault the Core i5's performance, though I'm curious to find out how the Core m3 holds up. Google's decision not to offer a Celeron version – as it did initially with the Pixel Slate, only to subsequently axe those models in favor of making the Core m3 the entry-level chip – is sensible, and given Chrome OS runs reasonably on the Core m3 Pixel Slate I suspect it will do on the Core m3 Pixelbook Go, too.
At that point the frustration may well be storage, especially if you're taking advantage of Android app compatibility to run the various games in the Play Store, or offline media in apps like Netflix and Amazon Prime Video. Google's decision not to add a microSD slot, something many other Chromebooks offer, means the Pixelbook Go's storage isn't user-expandable.
Pixelbook Go verdict
Through all the little grumbling frustrations, and the configuration and feature decisions I may disagree with, I keep coming back to one, core point about the Pixelbook Go: its keyboard is tremendous. It feels strange, still, to get so caught up in something so fundamental to a laptop as a deciding factor. Then again, with ongoing questions around Apple's MacBook keyboards, along with the wide variability found on Windows notebooks, perhaps as obsessions go in 2019 this isn't such an unexpected one.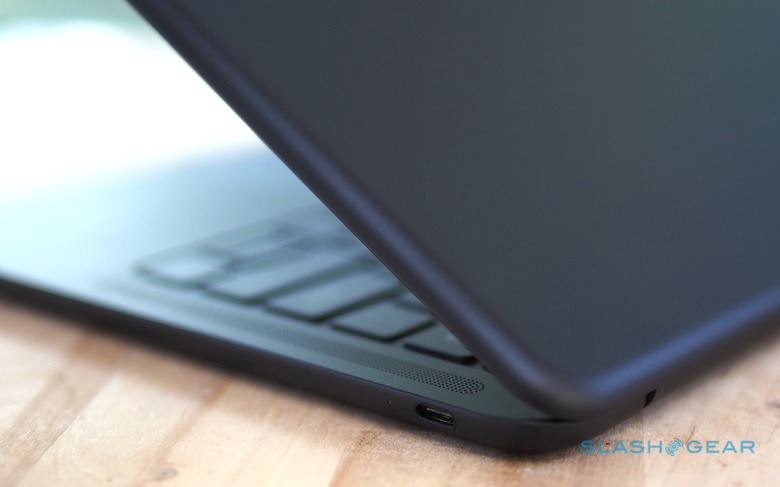 There is, mind you, more to a good laptop than text entry. Chrome OS is increasingly capable and Android app support has fleshed out its software options considerably, though if you're coming from Windows or macOS there'll undoubtedly be something you'll miss. The Pixelbook Go is fairly expensive still for a Chromebook, even if in Pixelbook – and mainstream notebook terms – generally it's competitive. I think the two more affordable configurations are the sweet spot; any higher, and you get into Pixelbook territory.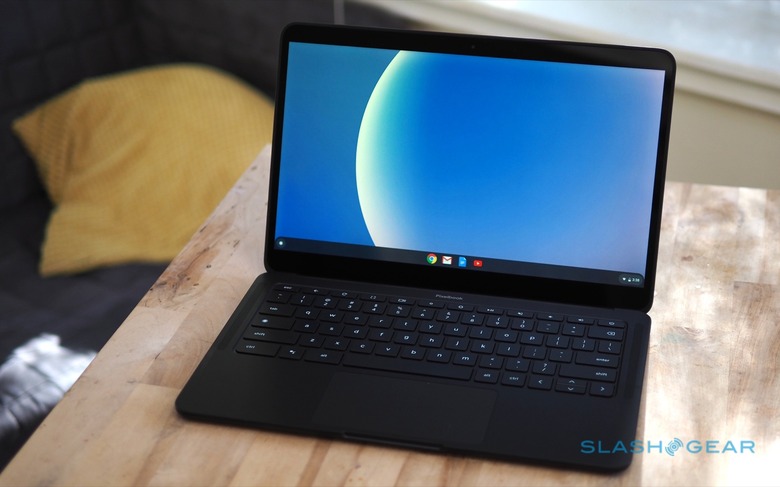 What may be the most important thing I realized, though, is that the "best" laptop isn't measured by speed, or screen resolution, or how skinny and light it is. It's about how eager you are to use it, to get stuff done, and anything which lights a fire under that enthusiasm and stokes it higher is a device worth having. Google, by virtue of the Pixelbook Go's keyboard, has made such a device, and if like me you spend your days typing it's absolutely worth your consideration.