Google Pixel Slate surprise release today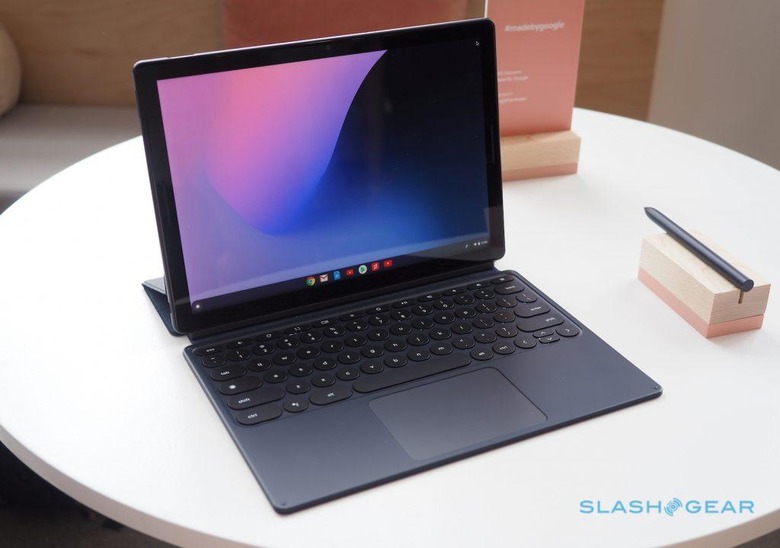 This afternoon Google released their 2018 Google Pixel Slate on their Google Store and at Best Buy online. This is the same tablet shown for the first time at the Google Pixel 3 event on October 9th, 2018. This device is a 2-in-1 that comes in a wide variety of configurations – especially for a Chromebook. Just in case this release wasn't confusing enough from the start: this device runs Chrome OS.
The Google Pixel Slate has a 12.3-inch "Molecular Display" – that's Google's branding and it's not SUPER clear what it means VS a normal LCD panel. This LCD panel has "72% NTSC color" as well as 3000x2000 pixels across its face – that's 293 pixels per inch. This touchscreen also has Pixelbook Pen support.
SEE TOO: SlashGear's Google Pixel Slate hands-on
The official release date for this Chrome OS device, you'll find an 11/22 ship date from Best Buy. That's IF supplies last – if they don't, shipping dates will slip into the future. If you order from the Google Store, there's a slightly less exact date of "2-3 weeks."
Each version of this Chromebook tablet has optional Google Store "Preferred Care" for $149 USD. Users can pick up a Pixelbook Pen for approximately $99 USD, and the Pixel Slate Keyboard is up for $199 USD. The Pixelbook Pen, despite its name, works with both the Pixelbook and the Pixel Slate.
Users can also purchase an extra 45W USB-C Power Adapter with cord for $60 USD. The Google Store has an Incipio Esquire Series Folio for Google Pixel Slate that also holds a Pixelbook Pen in its material loop.
UPDATE: One version of the device seems to be "out of stock" at Google already. It might be that supplies weren't all that large in the first place... but they're out for now, in any case. That's the 8th Gen Intel Core i5 processor version with 8GB RAM and 128GB internal storage for $999 USD.