Google Pixel Slate hands-on: 2-in-1 confusion [Updated]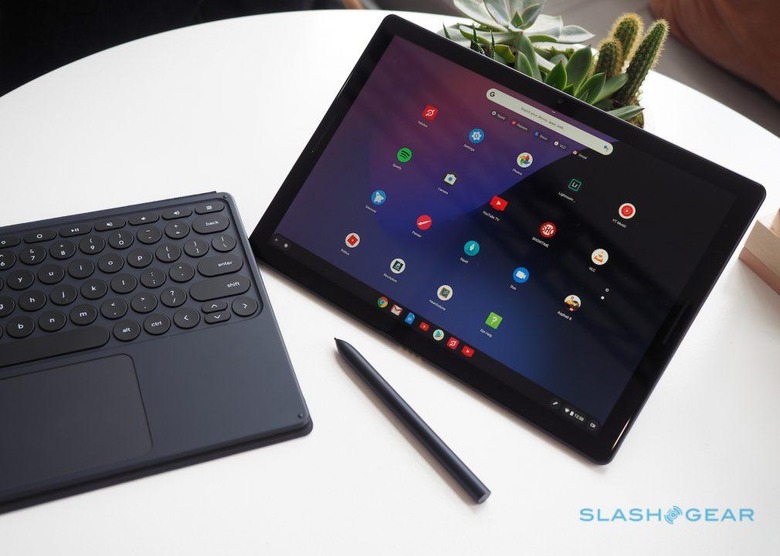 The Google Pixel Slate is confusing. On the one hand, it's an iPad Pro competitor, and priced to suit. From that perspective, the slender metal construction, sizable display, and detachable keyboard make a lot of sense for a Chrome OS alternative to Apple's pro-tablet.
On the other hand, though, it's a competitor to Microsoft's recent Surface launches, the Surface Go and Surface Pro 6. Priced somewhere in-between the two, suddenly Google's tablet feels a little less confident, perhaps. Chrome OS and Android apps may be better suited to fingertip control than most Windows apps still are, but those focused on productivity may still struggle.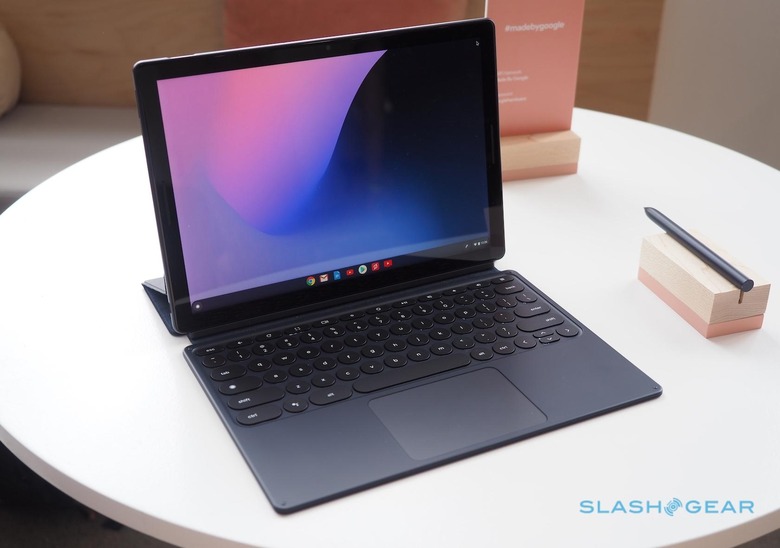 First, though, the basics. Google knows how to make a handsome tablet, the Pixel Slate is a good example of that. The metal casing is so dark a blue as to be almost black, but it's pleasingly thin – just 7mm – and, at 1.6 pounds, reasonably light. The screen, which Google is referring to as a "Molecular Display", is a 12.3-inch slice of 3000 x 2000 resolution loveliness, all bright colors and inky blacks. It looks stupendous.
It'll also work with a Pixelbook Pen, now finished in the same midnight blue. Unfortunately Google still insists on selling that separately, a $99 add-on that's only the start of the accessories racket the Pixel Slate seemingly borrows from Apple's iPad Pro.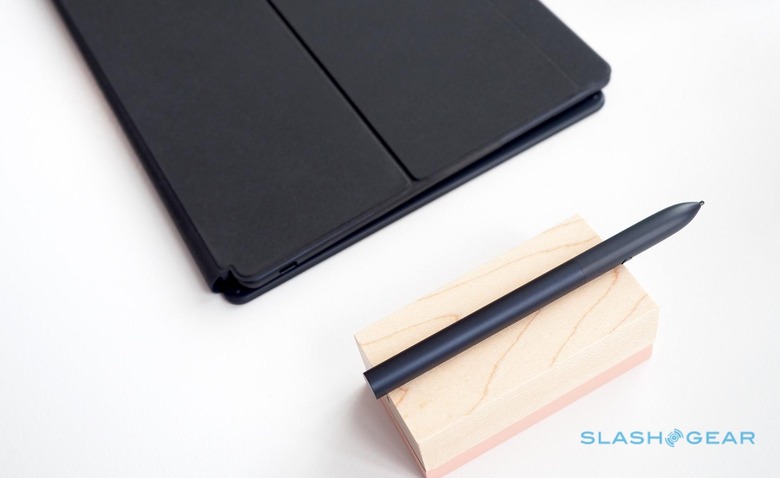 The Pixel Slate Keyboard, for instance, is a $199 addition. It's a shame to avoid it for that reason, though, as it's actually nicely designed in a world of awkward – and sometimes just plain floppy – 2-in-1 keyboard folios. It connects via pogo pins, rather than the occasionally problematic Bluetooth of the old Pixel C. It uses magnetic flaps to hold the screen up at just about any angle, too.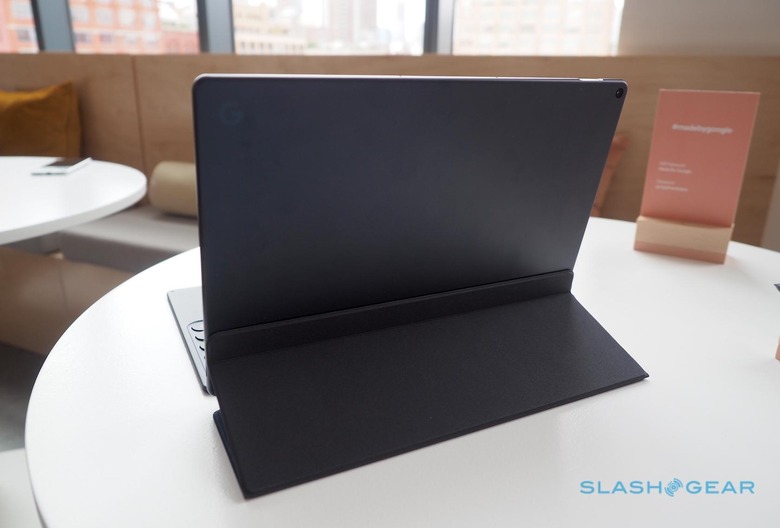 What might prove contentious is the keyboard. It's a pretty standard opinion that the Pixelbook's QWERTY is one of the most tactile and generally pleasant to type on in modern keyboards today, and so the fact that Google didn't simply copy it, wholesale, to the Pixel Slate is a disappointing. However, the company insists that what makes the Pixelbook's keyboard special has been carried over to these new circular buttons.
The action is said to be the same, only quieter – Google is referring to them as "Hush Keys" – and there's still a dedicated Assistant key and an oversized trackpad. It's backlit, too, and you get a reasonable amount of key travel, despite the shallow key tray. I'll need to spend a whole lot more time typing on it to see if it's actually up to all Google's promises, but in my brief encounter if felt sturdy and at least edging on Pixelbook-pleasant.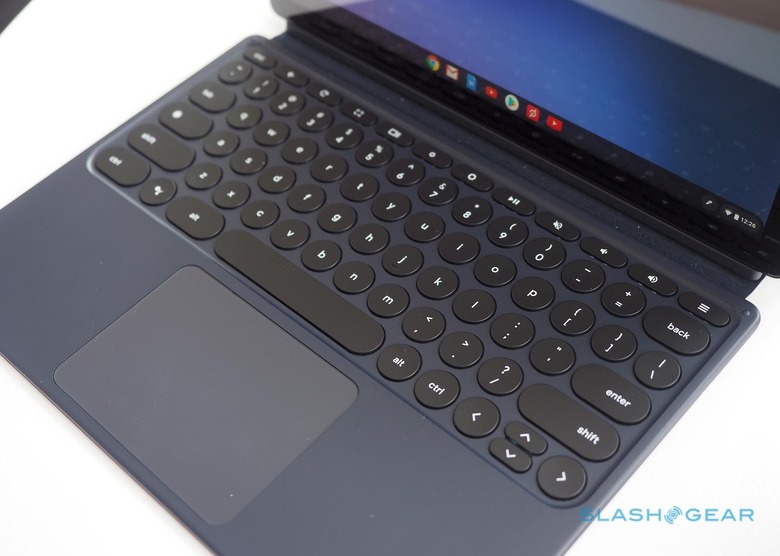 The other big decision you'll have to make is the processor. Google will have options running the gamut from Intel Core m3 through Core i5 to Core i7 chips. RAM will span 4GB to 16GB. Google suggests up to 12 hours of battery life, with the Pixel Slate recharging via USB-C, but it's unclear how quickly the meatier chips will eat into that runtime.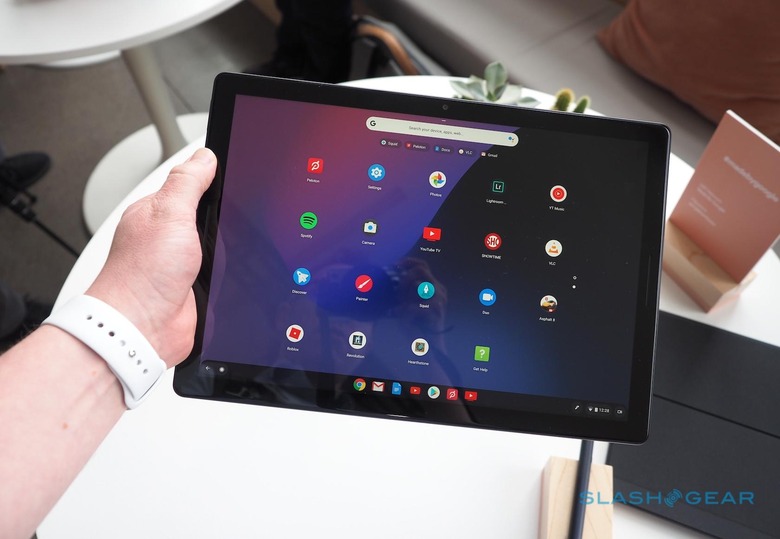 Maxing out the Pixel Slate – or even opting for a Core i5 rather than just the Core m3, which seems like a sensible decision – and throwing the right accessories at it will leave you facing a not-inconsiderable bill, then. The starting point is $599, but expect to pay a whole lot more for more capable specs. At that point, you have to question whether you're paying over the odds for a Chrome OS tablet.
Update: Full pricing is as follows:
$599 (4GB RAM, 32GB SSD, Intel Celeron processor)
$699 (8GB RAM, 64GB SSD, Intel Celeron processor)
$799 (8GB RAM, 64GB SSD, 8th Gen Intel Core m3 processor)
$999 (8GB RAM, 128GB SSD, 8th Gen Intel Core i5 processor)
$1599 (16GB RAM, 256GB SSD, 8th Gen Intel Core i7 processor)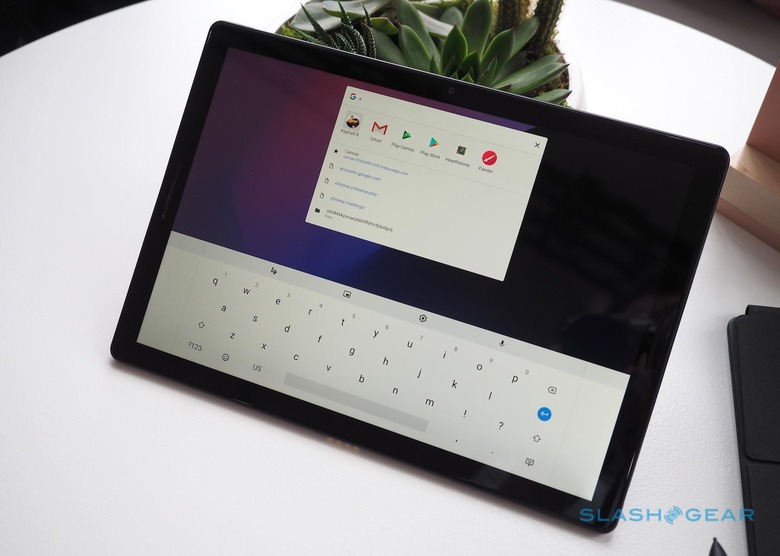 Android tablets have proved generally underwhelming; it's notable that Google made no mention of them during its Pixel Slate keynote. Instead, it would much rather point you in the direction of a Chrome OS tablet that it argues is just as good for work as it is for play. We'll be waiting to see whether it can achieve that – and without breaking the bank in the process – when it goes on sale later in the year.