Google Pixel hardware details revealed in full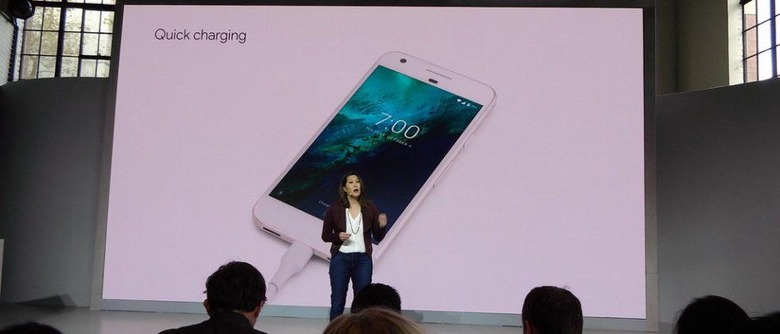 We've already heard about the Google Pixel's camera, and as impressive as it is, there are certainly a lot more pieces to this puzzle. Google delivered a full spec sheet for the Pixel phone today during its keynote event, and in addition to the 12.3-megapixel camera, there's some solid hardware under the hood.
This includes an HD AMOLED display that comes in either 5 or 5.5-inches, with a quad-core Snapdragon 821 processor running the show. Two of those cores will be clocked at 2.15GHz, while the other two come in at 1.6GHZ. The Google Pixel will be equipped with 4GB of LPDDR4 RAM, along with either a 2,770 or 3,450 mAh battery, depending on which version of the Pixel you pick up.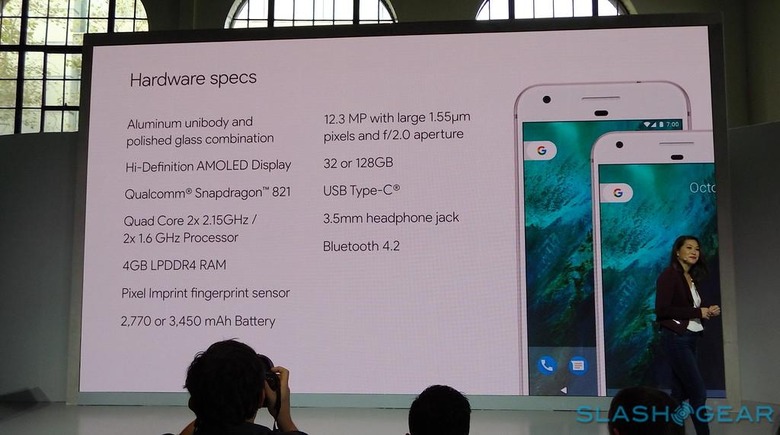 Google seems to be taking power somewhat seriously with this release, offering a quick charge feature that can provide seven hours of power after just 15 minutes of charging. Of course, there will be a Pixel imprint fingerprint sensor present on the device, while the phone uses USB Type-C, a move that probably won't be surprising to most.
Bluetooth 4.2 functionality will be present as well, and purchasers will have the choice of 32GB or 128GB of onboard storage. Considering that Google is offering unlimited, free cloud storage for photos and video to every Pixel user, we'd expect to see that 32GB variant to be the more popular one. Google has also revealed pricing and availability details for the new Pixel, so if you're interested in picking one up, have a look at our write up on that information.