Google Pixel Buds Review: Lost in Translation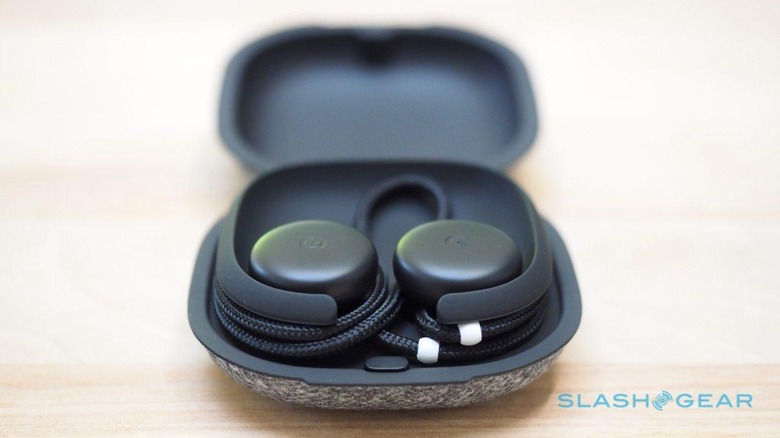 The Pixel 2 may not have a headphone jack, but the Google Pixel Buds promise to make you forget all about your legacy port. Taking on Apple's best-selling AirPods, the $159 headphones not only promise hands-free calls and music, but to bring the power of the Google Assistant to your ear, and translate conversations in foreign languages. Sadly, though, the Pixel Buds aren't the AirPods-killers we were hoping for.
Design
The Pixel Buds may be wireless, but they're not cable-free. Google opted for a cord that joins the two earbuds together, and which is designed to sit around the back of your neck. Loops of the same cord extend up over the top, and act as grips, holding the buds in place in your ears.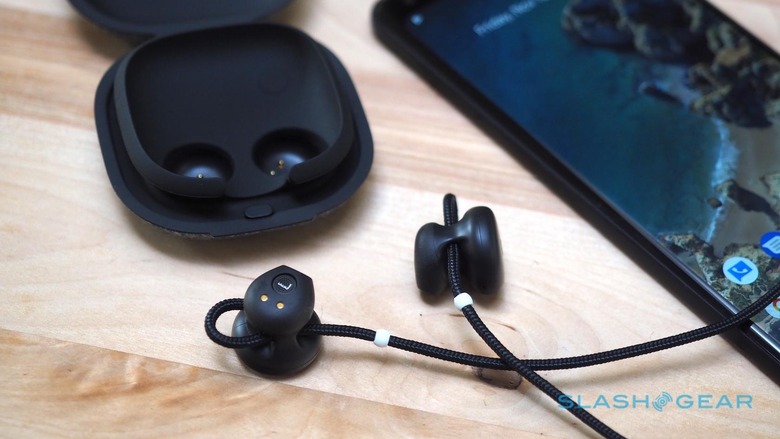 There's an extra sense of security with a cord, since if one falls out you're much less likely to lose it, but with a side order of annoyance too. I found the cord added a little weight to the Pixel Buds, which meant they were more likely to be tugged out of my ears. In contrast, while the AirPods aren't sealing designs either – as in, they don't slot directly into your ear canal, but instead rest on the outer ear – I find they hang more securely, in no small part because they're incredibly light.
Now, I have trouble with earbuds a lot of the time, and it's worth remembering that every ear is different. Your mileage might well vary with comfort and fit. Still, I've spoken to numerous people also testing the Pixel Buds, and weight and extended comfort have been common complaints.
Pixel Buds Case and Pairing
The case design is frustrating. It's larger than the charging case Apple's AirPods come with, and trickier to open, especially one-handed. I find myself nervous about how well the hinge will hold up, too: the whole thing feels like a miniaturized takeout container covered with fabric.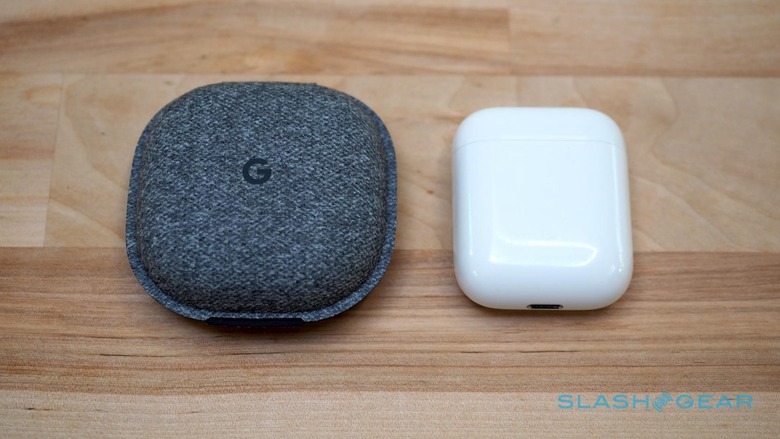 Then you have to actually get the Pixel Buds back in to recharge, a process that involves seating them each in their bays, then winding the cord around the edge before tucking the remainder through the middle. Google puts an instructions sticker underneath the lid, and even supplied me with a GIF to show the process. It's definitely not as quick to do as, say, drop a set of AirPods into their charging case. Sometimes I'd find that, in the process of wrapping the cable around the edge, it wouldn't sit properly in the rubber gasket and thus the case wouldn't shut.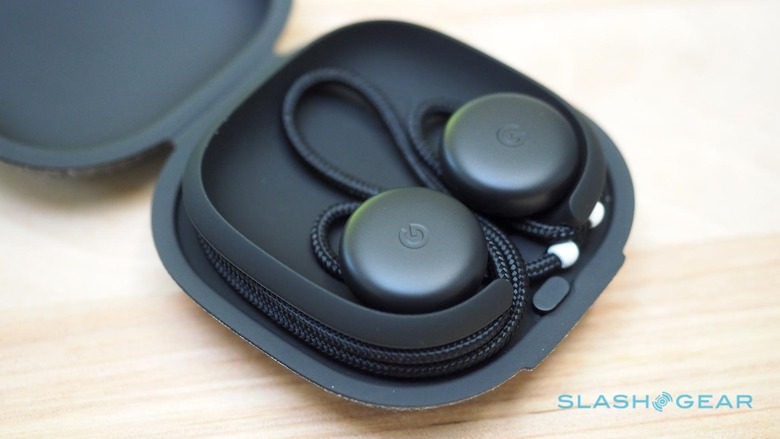 At least pairing is easy. Open the charging case near your Android phone and, if you're running a recent OS version, a pop-up showing the Pixel Buds are offering to connect will appear. Tap that, and you're done.
Unfortunately, that smooth experience doesn't extend to other devices. There's no streamlined pairing with a Chromebook or other laptops and, unlike Apple with AirPods, Google doesn't automatically propagate the pairing to every device signed into the same account. As with AirPods, you can have only one device connected at any one time; if you want to switch between, say, your Pixel 2 and your Pixelbook, you'll need to do that manually.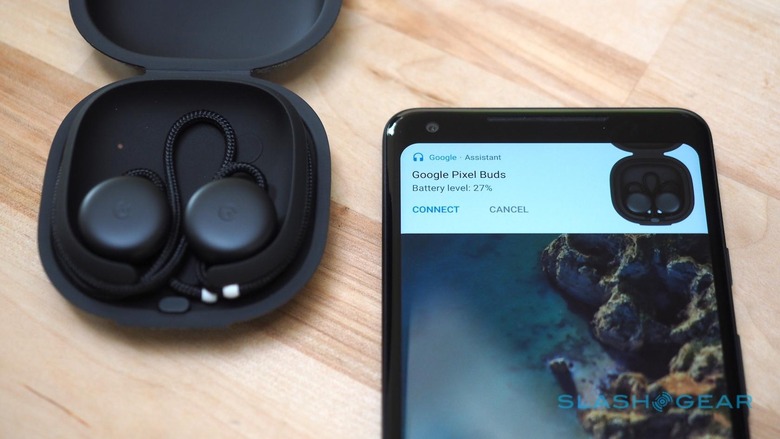 Sound Quality and Battery
It's not impossible to get high-quality wireless earbuds, but it's far from a given, even if you're spending $159. Unfortunately, the Pixel Buds are a case in point of that fact. While they're not the worst Bluetooth headphones I've ever tried, they're certainly not the best, either. Google opted for the AAC codec, rather than aptX; to my ears, the latter tends to sound better.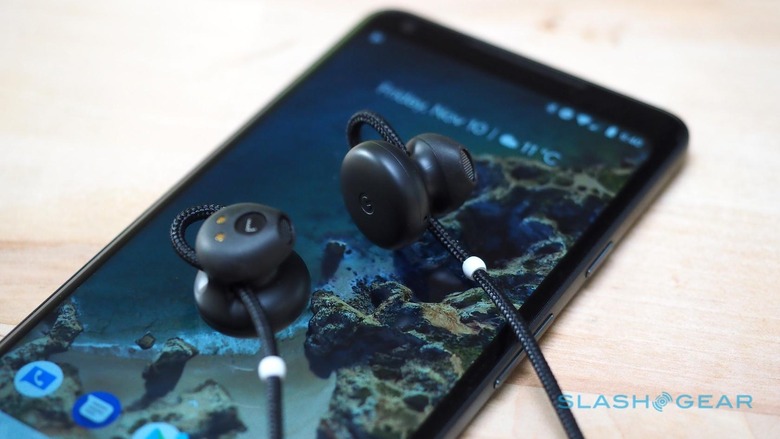 There's a flatness to the sound that doesn't do much for any genre. Instead of bass you get general volume: the Pixel Buds can be cranked up loud, but there's no heavy thump to the low-end. In the meantime, you've probably annoyed everyone on the bus, train, or plane around you, since the non-sealed design means plenty of audio leakage at higher volumes.
In the trebles, meanwhile, there's a noticeable lack of sparkle. Vocals struggle to maintain clarity through the mids. I suspect Google opted for a flat sound profile deliberately but, just as we saw with colors on the Pixel 2's display, people tend toward preferring punchier saturation, no matter how "accurate" you are on paper.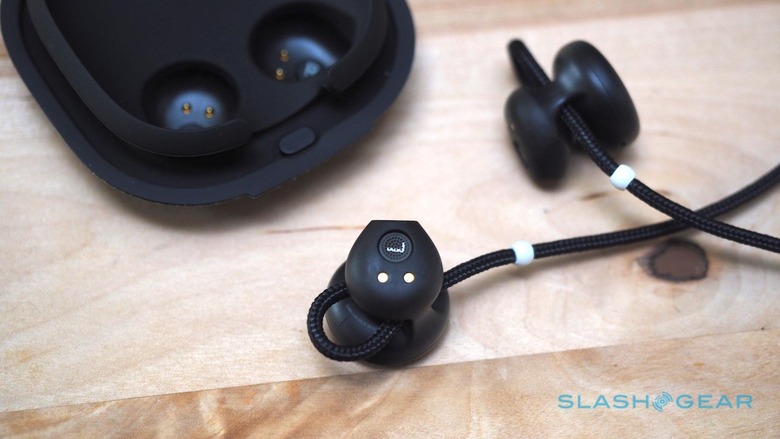 Battery life is in line with Google's promise of five hours of use on a single charge. Then, you tuck the Pixel Buds back into the case to replenish; the latter charges its own battery via USB-C. Since the earbuds are tethered together, you can't charge one while the other is in your ear for mono music or voice calls. You get about an hour of playback for a ten minute charge.
Google Assistant and Translate
Several companies have tried to make a whispering virtual assistant work, but Google is arguably closer to success on the AI side. Even divorced from a screen, the Google Assistant has clear talent advantages over, say, Apple's Siri. It's swift on the Pixel Buds too: tap and hold the right earbud, give a command, and release to have it enacted. It's a noticeably quicker process than Siri on the AirPods, though right now the Google Assistant only works with Pixel Buds when paired with an Android phone (running 6.0 Marshmallow or above), not a Chromebook.
The same touch-pad handles music, calls, and volume. Tapping plays or pauses music; swiping forward or back adjusts the volume. A short tap will answer or end a call. There's no way to skip tracks: I wish Google had added a second touch-pad on the left earbud, to give more options.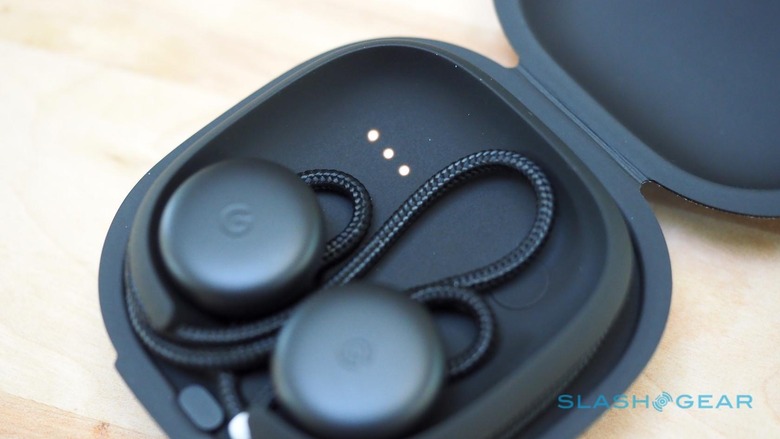 Google has designed the Assistant to be proactive, too. If you get a notification, it can read it out to you, including the body of a message and the sender. As on an Android phone, you can then reply by voice. For someone perpetually getting lost like me, having Google Maps whisper directions into my ears is welcome; the app automatically recognizes that you're walking, and gives you pedestrian directions by default.
Google's headline feature with the Pixel Buds is translation, though it's not quite the Babel Fish that The Hitchhiker's Guide to the Galaxy promised us. Tap and hold the right earbud, say, "Google, help me speak..." and the language you want, and it'll automatically go into translation mode. You can download translation dictionaries for offline use, if you're abroad and don't have a data connection.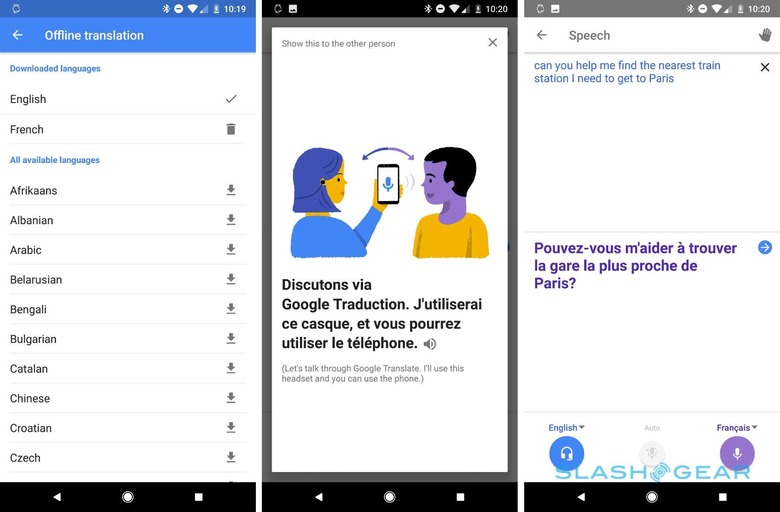 Unfortunately it's not a super-discreet system that will allow you to blend into foreign cities like a local. Instead, you have to unlock your phone – currently a Pixel 2 or Pixel 2 XL only – and hand that over to whoever you're wanting to talk with. As they speak, they hold the microphone button on-screen; the translated version is piped into your ear. To reply, you hold your finger on the right earbud; they get both an on-screen and a spoken version through the phone.
In short, it's much like the Google Translate app already available for Android devices. Unsurprising, then, that it's just as accurate as that app: in short, it works, most of the time, but can get confused. We're still some way away from earbuds that eavesdrop on foreign conversations around you, and surreptitiously translate for you in real-time.
Wrap-up
The Pixel Buds are an unexpectedly muted point in Google's 2017 device line-up. In fact, it's hard to escape the idea that they were rushed out to compete with AirPods, and in an attempt to assuage the complaints of those missing a headphone jack on the Pixel 2. Unfortunately, while they promise plenty, the actual experience underwhelms.
The tethering cable may be down to personal taste, but the middling audio quality and fiddly case design are frustrating. I like how responsive the Google Assistant is, but multi-device management feels clumsy and the translation feature is still a fairly lumpy process. It feels very much like a first-generation product, warts and all.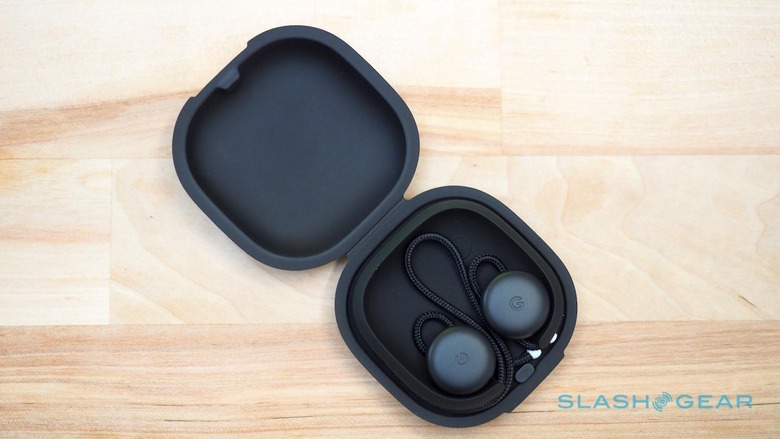 The reality is, Android users looking for decent wireless headphones have better options out there. Samsung's Gear IconX 2018 Edition are completely cordless and sound better than the Pixel Buds; Apple's AirPods may be pitched at iPhone owners, but they work well with Android phones too. If your budget is sub-$100, there are plenty of options from brands you might not recognize, but who at least cut the cord completely.
An audio-only way of interacting with the Google Assistant has a lot of potential. So does Google Translate. Yet the Google Pixel Buds don't lock down the essentials, like ergonomics and sound quality. That means Pixel 2 owners looking for the best wireless sound experience should, for the moment at least, look elsewhere.