Pixel 3 Freebie Disclaimers: The Fine Print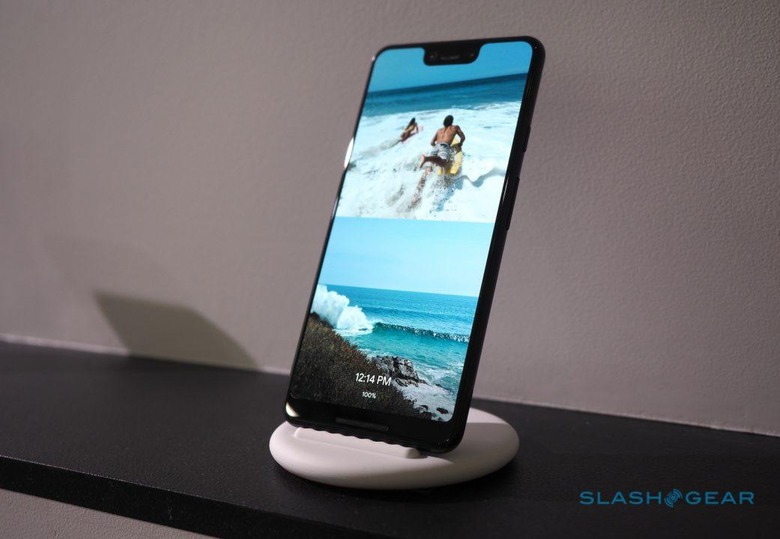 Today Google launched the Pixel 3 and Pixel 3 XL with a couple of pretty enticing freebies onboard. One was a half-year of YouTube Music Premium for free, the other was unlimited photo storage with Google Photos (including original size photos and video, etc). Let's talk about the limits to these enticing bits before you jump in headfirst!
Limits on YouTube Music Premium
With the Google Pixel 3, Google's giving away a YouTube Music Premium 6 month extended free trial. YouTube Music is a fairly decent streaming music service, doubly so if you're able to get a subscription completely free. Now here's the print you'd have to dig to find:
SEE TOO: YouTube Music Review (the basics)
You need to be a US resident to take part in this offer. You also need to activate a Pixel 3 (or 3 XL) before the end of this year – December 31st, 2018 is one day too late. This 6-month ticket only works for people who "are not current YouTube Premium, YouTube Red, or Google Play Music subscribers. Users must not have taken part in any previously-released free trials with YouTube Red or Google Play Music.
If you activate your Pixel 3 before the cut-off date, there's another cut-off date for activation of the YouTube Music Premium trial. This offer needs to be redeemed by January 31st, 2019, or it becomes void. ALSO: As it is with many "x-months free" offers for all sorts of services, this trial aims to hook you in for the long haul. When you first redeem the trial offer, you need to enter a form of payment. Once the trial ends, you'll automatically begin payments to Google for the subscription to continue.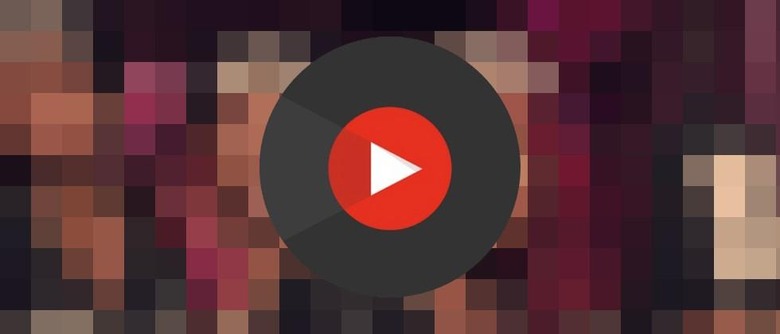 Once the trial ends, you need to manually end your YouTube Music Premium subscription. If you do not, you'll have automatically opted in for a full-rate subscription. That's "currently $9.99 per month." Once you quit the trial, your YouTube Music Premium subscription ends immediately.
Limits on Unlimited Photo Storage
According to Google's official Pixel 3 listing page in the Google Store online, "Google Photos gives you free, unlimited online storage2 for all your original quality photos and 4K videos." That little 2 links to the following disclaimer: 2: "Free unlimited online original-quality storage for all photos and videos uploaded to Google Photos from Pixel 3 through 1/31/2022. Photos and videos uploaded before 1/31/2022 will remain free at original-quality. Requires Google Account. Data rates may apply."
As it was with the YouTube Music Premium sub mentioned above, so too is this situation put in place with an aim to hook you, the end user, in for the foreseeable future. This isn't a new deal – a very similar set of limits was in place with the Google Pixel 2. There the end-date for "free, unlimited original-quality storage for photos and videos" was "through the end of 2020."
As of October 9th, 2018, the end-dates for "free, unlimited original-quality storage for photos and videos" with Pixel phones are as follows:
• Pixel 3: "through 1/31/2022"
• Pixel 2: "through 2020"*
• Pixel 1: End of time (forever)*
This is why I suggested that the original Pixel may become priceless. Free unlimited original-sized photos and videos uploaded to Google Photos forever. Imagine no limits! Cross your fingers Google keeps its promise. Take a peek below for links to our hands-on and eventual review of the Google Pixel 3 and Pixel 3 XL!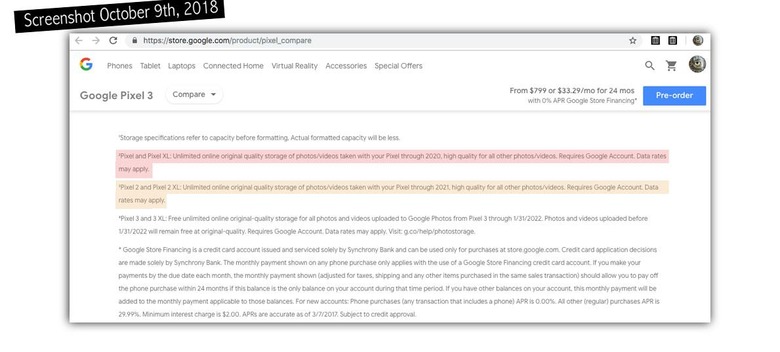 *UPDATE: It would seem that all good things must end! As of today, October 9th 2018, Google's suggested there's an end-date to unlimited original size photos and video storage for the original Pixel. That'll be "through 2020" while they've updated the Google Pixel 2's end-date to "through 2021". So maybe there's hope they'll continue to extend from here on out? Cross your fingers harder this time!