Google OnHub will be the first Brillo device for Google On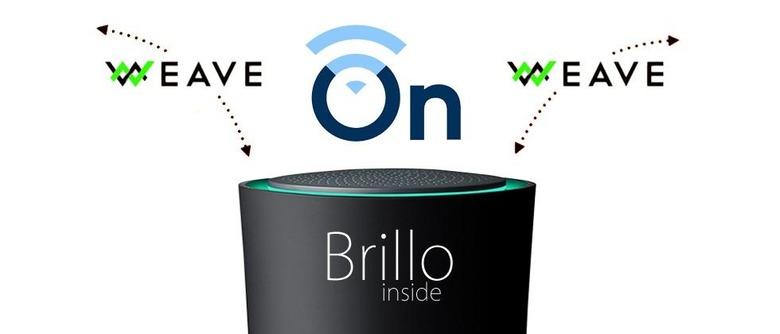 Google OnHub was revealed today by Google as the first doorway to a full smart home ecosystem. This service will be tied together with software protocols revealed in part earlier this year as Google Brillo and Google Weave. When Brillo was first revealed earlier this year, then-SVP of Product (now CEO) for Google Sundar Pichai showed how your smartphone would connect to all the Brillo-enabled smart devices in your home using a common-language protocol called Weave. This is the beginning of the smart home system called Google On.
The Google OnHub router will have the ability to work with Wi-Fi, Bluetooth and 802.15.4. Google suggests that this will "eventually support the growing number of smart devices in your home." If that wasn't enough proof for you that OnHub is the first step in bringing Brillo and Weave to the public, look at the release dates.
OnHub is currently available on pre-order and will ship "in the coming weeks." According to outlets, this device will be in stores on the 31st of August, two-thirds of the way through the 3rd quarter of 2015.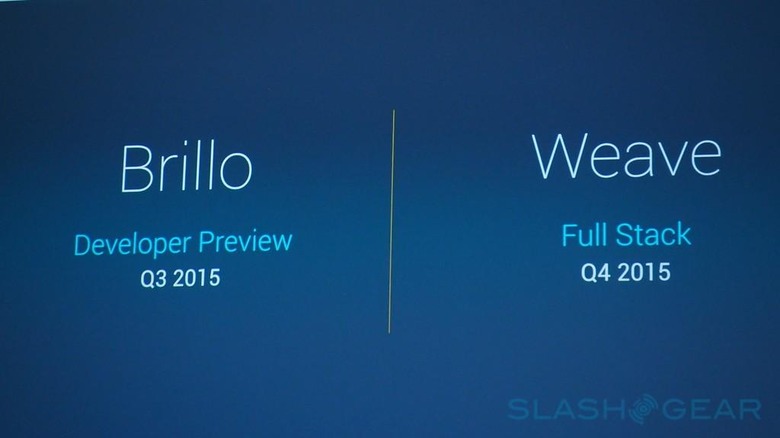 At Google I/O 2015, Pichai suggested that the Brillo Developer Preview would be released in Q3 2015, and that the Weave full stack would be released in Q4 2015.
Google OnHub will be the first Google Brillo device.
For now, Google's presentation of OnHub centers on connecting to the internet. The video you see above stays focused on Wi-fi. "The new way to Wi-Fi" it says, never speaking of the smart home aspects of the Google On ecosystem it'll live in soon.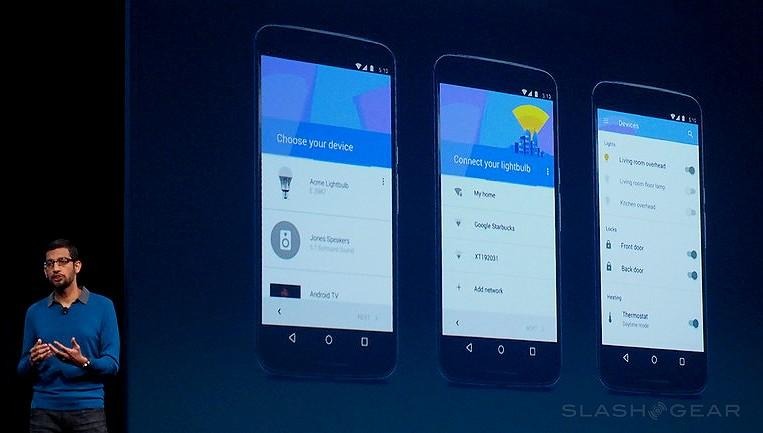 Above you'll see Pichai at Google I/O 2015 showing off an early version of what'll eventually become the Google On app. This app has been introduced in brief today with Google OnHub. Below you'll see a closer view of that app from the live stream of the event.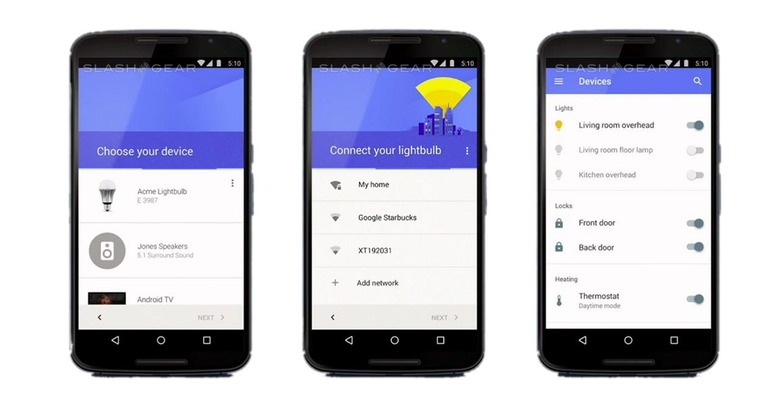 Google will not be depending on routers of the past to do the connectivity work here. Instead they're focusing on appealing aesthetics in the product – first and foremost – to make certain the OneHub is set out in the open with as much free space to project and connect as possible.
This device will also feature some lovely tricolor LED arrays to make certain you're finding the device beautiful enough to keep out in the open.

Inside you'll find a Qualcomm Atheros internet processor IPQ8064, made for low-power processing and high-speed connectivity. This is by no means a super new processor, but with the relatively slow speed at which in-home internet speeds have advanced here in the United States, it's perfectly fine, and capable of running data speeds beyond what many Americans have access to.
The Google On app is the first step in connecting you to your smart home from anywhere you happen to be. This means away from home as well. As Pichai explained earlier this year and as the Google OnHub's presentation says today, you can "use the Google On app to troubleshoot at home or away, see who's on your network, or enable a friend to help you remotely."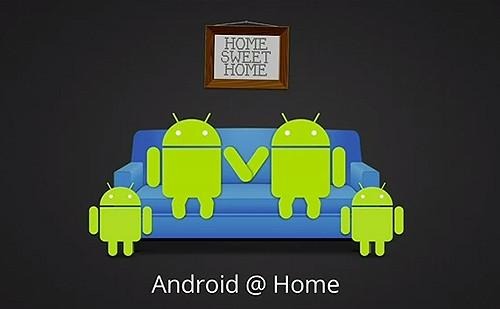 Back in 2012, this ecosystem was called Android@Home. The Google OnHub router was here too – complete with lights! It wasn't called OnHub in 2012, however, it was called Project Tungston.
The device wasn't a router back then, but it was primed to sit out in the open with shiny LEDs and an industrial design that screamed "leave me out in the open, please", just like OnHub does today. The big difference is the requirement back then to have multiple "Tungston" devices, each of them working something like what a Chromecast device does today.
While Android@Home's Tungston devices worked like a bunch of little hubs, Google On's OnHub is a center-point for all smart devices. Google allows these devices to interact with the OnHub device – a Brillo-enabled device – using Weave, a protocol which is open to many devices. All sorts of devices.
So stay tuned. This is just the beginning. Big things are going to happen in Google's super-simple, super easy-to-run smart home system. This is Google On – follow along with SlashGear as we explore this new smart device environment!