No Flash at launch for Ice Cream Sandwich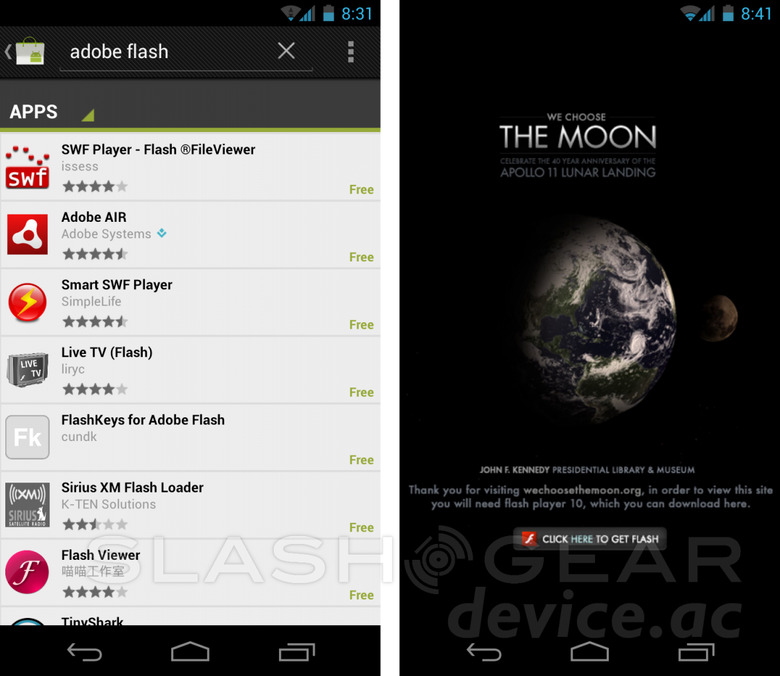 If you lucky owners of the Galaxy Nexus in these first days of its release complete with the first iteration of Ice Cream Sandwich, you'll notice that you do not have Adobe Flash Player installed, nor do you have access to a download on the Android Market – Google has just confirmed with us that this is normal and that Flash support will only come once Adobe makes the call to update the mobile version for Android 4.0. You currently will not have the ability to load either a new version or one of the older versions of Flash Player for Ice Cream Sandwich until Adobe makes the call to update their app to be compatible with this newest version of Android. Don't get too frazzled quite yet though, that's not the whole story.
Those of you about to have a heart attack over this would do well to note that it was inevitable as Adobe announced that they'd be axing the mobile version of Flash in favor of HTML5 earlier this month. Then if you'll go ahead and read what Google has let us know, you'll see that the story isn't necessarily completely over for Adobe's mobile version of Flash. Even though the app and support for Flash will be ending relatively soon, Google had the following to say:
"Flash hasn't been released for ICS yet so as far as we know, Adobe will support Flash for ICS." – Google
Have a peek at the gallery below to see several signs that Adobe Flash Player isn't active in Ice Cream Sandwich, and note that these screenshots are taken on the non-Verizon version of the Galaxy Nexus. You can see the rest of our Galaxy Nexus coverage by heading to our giant and ever-expending [Galaxy Nexus Portal] while the same situation is true for Android 4.0 in our [Ice Cream Sandwich portal].
And of course above all – don't forget to check our our full reviews of the OS and the device separately this weekend here on SlashGear!