Google Nexus One ROM leaks, specs listed: 802.11n & Snapdragon onboard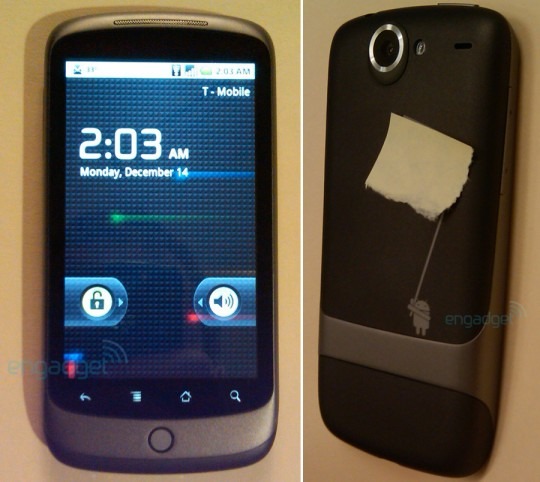 Tidbits regarding the so-called Google Nexus One Android smartphone continue to leak, with hardware details and launch speculation among the furore.  The Android 2.1 ROM for the Nexus One has leaked, and from that These Are The Droids have pulled out the fact that the smartphone uses the Broadcom BCM4329 chipset – with support for WiFi b/g/n and FM radio transmit/receive – has an Audience A1026 noise-cancelling chip and Snapdragon specific libraries seemingly confirming the presence of Qualcomm's speedy processor.
Meanwhile that ROM leak presents a seemingly impossible-to-resist temptation to existing Android device owners, and as such there's at least one Motorola DROID running the Android 2.1 build.  It's nowhere near a perfect install, however; the ROM apparently wipes out existing file system permissions which can – unsurprisingly – be detrimental to the ongoing stability of your handset.  The recommendation is to wait until there's a more refined ROM; still, we do get to enjoy the video of the Nexus One's start-up sequence, which you can see below.
As for the launch speculation, after the FCC clearance earlier this week it looks like T-Mobile USA will be the carrier of choice.  However it's unclear whether Google will be selling the smartphone unlocked (as either an end-user or a developer device), subsidized on a carrier contract or subsidized by Google's own advertising.  While a Google spokesperson told ZDNet UK that "not everything that gets dogfooded makes it to public launch" he did admit that a device with FCC approval "tends to, yes".
Asked whether it was going to be released as a dev device – as Google have done before – the spokesperson highlighted that previous developers' handsets had "been released to the market subsequent to the consumer version", and that "if [the Nexus One] were a Dev Phone, it would be the other way round."